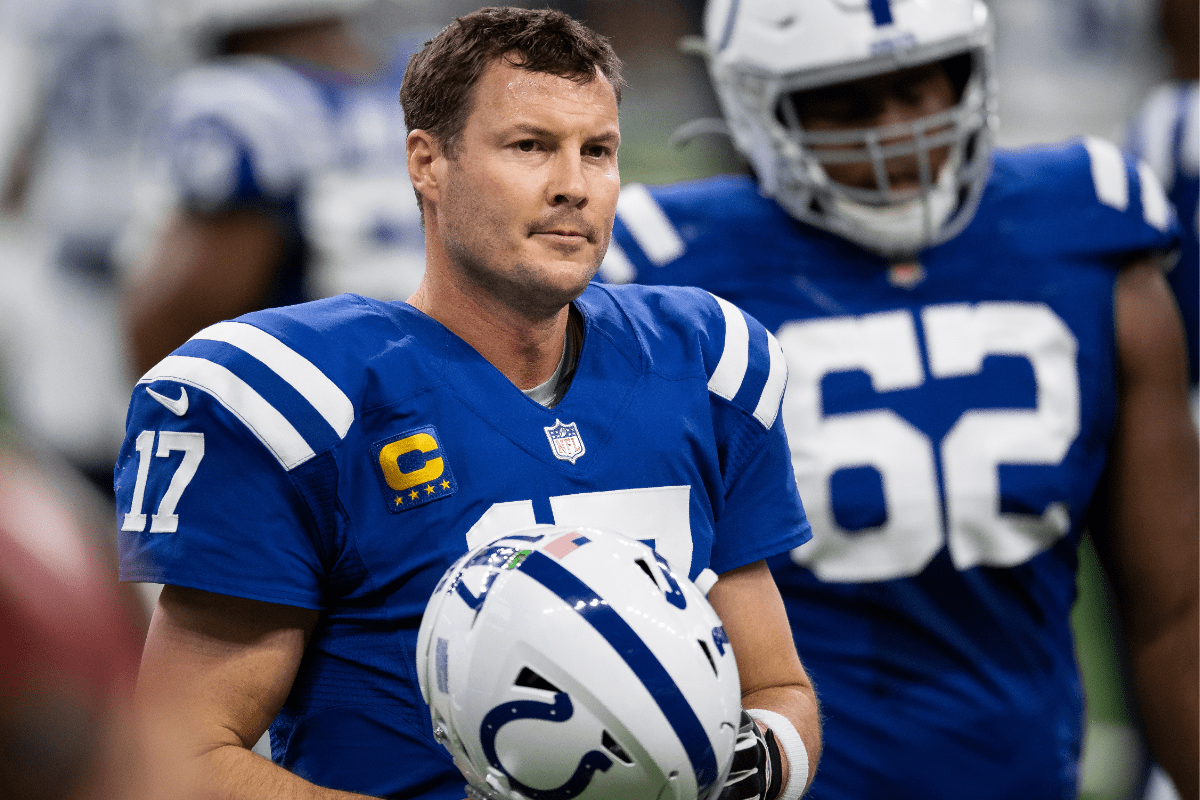 AP Photo/Zach Bolinger
Indianapolis Colts quarterback Philip Rivers is a true competitor and is continuing to produce in the NFL as he approaches the tender age of 40 under head coach Frank Reich.
Back in the playoffs in 2020, Rivers is proving to everyone that he still has enough left in the tank to lead a successful football team. Still, that's hardly the most interesting aspect of the veteran quarterback's life.
You may have already heard that Philip Rivers can basically field an entire offense with his NINE children. Who is his wife, though?
Philip Rivers Wife
RELATED: Tom Brady & Gisele Bündchen: The Power Couple?s Dating History Before Marriage
The former San Diego and Los Angeles Chargers quarterback and his wife Tiffany are going on 20 years of marriage, an impressive feat.
They were more than high school sweethearts, having reportedly met all the way back in middle school. But what's far more impressive is that the Rivers' clan is made up of 11 people.
In other words, Philip and Tiffany have had NINE children together. He's really out here giving Antonio Cromartie a run for his money.
Rivers and Tiffany married in 2001 after his freshman year at North Carolina State, a few years before he turned professional.
Philip Rivers Children
Of their nine children, seven are daughters; Halle, Caroline, Grace, Sarah, Rebecca, Clare and their ninth child, Anna. Additionally, Philip and Tiffany Rivers have two sons, Gunner and Peter. Imagine being on school pick-up duty for that family.
The Rivers family is extremely close-knit, even more so during the COVID-19 pandemic.
They lived in San Diego, California, throughout his tenure with the Chargers, though they have since "permanently" left the area. They also owned property in Florida, but have since made the move to Indy following Rivers signing with the Colts in the offseason. The Rivers' are a practicing Catholic family, something the former NC State star and NFL quarterback values dearly.
"He always wants to be with us," 10-year-old Gunner told Chargers.com in 2019. "Whenever he's home, he plays with us and he's with us all the time. Wherever we go out ? we go all kinds of places ? random people just come up and ask for his autograph and for pictures. It's cool. But he's always there for us. But when he's home, we like to throw the football in the yard. We like to putt on the putting green, watch football and do things like that."
Tiffany Rivers operates a swimwear line called Hermoza, which was co-founded with Marisa De Lecce. Philip and Tiffany also founded Rivers of Hope, a foundation aiming to find orphanages for children under the age of 12.
Rivers, who ranks fifth in NFL history for touchdown passes thrown, has yet to make it to the Super Bowl, and with his career seemingly winding down, he'll have to make an impressive run through the gauntlet of the AFC in what could be his final football season in the NFL.