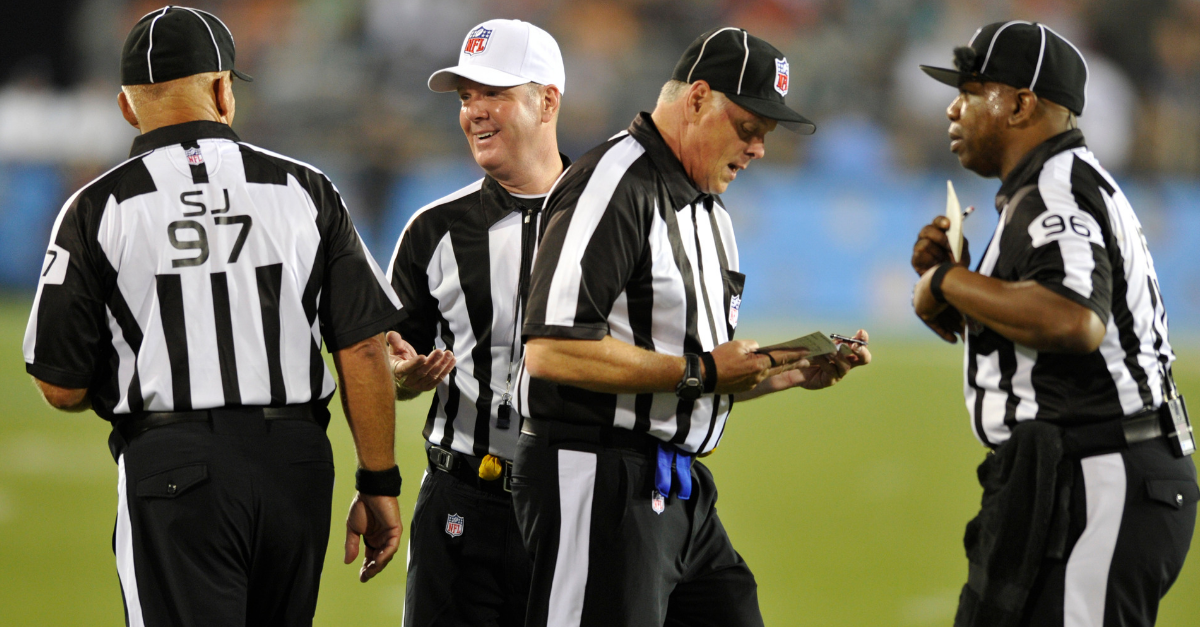 AP Photo/David Richard
Before the New England Patriots defeated the Los Angeles Rams in a very boring Super Bowl LIII, football fans everywhere were still fuming at the blown pass-interference call in the NFC Championship Game. There was negative noise was so loud, the finger pointed directly at all NFL officials, but there was still a job to do at Mercedes-Benz Stadium in Atlanta in early February.
Needless to say, the Super Bowl LIII officials were a little nervous, and understandably so. The crew headlined by referee John Parry simply couldn't screw up or else the football-watching world would blast them unmercifully. So the veteran official came up with a plan.
According to an interview with Sport Illustrated's Jonathan Jones, Parry used old military videos to get his crew ready for the big game on Super Bowl Sunday.
RELATED: Meet Sarah Thomas: The First Female Official in NFL Playoff History
Seriously, this actually happened. Parry did all he could to get umpire Fred Bryan, Down judge Edgar Camp, Line judge Jeff Bergman, Field judge Steve Zimmer, Side judge Eugene Hall and Back judge Terrence Miles motivated to do their very best.
Here is an excerpt from SI:
"In that one play, the world just came after officiating like I've never seen. I mean, I get it—the officiating world is under attack. I'm sitting on my couch and thinking, good Lord, the next game to be played is us, and we can't make a mistake. Nothing close to this can happen. You could sense it as the crew prepared. There was probably more nervousness, anxiety, tension. Of course that's all they talked about leading up to the game. We had to be at our best. But to me, going back to that prep work, I feed off that.

"Every meeting we had, I had military video. I had anything and everything to motivate and inspire them that 'we are under attack. We will fight back. And we will come out swinging.' And to me it was a great defensive football game between two brilliant defensive minds on both sides that were shutting down two brilliant offensive minds. I thought the game was fabulous. Guys were a little bit nervous and we were a little tense and it took probably a little bit longer to settle in, but once they did it was good."
For those, like yours truly, who had no idea what that actually means, John Parry explained the military video concept to Sports Illustrated in further detail:
"I had storylines of World War II and McArthur and Eisenhower delivering these speeches of 'we're under attack' and 'we must bring home victory to America.' We had music. Anything that I could come up with and grab their attention immediately in the beginning of a meeting rather than just sit there and have dull conversation of how we're going to do this and that. We were like a team that was going to play."
A bizarre tactic? Sure. But, at the end of the day, it got the job done, and everyone who watched the game is thankful nothing crazy happened by the account of the officials, including the National Football League.