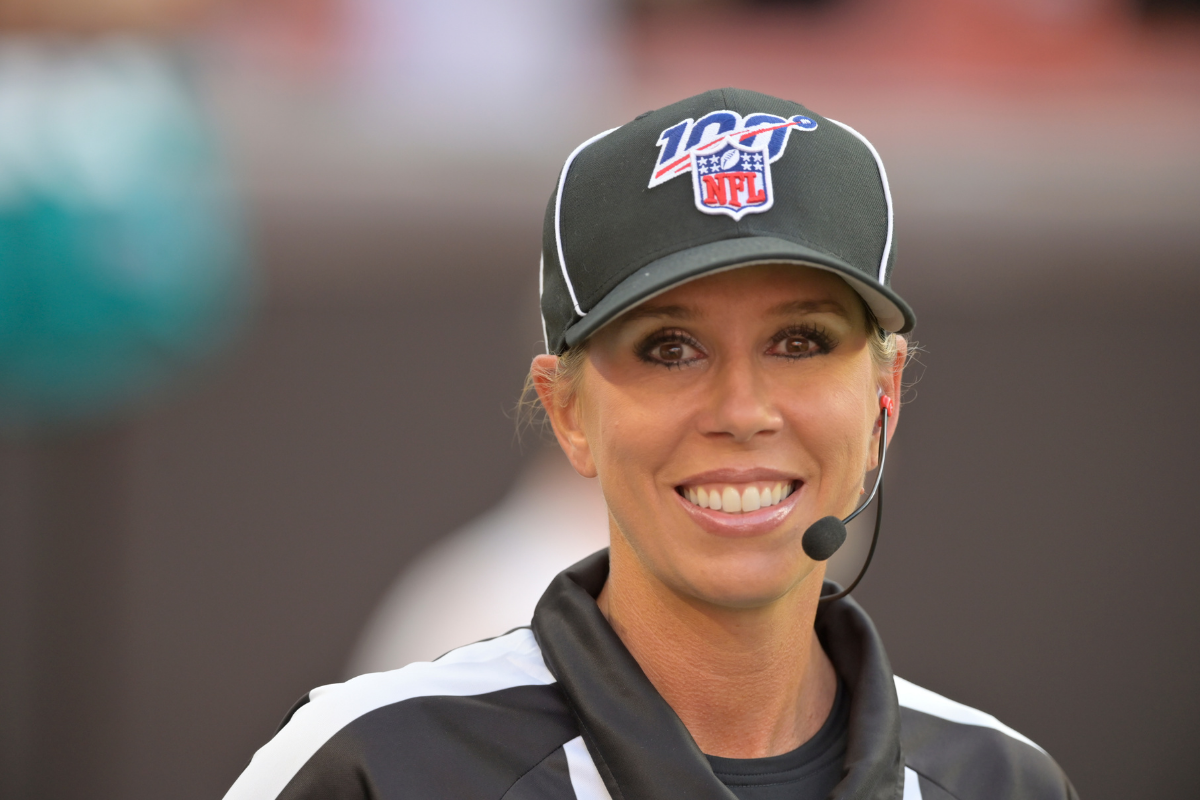 AP Photo/David Richard
Nearly six years ago, on April 8, 2015, Sarah Thomas was hired as the NFL's first full-time female official. She had already become the first woman to officiate a major college football game in the NCAA, the first to officiate in a Big Ten Conference stadium, and the first to officiate a bowl game. But the National Football League? That was next level then and she isn?t slowing down at all.
In the 2019 AFC Divisional Round playoff game between the New England Patriots and Los Angeles Chargers, Thomas was the down judge. It marked the first postseason assignment of her career and the first time the league featured a female official in a playoff game.
So at Gillette Stadium in Foxborough, Massachusetts, you better believe NFL history was made as Thomas became the first female to ever officiate a NFL playoff game. Now, she's making Super Bowl history.
Sarah Thomas NFL Official
RELATED: Who is New Orleans Saints QB Drew Brees' Wife?
Born in Pascagoula, Mississippi, down judge Sarah Thomas, who is listed as a sales representative from the University of Mobile in Alabama, was part of the officiating crew for Ron Torbert, a referee she commonly works with. At the time, it was Tolbert?s seventh postseason assignment and he had received one in every year he had been eligible.
For Thomas, however, it was a different story. It was her fourth season as an NFL official and had spent the previous two as a down judge, but had only been listed as an alternate in a 2017 Wild Card game, according to Sports Illustrated.
Joining Ron Torbert?s crew that day was Thomas, umpire Rich Hall, line judge Mark Steinkerchner, field judge Brad Rogers, side judge Scott Edwards and back judge Dino Paganelli.
Additionally, replay official Terri Valentini, who was hired by the NFL in 2017, was assigned to the other AFC postseason game between the Kansas City Chiefs and Indianapolis Colts.
It was a special moment for Thomas, no doubt, and being the first female official in the playoffs is incredible, but she hasn't stopped there.
Thomas also worked the 2020 NFC Divisional playoff matchup between the San Francisco 49ers and Minnesota Vikings.
The rate she's going, sooner or later, the NFL's first female official in the postseason will be working a Super Bowl.
Sarah Thomas Super Bowl
UPDATE (January 19, 2021): It's official. Sarah Thomas will become the first ever female official in Super Bowl history when she serves as the down judge for Super Bowl LV.
Thomas will join Carl Cheffers' NFL officiating crew, which includes Fred Bryan, Rusty Baynes, James Coleman, Eugene Hall, Dino Paganelli and Mike Wimmer.
?Sarah Thomas has made history again as the first female Super Bowl official,? NFL Executive Vice President of Football Operations Troy Vincent Sr. said in a release. ?Her elite performance and commitment to excellence has earned her the right to officiate the Super Bowl. Congratulations to Sarah on this well-deserved honor.?
Whether it's the Tampa Bay Buccaneers or Green Bay Packers versus the Buffalo Bills or Kansas City Chiefs, you can expect the stars will be on full display come February 7 at Raymond James Stadium in Tampa, Florida. And I'm not talking about Tom Brady, Aaron Rodgers, Josh Allen or Patrick Mahomes.
Congrats, Sarah.
This post was originally published on January 9, 2019 but has been updated as Thomas makes history.