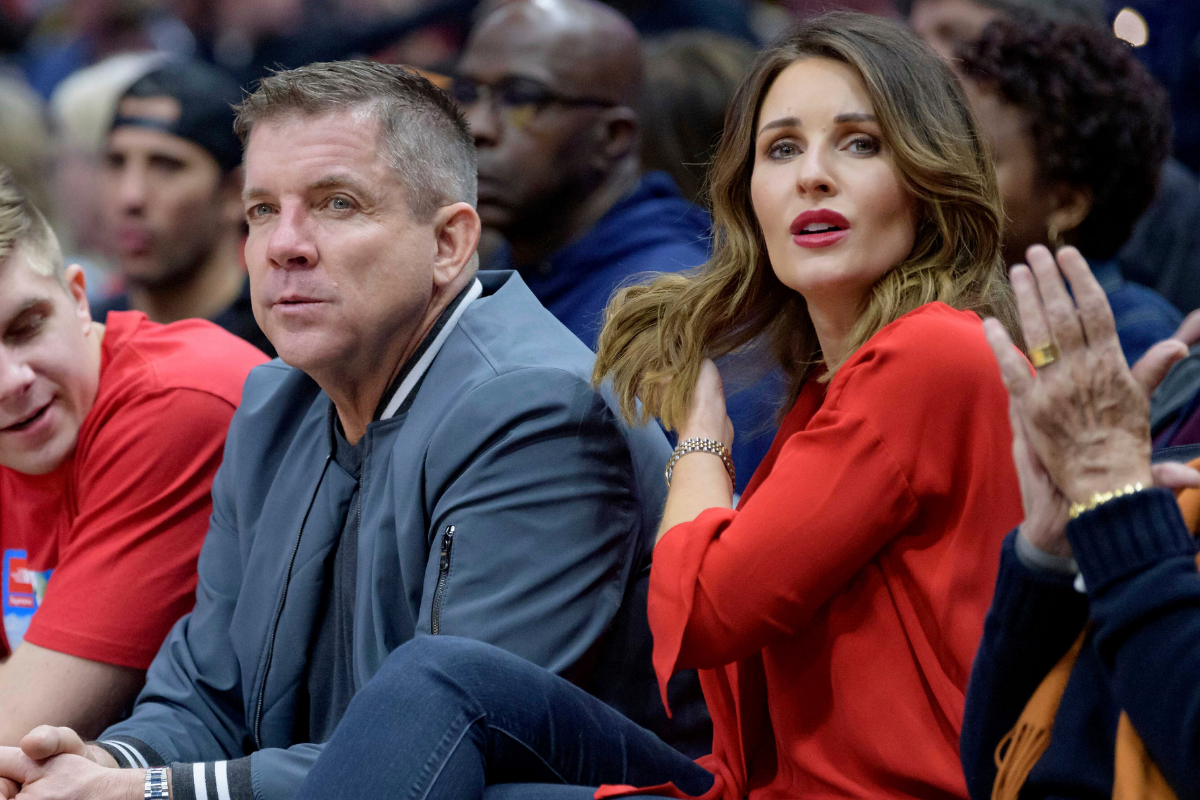 AP Photo/Matthew Hinton
New Orleans Saints head coach Sean Payton is one of the most successful coaches in franchise history, and he'll be looking to carry that success on during the playoffs and in future seasons. The 57-year-old's 143 wins ranks 23rd all-time and he's not done yet.
While Saints fans will be cheering on their team from home due to the COVID-19 pandemic during the 2020-21 playoffs, no one will be rooting harder for Payton's squad than his loving fiancée, Skylene Montgomery.
Sean Payton's Wife
RELATED: Who is Mike Tomlin's Wife?
Sean Payton is currently engaged to longtime girlfriend Skylene Montgomery, having surprised her with a proposal in 2019 while at the Longway Tavern in the French Quarter.
Montgomery hails from West Virginia and is a former Miss West Virginia winner, having won the competition in 2008. Per nola.com, Saints owner Gayle Benson was in on the surprise marriage proposal, and even helped Payton by staging the private party as Montgomery's 35th birthday party. Payton and Montgomery currently live together in the Uptown area of New Orleans, Louisiana, in a beautiful 6,000-square foot mansion.
Montgomery earned a nursing degree from West Virginia University and moved to New Orleans in 2013, where she began working at Ochsner Medical Center. Payton and Montgomery first met at a Saints game, when the team traveled to face the Panthers while Montgomery was living in Charlotte. Things kicked off and the couple is due to be wed in March of 2021.
Prior to his engagement to Montgomery, Payton was previously married to his ex-wife Beth Shuey. Payton and Shuey were married for 24 years and have two children together, daughter Meghan and son Connor.
Sean Payton Coaching Career
Sean Payton was a football player himself prior to becoming a football coach. He played high school ball for Naperville Central High School in Illinois, and later attended Eastern Illinois where he played quarterback.
He got his coaching debut as an assistant at San Diego State in 1988. He then held assistant coaching roles at Indiana State University, Miami University and Illinois.
He made the leap to the NFL in 1997 when he was employed as the quarterbacks coach for the Philadelphia Eagles. He took the same role with the New York Giants in 1999, before being promoted to offensive coordinator in 2000. He spent two seasons in that position before joining the Dallas Cowboys as the assistant head coach and quarterbacks coach in 2003.
In 2006 he took over as head coach of the New Orleans Saints, taking the helm of the struggling franchise and luring star free agent quarterback Drew Brees to the Mercedes-Benz Superdome after he had departed from the Chargers that offseason. Payton has been the Saints' head coach for 14 seasons, and won Super Bowl XLV in 2009 against the Indianapolis Colts.
Sean Payton Net Worth
According to Celebrity Net Worth, New Orleans Saints coach Sean Payton boasts an estimated net worth of $24 million. Per reports, Payton is currently the fourth-highest paid NFL head coach, earning $8.5 million per season.
As the Saints continue to play in the playoffs, Sean Payton will surely continue to be popular on social media.