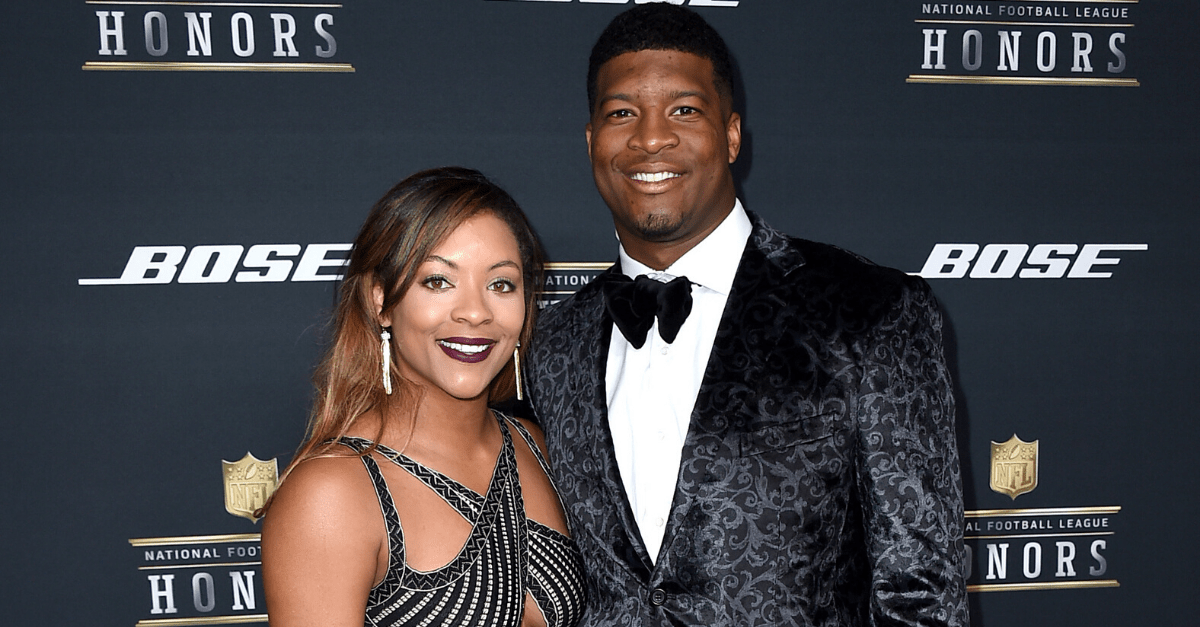 Photo by Jordan Strauss/Invision for NFL/AP Images
It has been quite the offseason for NFL quarterback Jameis Winston. He first got LASIK eye surgery to repair his vision and then became a free agent once Tom Brady decided to sign with the Tampa Bay Buccaneers. Oddly enough, however, neither were the most life-altering moment during the past couple of months.
On March 27, in the midst of the coronavirus pandemic and COVID-19 spread, Winston got married to longtime girlfriend Breion Allen in a rather secret and very private ceremony at their home. The initial wedding was postponed, so the former first overall pick decided to improvise.
The two have known each other since high school and been together for years. They got engaged before the couple welcomed their first child, Antonor Winston, back in 2018. Now, they have officially tied the knot and shared the news on social media.
Jameis Winston Marries Breion Allen
RELATED: Tim Tebow's Wedding Video Is Here, And It's Absolutely Breathtaking
Ideal? Hardly. Both Jameis and Breion — both Alabama natives — were expecting to have a nice wedding with a star-studded guest list. The top pick in the 2015 NFL Draft by the Bucs and the former Rice basketball player made it work in , though.
"A week when nothing was going as planned. Our initial wedding had just been postponed and I was in a funk. But @jaboowins3 [Winston] came through and put together a beautiful intimate ceremony in the privacy of our own home. And it seemed it was meant to be this way all along… #MrAndMrsWinston
A Heisman Trophy winner at Florida State, Winston is coming off a whirlwind season under Bucs head coach Bruce Arians. He had over 5,000 passing yards and 30 touchdowns, but also threw 30 interceptions. It's the first time that has happened in NFL history.
Now, it's on to free agency after Super Bowl champion Tom Brady left the New England Patriots to sign a two-year deal in Tampa Bay. That's not the only move around the league, though. Far from it.
Along with Winston, Cam Newton is a MVP signal-caller looking for a new team and a solid rookie class is coming in. Additionally, Teddy Bridgewater left the New Orleans Saints to sign with the Carolina Panthers and Philip Rivers moved on from the Los Angeles Chargers to sign with the Indianapolis Colts.
Winston will hear from NFL teams looking for an experienced quarterback in the near future. Until then, he can focus on spending time with his new wife and their baby boy.