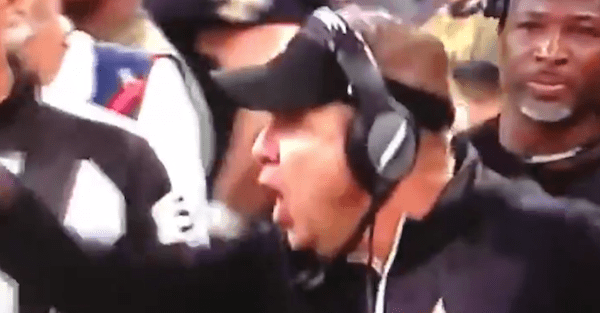 @SaintJMac/Twitter
Things got in the Superdome, and New Orleans Saints head coach Sean Payton lost his mind on Tampa Bay Buccaneers head coach Dirk Koetter.
Buccaneers wide receiver Mike Evans laid a cheap shot on Saints cornerback Marshon Lattimore during an altercation with teammate Jameis Winston near the Bucs' sideline.
Lattimore and Winston exchanged words before the quarterback grabbed the defensive back from behind. When Lattimore retaliated, he was pancaked from behind by Evans.
That resulted in Payton furiously yelling at Koetter:
Surprisingly, the wide receiver was not ejected from the game and instead was flagged for a personal foul.
Obviously, there's plenty for the Bucs to be frustrated about after Winson left the game early and has now been shut down for the next few weeks.
This wasn't the first altercation between a wide receiver and defensive back in Week 9. Cincinnati Bengals receiver A.J. Green and Jacksonville Jaguars cornerback Jalen Ramsey were ejected for fighting during their game on Sunday, and three players were ejected in the San Francisco 49ers' tilt with the Arizona Cardinals.