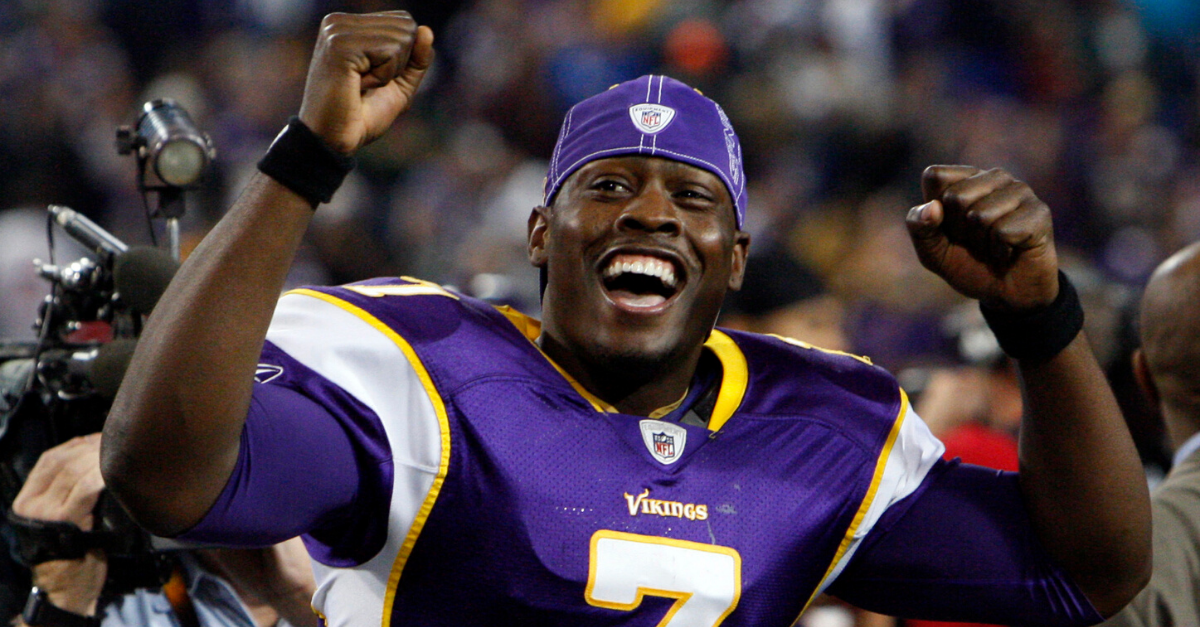 AP Photo/Ann Heisenfelt
First reported by NFL Network's Ian Rapoport, former NFL quarterback Tarvaris Jackson died in a car crash on Easter Sunday night. ESPN's Courtney Cronin tweeted that, per the Alabama Law Enforcement Agency, Jackson's Chevrolet Camero left the roadway and struck a tree in a single-car accident. He was 36 years old.
Jackson worked as quarterbacks coach at Tennessee State University after holding the same position at his alma mater, Alabama State. His coach bio on the TSU website says he and wife Lakitta Jackson had three children together ? Tarvaris Jr., Takayla and Tyson.
Tarvaris Jackson Dies in Car Crash
Leading up to the 2006 NFL Draft, the Minnesota Vikings and former head coach Brad Childress were looking for a quarterback who "might be a diamond in the rough" to take over the franchise. When the 64th overall pick came in the second round, Minnesota traded two third round picks to move up and select little-known Alabama State quarterback Tarvaris Jackson.
Over the next 10 seasons, the Montgomery, Alabama native played for the Vikings, Seattle Seahawks, and Buffalo Bills. In his second year, Jackson went 8-4 as Minnesota's starting quarterback with some help from the Offensive Rookie of the Year Adrian Peterson. Jackson ultimately didn't gain the trust of the Vikings' coaching staff and was benched before heading to Seattle.
His best statistical season came in 2011 when he started 14 games for the Seahawks, throwing for over 3,000 yards and 14 touchdowns in head coach Pete Carroll's second season.
In 2013, Jackson served as Russell Wilson's backup as the Seahawks rolled to victory in Super Bowl XLVIII.
As one of the most well-respected mentors and workers in football, "T-Jack" was remembered across social media after last night's tragedy.
Rest in peace to a Super Bowl champion, leader and workhorse who truly was a diamond in the rough.