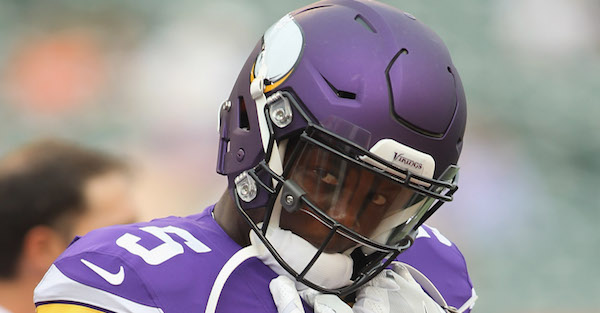 John Grieshop/Getty Images
CINCINNATI, OH - AUGUST 12: Teddy Bridgewater #5 of the Minnesota Vikings warms up before the game against the Cincinnati Bengals at Paul Brown Stadium on August 12, 2016 in Cincinnati, Ohio. (Photo by John Grieshop/Getty Images)
Before the campaign ended in brutal fashion for his team, Case Keenum left an imprint on the Minnesota Vikings in an impressive way. Before the 2017 season began, Keenum was, quite simply, an afterthought in Minnesota but he was thrust into duty and responded to the tune of more than 3,500 yards and 22 touchdowns in leading the Vikings to a great performance.
One reason that Keenum was forced into action, though, was the health of Teddy Bridgewater and, considering Keenum is now a free agent, things are about to get quite interesting in Minnesota. On Monday, Kevin Seifert of ESPN spoke with Bridgewater, who has attempted two passes (in mop-up duty) over a two-year span, and he indicated a "definite" view of himself as a starting quarterback for the 2018 season.
That, of course, isn't a surprise for a player that remains young, talented and with plenty to prove. Still, Bridgewater's injury was of the devastating variety and, with as well as Keenum played, it would not be a full-fledged surprise to see the Vikings look to maintain the status quo that led them to the NFC Championship Game.
Still, Bridgewater does not appear keen on being a backup for 2018 and beyond, leaving the franchise in a tough spot with plenty to sort through in the coming days.