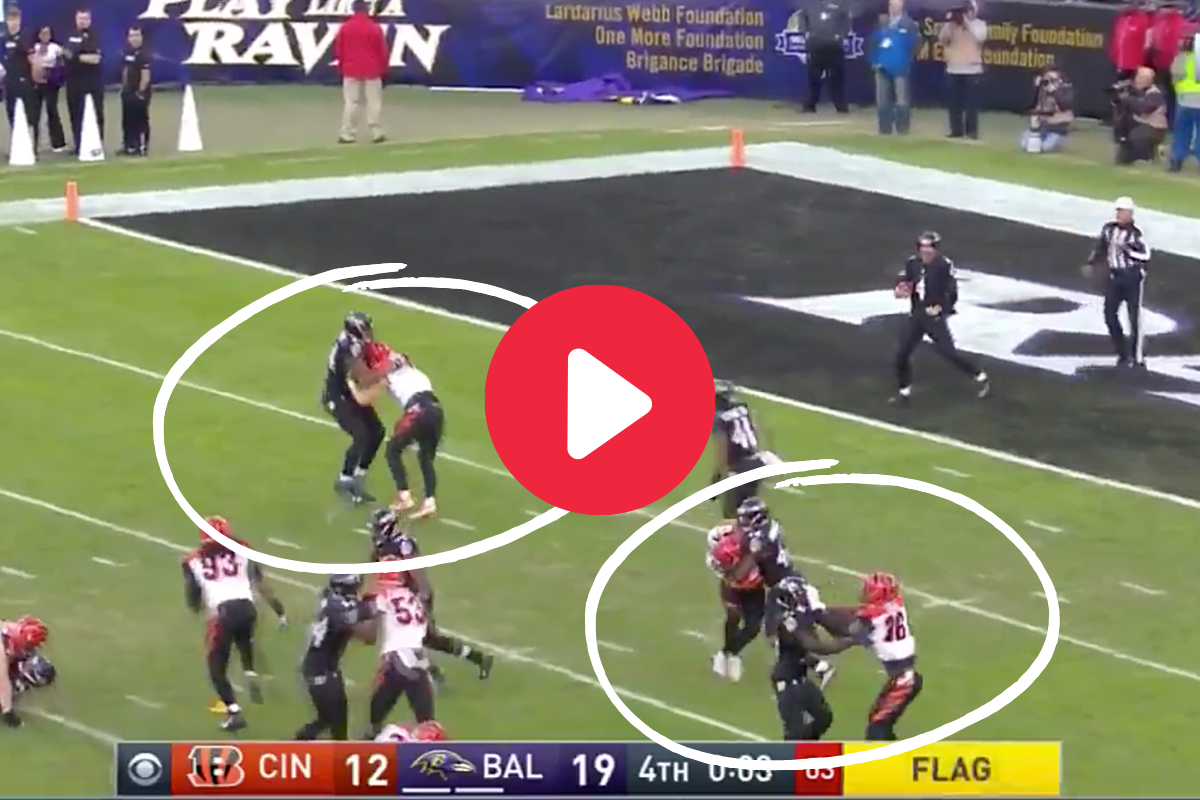 Screenshot from Twitter
Holding isn't allowed in the NFL. Most of us know that's when a player uses his hands or arms to "materially restrict an opponent or alter the defender's path or angle of pursuit." That's a fancy way of saying you can't grab a dude.
Yet back in 2016, Baltimore Ravens head coach John Harbaugh had a genius idea. Violate the rule on purpose and tell all of his offensive players to hold every defender. Why? Because that would secure a victory over the Cincinnati Bengals by running out the last 11 seconds of the game and taking a safety.
It's not often players get told to earn an intentional flag.
Ravens' Intentional Game-Winning Safety
RELATED: 1-Point Safety: How the Only One in NFL History Almost Happened
This has to be a first.
Up 19-12 on the Cincinnati Bengals with 11 seconds remaining in the 4th quarter, the Baltimore Ravens opted to hold and even tackle some Bengals players on fourth down to ensure there wouldn't be a blocked punt or return on the game's final play.
And it worked. Ravens punter Sam Koch ran around in the the end zone until time ran down, then just stepped out of the back of the end zone for a safety, preserving the 19-14 victory.
The play is likely to upset a lot of Bengals fans, but Harbaugh, a former special teams coach, knows his stuff. A game can't end on defensive penalty, but it can end on an offensive penalty, which was the case here.
Absolutely genius.
This post was originally published on November 27, 2016, but every coach should have this play in their playbook.