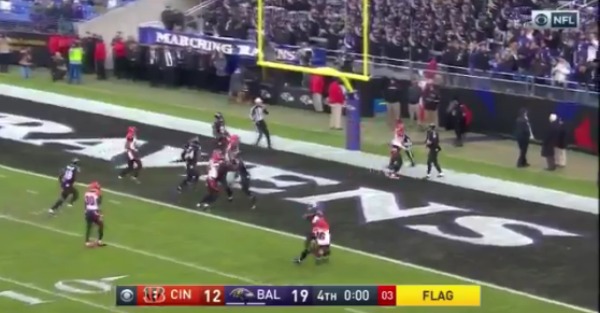 Twitter screen shot
This has to be a first.
Up 19-12 on the Cincinnati Bengals with 11 seconds remaining in the 4th quarter, the Baltimore Ravens opted to hold and even tackle some Bengals players on fourth down to ensure there wouldn't be a blocked punt or return on the game's final play.
And it worked. Ravens punter Sam Koch ran around in the the end zone until time ran down, then just stepped out of the back of the end zone for a safety, preserving the 19-14 victory.
RELATED: Vontaze Burfict took flopping to new levels on this play
The play is likely to upset a lot of Bengals fans, but Harbaugh, a former special teams coach, knows his stuff. A game can't end on defensive penalty, but it can end on an offensive penalty, which was the case here.