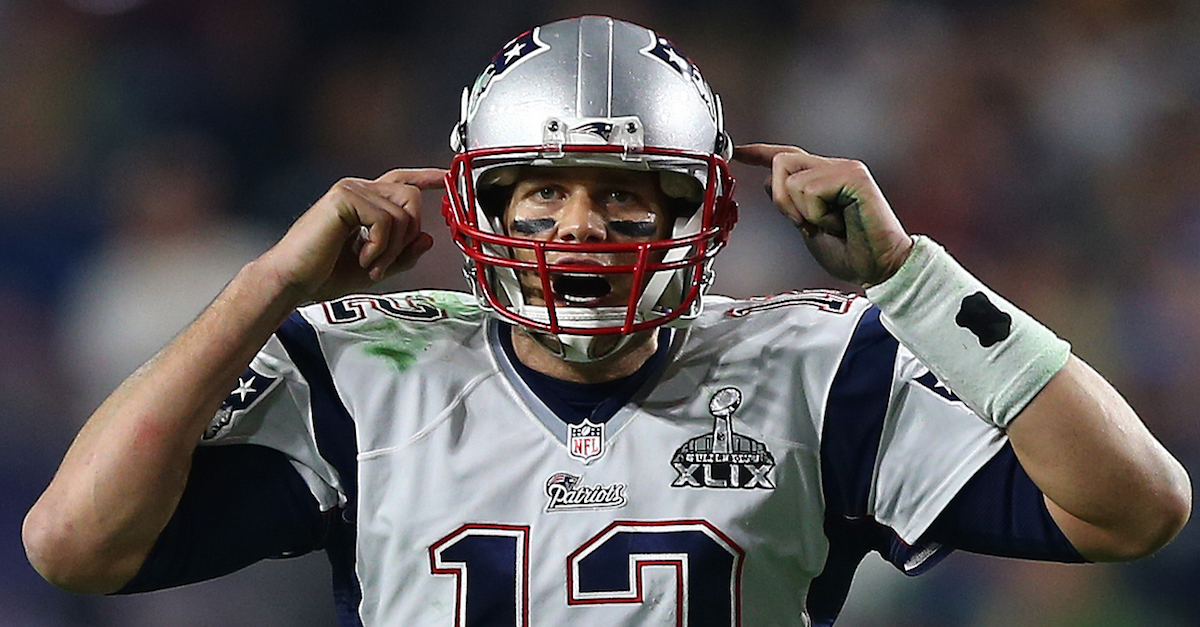 Photo by Elsa/Getty Images
Ever since the San Francisco 49ers ran through the National Football League in the 1980s, there hasn't been much of an argument against Hall of Fame quarterback Joe Montana's claim to being the best signal caller in NFL history. Four Super Bowls in eight years, eight Pro Bowls, back-to-back league MVP awards, and numerous clutch moments locked Montana in as the greatest QB to ever touch the gridiron. That is, until a 211-pound quarterback named Tom Brady was drafted by the New England Patriots back in 2000.
Since taking over for Drew Bledsoe, there's been no one better than Brady. He's reached 14 Pro Bowls in 19 years, won six Super Bowls in nine trips, and owns almost every record imaginable by a starting quarterback. When you include throwing only three passes as a rookie and missing the entire 2008 season with an injury, it's hard to make a case against Brady as the "Greatest of All Time." Apparently, even he knows that's a fact now, too.
In an uncharacteristic move, Brady took to Instagram Live late Sunday night to remind everyone who the greatest really is. The 41-year-old began by showing respect to Montana, then addressed the G.O.A.T. debate with a definitive response: the debate is over.
"I grew up in California watching Joe [Montana] every Sunday. Everyone wanted to be like 16 because of the leadership and poise and greatness he showed time and time again. The Niners set the standard back then, but let's just say things have changed. What we've done in New England might never be done again. From Mr. Kraft through Coach Belichick on down to me and the guys I've played with, it's truly been an incredible ride.

"But someone asked me at dinner last night if I felt like the greatest to ever do this. With all due respect to Joe and what he did, is there really a case for him anymore? I feel like the work that I've done ? caring for my body, sustaining this run for so long ? that I'm the greatest to ever play this game, and we're still going strong, baby. Move over, Joe. I'm the G.O.A.T. now."
C'mon, now. Did you really think Tom Brady would go out and say something like that?
April Fools.