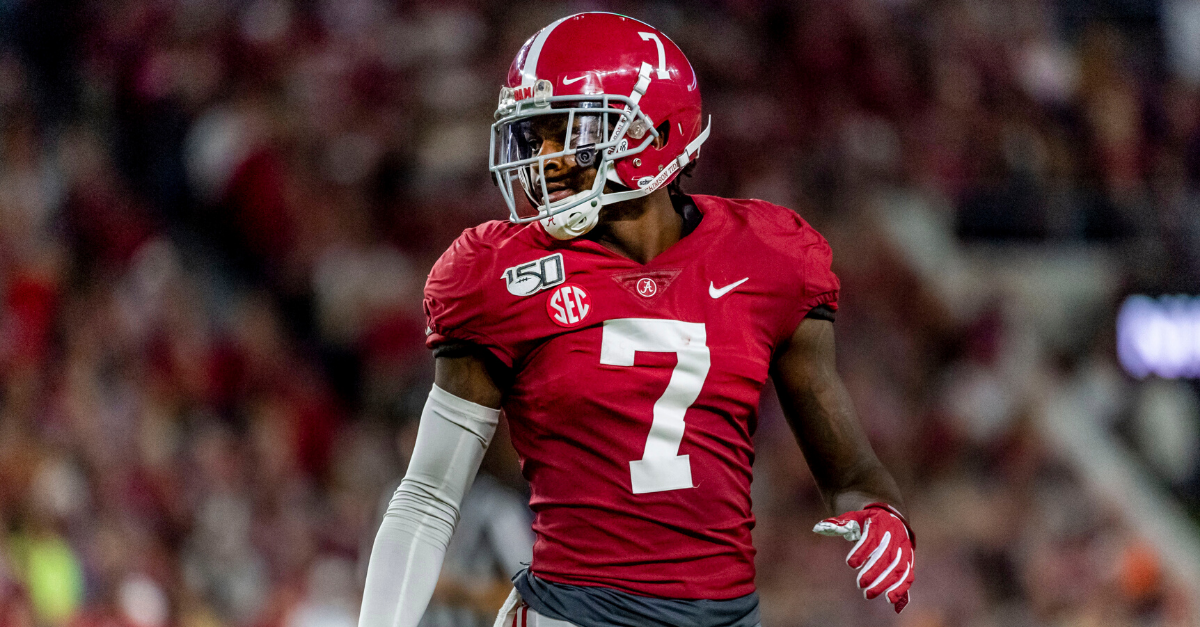 AP Photo/Vasha Hunt
Growing up in Maryland, former Alabama Crimson Tide defensive back Trevon Diggs was fueled by competition. He had two older brothers to play with while his mother worked hard to put food on the table for the growing boys. Each one of them turned into great football players, too, but one thing was always missing: Their dad.
Aron Diggs passed away in January 2008 from congestive heart failure when he was just 39 years old. Stefon Diggs, the former Minnesota Vikings wide receiver who was traded to the Buffalo Bills this offseason, was only 14 at the time. He was the oldest, though, and suddenly had to become the man of the house.
Over the years, young Trevon had to lean on his older brother for guidance, especially with the cornerback getting ready for the 2020 NFL Draft.
The Diggs Family Tragedy
RELATED: Jerry Jeudy's Mother & Sister's Tragedy Shaped The Future NFL Star
Trevon Diggs was only nine when his father passed away unexpectedly. Stephanie Diggs became a single mother. Brothers Stefon Diggs, Mar'Sean Diggs (aka Darez), and Trevon, as well as sister Porche Green would have to grow up without their dad. It was hard, no doubt, but the family made it through the tough times.
Stefon played college football at Maryland and was a fifth-round pick in the 2015 NFL Draft. Mar'Sean played defensive back at UAB. Trevon just wrapped up an All-SEC and All-American career under head coach Nick Saban at Alabama.
Through it all, Stefon was right there as a father figure to help his younger brothers.
"[Stefon] is like my dad, honestly," Trevon told ESPN. "He was there for me when my father passed, so he has always taken care of me. I always ask him everything, no matter what. Two o'clock in the morning, I'm asking him questions. I called him last night, every day, about this process and how he managed it."
Although he was not a first-round pick like some of his teammates — Tua Tagovailoa (Miami Dolphins), Jedrick Wills (Cleveland Browns), Henry Ruggs III (Las Vegas Raiders), and Jerry Jeudy (Denver Broncos) — or like many projected in mock drafts, he will assuredly hear his name called when the second-round of the draft resumes on April 24.
CB Trevon Diggs Highlights
After a standout high school career at The Avalon School, Trevon Diggs committed to the University of Alabama. He played wide receiver as a freshman in 2016, scoring one touchdown and adding nearly 300 yards combined on kick and punt returns, before making the switch to defensive back.
By the time he was a senior in 2019, Diggs was a household name all on his own. He made 20 tackles while also recording eight pass deflections, three interceptions and two fumble recoveries, and he also had six kickoff returns for 117 yards on special teams.
Diggs worked on the little things to make him great, and it's why the cornerback prospect will be a draft pick soon, where he hopes to go up against his brother in the league.
"The little brother always wins," he told ESPN.
No matter what happens at the next level, or when that will come amidst the coronavirus pandemic and COVID-19 outbreak, the Diggs brothers will always have each other and the memories of their dad every step of the way.