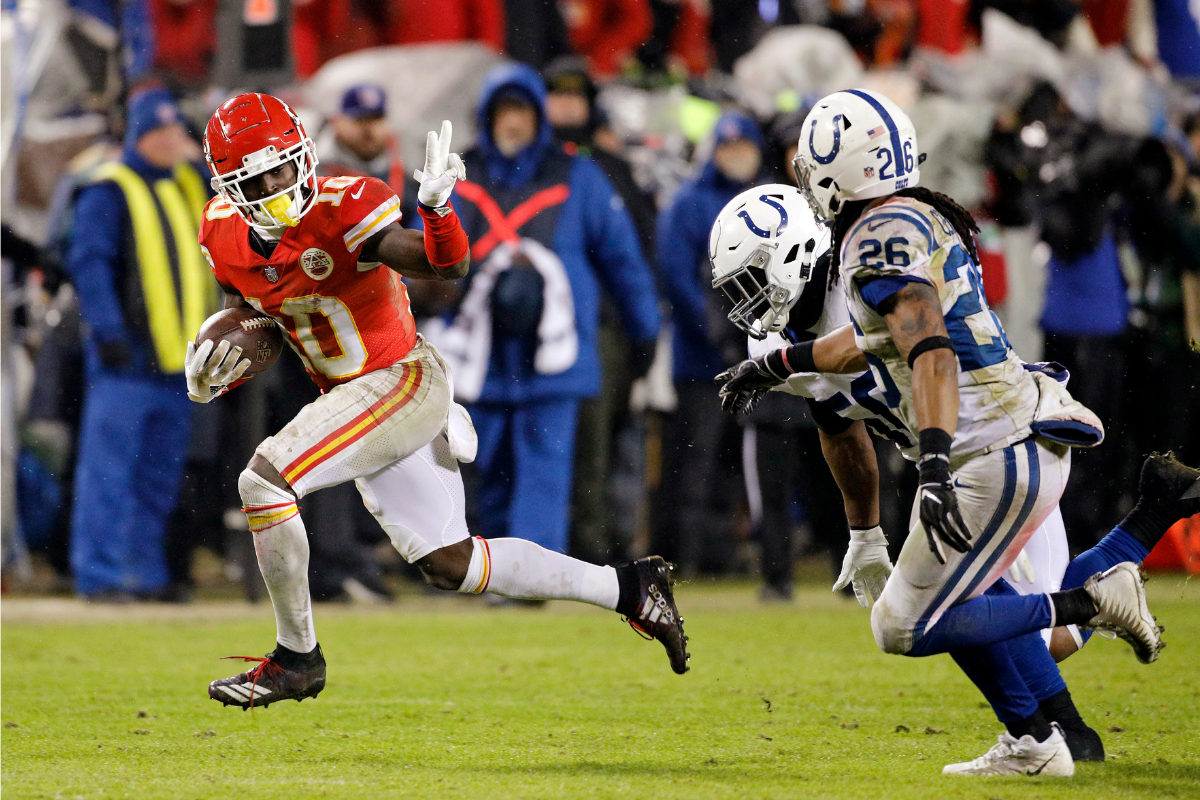 AP Photo/Colin E. Braley, File
Kansas City Chiefs wide receiver Tyreek Hill has made a living burning opposing NFL cornerbacks, utilizing his blazing fast speed in order to create separation from defenders and get in the end zone for touchdowns.
Arguably the fastest player in the league and appropriately nicknamed "Cheetah," Hill presents a matchup nightmare for virtually any member of a NFL secondary.
How Fast is Tyreek Hill?
RELATED: Chiefs Run 1940s-Inspired Trick Play to Perfection in Super Bowl
Tyreek Hill's speed is frequently a topic of discussion among Chiefs Nation, and according to Next Gen Stats, Hill's fastest run in his career came on a play where he didn't even have the ball.
In a November 2019 game against the Minnesota Vikings, MVP quarterback Patrick Mahomes handed the ball to running back Damien Williams, who broke free for a 91-yard touchdown run. The play in and of itself was spectacular, but when reviewing the replay, you can clearly see Hill's explosive pace as he escorts his running back past the pylons.
Next Gen Stats recorded that Hill's top speed on that play was 22.6 MPH, the fastest mark set in his career.
For reference, the viral play in which Seattle Seahawks wideout DK Metcalf chased down Arizona Cardinals cornerback Budda Baker during an interception return registered a top speed (from Metcalf) of 22.64 MPH.
Hill's speed was also pitted up against the quickest men in the world. NBC showed a comparison between his fastest speed and the participants in the 2016 Rio Olympics 200m final, and he certainly held his own against the likes of Usain Bolt.
The Super Bowl champ has also raced some of his teammates in the past, including fellow AFC speedster Mecole Hardman, whom he beat in a training camp sprint off this past offseason.
Fastest NFL Combine 40's
The former fifth-round pick ran track and field in high school — where he caught the eye of ESPN — and college, in addition to his football career.
While the Pro Bowl wideout didn't participate in the 2016 NFL Combine, he ran the 40-yard dash at West Alabama's Pro Day and recorded a blazing 4.29 mark. The NFL Combine record for the 40 is held by Cincinnati Bengals 2018 first-round pick, John Ross, who clocked in at 4.22 seconds.
Other players who could also claim the title as fastest NFL player include Las Vegas Raiders rookie Henry Ruggs who ran the 40-yard dash in 4.27 seconds, Houston Texans WR Will Fuller (4.32), and Eagles' Marquise Goodwin (4.27).
Hill, who is the first player drafted into the NFL out of West Alabama since the Cowboys drafted Ken Hutcherson in 1974, has had more than his fair share of explosive TDs against AFC foes like the Ravens, Steelers and Titans.
In September 2018 against the Los Angeles Chargers, Hill broke free for a 57-yard reception, during which he was clocked at 21.95 MPH. That stood as a season record until it was broken by New England Patriots cornerback Devin McCourty, who broke the 22 MPH threshold on an 84-yard interception return against the Buffalo Bills.
The Chiefs locked up the No. 1 seed in the 2020 AFC playoffs, led by head coach Andy Reid, Mahomes and their esteemed receiving tandem of playmaker tight end Travis Kelce and barnburner Tyreek Hill.
KC will try to win back-to-back championships when they play Tom Brady and the Tampa Bay Buccaneers at Super Bowl LV on CBS.
Whether it's at wide receiver or as a ball carrier, the Bucs' defense, especially the linebackers, better watch out. Hill's speed shines in the postseason and he's ready to make history each time he touches the ball.