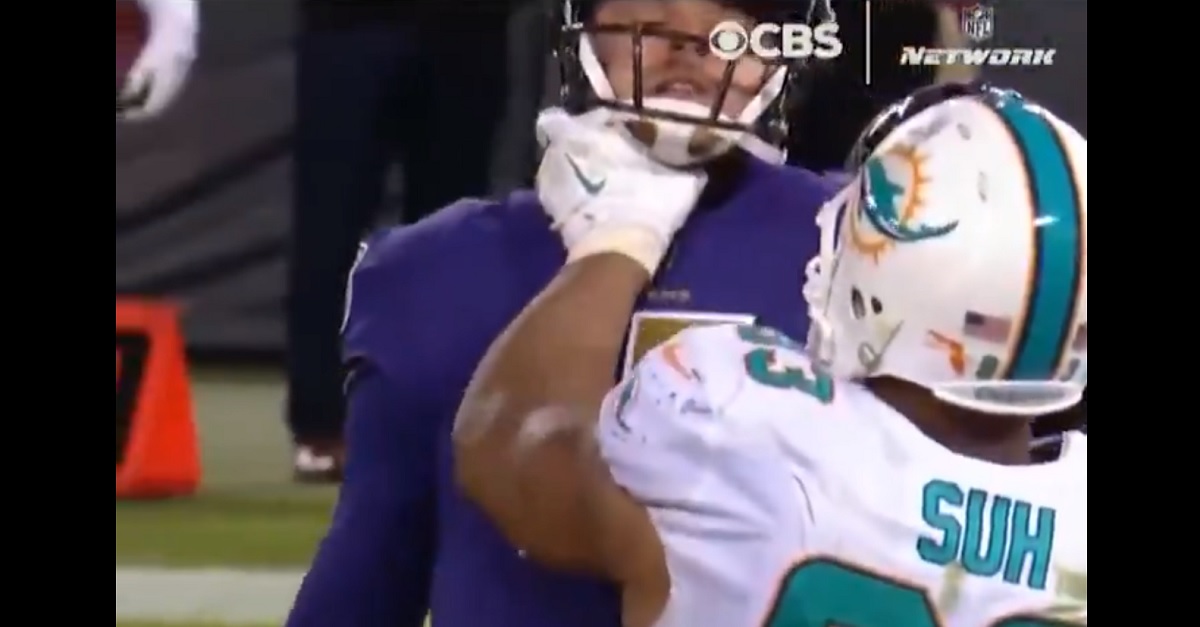 Deadspin/Twitter
@Deadspin/Twitter
This is sure to cause controversy.
According to NBC's Pro Football Talk, Miami's Ndamukong Suh will not be facing suspension for his "choke slam" on Baltimore Ravens quarterback Ryan Mallett on Thursday night.
That led to some tempers flaring and ultimately a major fight near the end of what should have been a peaceful blowout. Ravens and Dolphins players were still going at each other with the game already decided and only seven minutes left in it.
After the game, Suh told the South Florida Sun-Sentinel that he was just protecting himself when he got face-to-face with Mallett.
"Simple as this," Suh began. "He came at me and tried to attack me, and I'm protecting myself."
Asked whether he regretted his actions, Suh replied, "I'm never going to regret protecting myself."
Suh has often been a troublemaker in the NFL, even earning the "dirty player" label for some of his antics. This includes cheap shots against the Steelers and the Patriots just in the past year.
Suh could still be fined, of course, but considering he would be considered a "repeat offender" for these kinds of plays, it is a bit surprising if the NFL swiftly determined that they were not going to consider a suspension here.