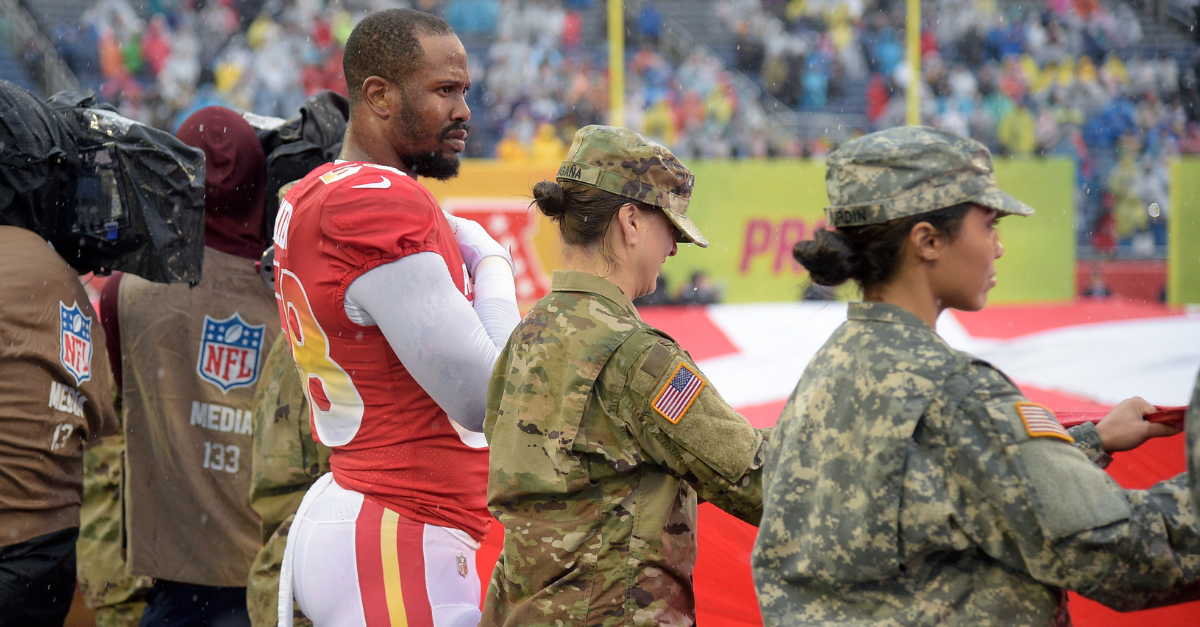 AP Photo/Phelan M. Ebenhack
When you think of Denver Broncos outside linebacker Von Miller, his talent on the football field is what immediately stands out. However, he?s much more than the 6-foot-3, 250-pound force with seven Pro Bowl and All-Pro selections in his first eight NFL seasons. Miller is an unbelievable leader off the field, too.
In 2012, Miller founded Von?s Vision, an organization which provides low-income children with vision care and eye exams, according to the Broncos. The Super Bowl 50 MVP who always wears glasses off of the field has raised more than $4.5 million.
Later this month, Miller will be honored for his work as the recipient of the 2019 Jefferson Award for Outstanding Public Service in Sports. The award, which was co-created by Jacqueline Kennedy Onassis, Senator Robert Taft Jr., and Sam Beard, was announced by Multiplying Good Foundation?s Board of Selectors on Tuesday.
RELATED: Here Are All 31 NFL Stadiums, Ranked Best to Worst
Former Broncos linebacker DeMarcus Ware will present Miller the award on June 18 at the Mayflower Hotel in Washington, D.C.
What a cool honor for a man who always makes an impact in the community. Von Miller now joins the likes of Peyton Manning (2006), Troy Vincent (2012), Mariano Rivera (2014), Joe Torre (2017), Shaquille O?Neal (2018), and Chris Long (2018).
?By providing a prestigious platform that recognizes outstanding, selfless acts of service, we motivate our award recipients to do more and we inspire others to take action in service to others, creating a ripple of good. The youth, grassroots, corporations, and notable national award recipients who join us at the D.C. Jefferson Awards represent the very best of our country, people who have dedicated themselves to serving others. By bringing them together and elevating their work, we inspire communities nationwide.?

? Multiplying Good Foundation CEO Hillary Schafer, via Broncos.
This is much bigger than the 443 tackles, including 98 sacks, and 25 forced fumbles Miller has recorded in his career since being a first round pick (No. 2 overall) in the 2011 NFL Draft after a sensational career with the Texas A&M Aggies. This proves Miller is the exact player a franchise should want to build a team around.
And needless to say, after nominations for awards like the Walter Payton Man of the Year award last year, Von Miller being recognized for his amazing work off the field is very well deserved.