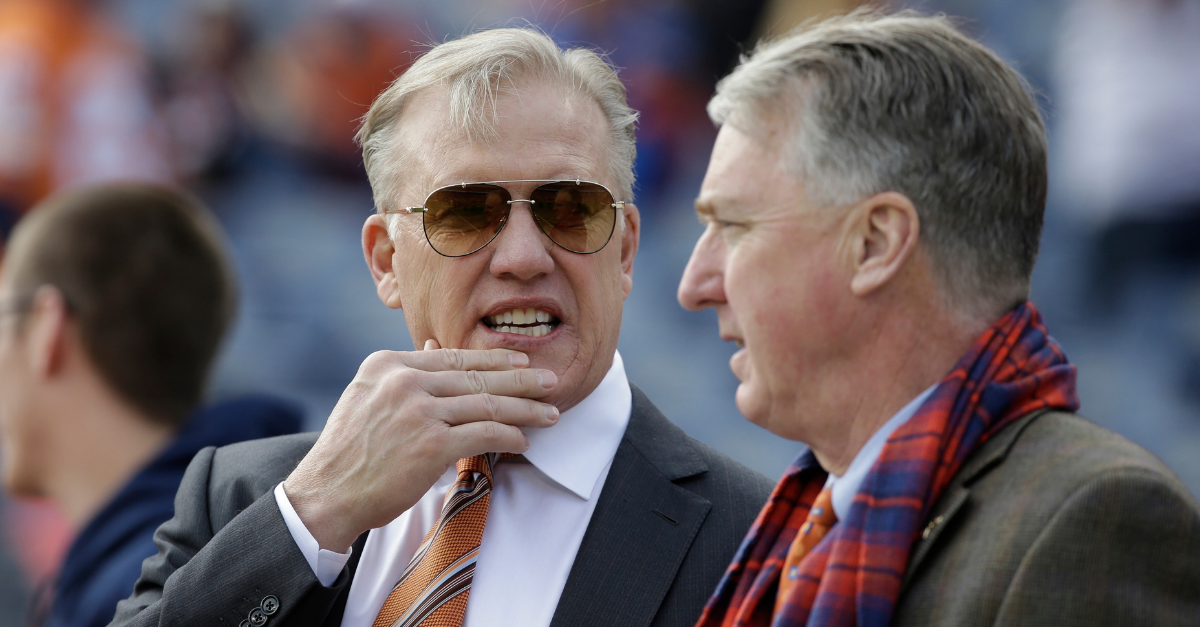 AP Photo/Jack Dempsey
After a bizarre late-night trespassing saga in late October 2018, one that was probably hard to believe even after you read about it, the Denver Broncos cut Chad Kelly from their roster. This was not a surprising move given the circumstance and previous troubled history of the backup quarterback, but it meant the organization would have to go back to the drawing board about its depth and future at the position.
Having free agent Case Keenum as the starting signal caller that season wasn't a horrendous idea. Neither was getting Super Bowl XLVII MVP Joe Flacco for cheap for the 2019 campaign. The Broncos even had Peyton Manning do his thing in the Super Bowl 50 victory over the Carolina Panthers in 2016, yet most of the credit is given to Von Miller and the Denver defense.
But what if someone told you the Colorado Rockies have drafted better quarterbacks than the Denver Broncos over the last 30 years?
Would you believe it? Well, it?s true.
Denver Broncos Quarterback History
From the initial tweet from The Athletic?s Nicki Jhbvala, before rookie quarterback Drew Lock arrived at Mile High Stadium, there were five quarterbacks taken in the NFL Draft since Hall of Fame quarterback John Elway joined Denver?s front office in 2011 as the general manager and president of football operations. None of them are on the roster.
Brock Osweiler (2012), Zac Desert (2013), Trevor Siemian (2015), Paxton Lynch (2016), and Chad Kelly (2017?s Mr. Irrelevant) have all been pretty big busts, or, at the very least, never lived up to the hype of being a productive NFL quarterback.
Go ahead and add Brian Griese (1998), Jarious Jackson (2000), Matt Mauck (2004), Bradlee Van Pelt (2004), Jay Cutler (2006), Tom Brandstater (2009), and Tim Tebow (2010) to that list of Broncos-drafted-quarterbacks-that-never-really-worked-with-the-franchise-over-the-last-30-years, too.
You can actually get a Brian Griese game-worn jersey card for less than $3 for crying out loud.
Granted, only Cutler and Tebow were first-round picks and Cutler threw for over 35,000 yards and 200 touchdowns in his career, while Tebow won a crazy playoff game with the Broncos on a crazy pass to wide receiver Demaryius Thomas, but still. That?s not a good list.
Meanwhile, the Colorado Rockies, the neighboring MLB team, drafted former NFL star Michael Vick in the 30th round of the 2000 MLB Draft and current Seattle Seahawks starting quarterback Russell Wilson in the fourth round of the 2010 MLB Draft.
Vick most certainly changed the game with his ability to extend plays with his legs, while Wilson, who was also drafted by the Baltimore Orioles in the 41st round of the 2007 MLB Draft, has a Super Bowl ring.
Vick and Wilson have combined for 11 Pro Bowl selections. That entire Broncos draft list has two ? one each from Cutler and Griese. Peyton Manning had a pair of Pro Bowl appearances with Denver, but neither Keenum nor Flacco have ever been invited to the annual showcase game.
So have the Colorado Rockies drafted and picked better quarterbacks than the Denver Broncos over the last 30 years, including under general manager John Elway? It?s a resounding yes.
Maybe, just maybe, the Broncos struck gold with Drew Lock, a 2019 second-round draft pick out of Missouri. Perhaps head coach Vic Fangio, new offensive coordinator Pat Shurmur, who replaced Rich Scangarello, and the rest of the coaching staff can turn around such awful history.
Nobody should expect Lock to be the next Tom Brady, and interceptions will undoubtedly happen, but he has to be better or it's just going to be another name added to a rather shameful list.
This post was originally published on October 24, 2018 before updating.