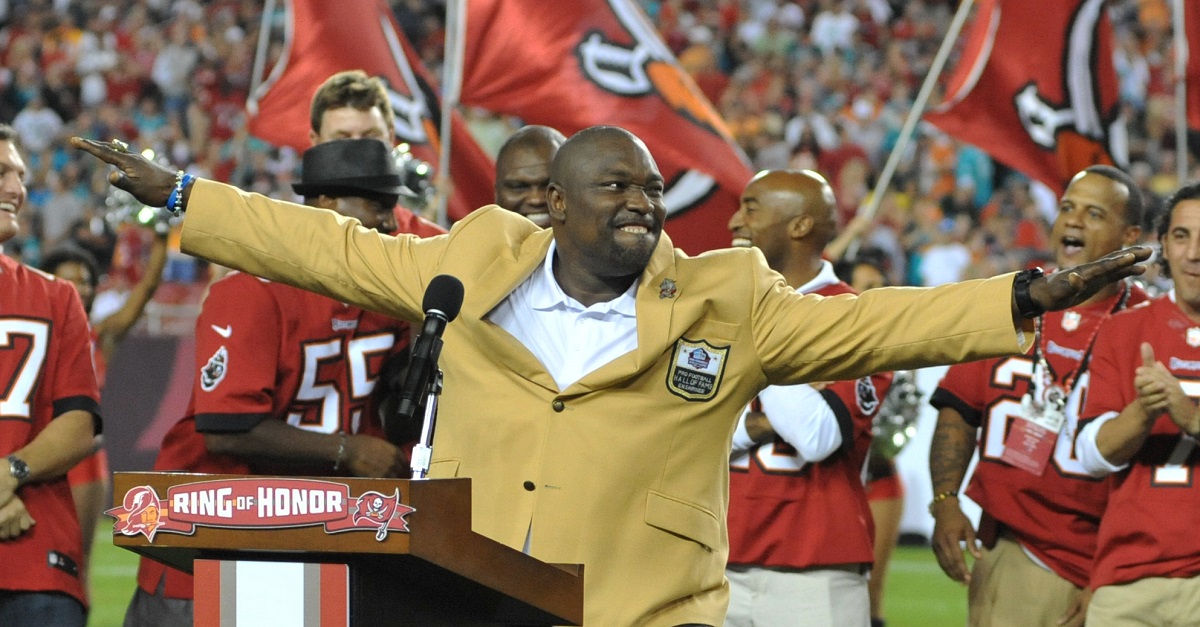 Al Messerschmidt/Getty Images
TAMPA, FL - NOVEMBER 11: NFL television commentator Warren Sapp receives his NFL Hall of Fame ring during halftime ceremonies as the Tampa Bay Buccaneers play against the Miami Dolphins November 11, 2013 at Raymond James Stadium in Tampa, Florida. Tampa won 22 - 19. (Photo by Al Messerschmidt/Getty Images)
Hall of Famer Warren Sapp was among several current and former NFL Network employees named in a sexual harassment lawsuit on Monday. The lawsuit — which named NFL Enterprises and not the individuals as the defendants — alleged that several of the employees made explicit remarks, gestures, or actions against the former employee.
The TMZ report on the lawsuit listed the allegations against Sapp as the following:
Warren Sapp (former on-air talent) — came into restroom while plaintiff was preparing clothes and urinated in front of her.

When she screamed at him to get out, Sapp said, "Sorry mama, but your office shouldn't be our sh*tter."

Sapp is also accused of giving the woman sex toys for Christmas 3 years in a row.
Sapp has now taken to Twitter to defend himself, particular mentioning that last allegation about the sex toys. In a string of tweets, Sapp did not deny the gifts, but instead insisted the he "thought they was cute!"
***Warning: potentially NSFW***
In addition to Sapp, former players such as Ike Taylor, Heath Evans, Marshall Faulk, Donovan McNabb, and Eric Davis were named in the lawsuit. Taylor, Evans, and Faulk have been suspended by the NFL Network, while McNabb and Davis have been taken off television by ESPN pending investigation.