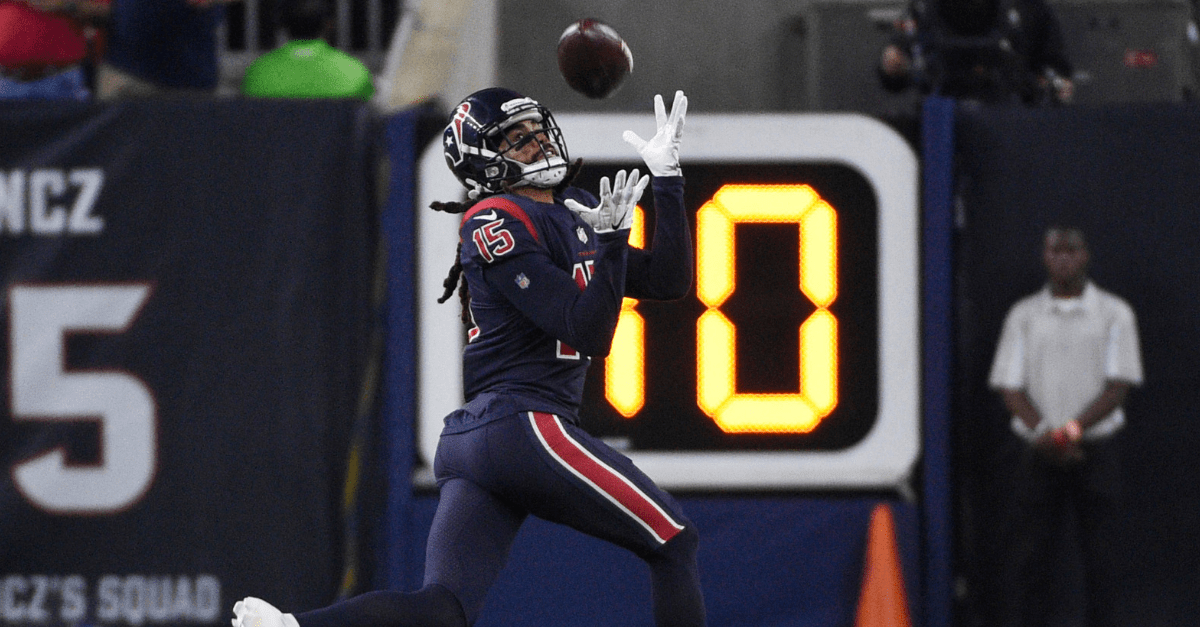 AP Photo/Eric Christian Smith
AP Photo/Eric Christian Smith
The Houston Texans are rolling through the first half of their schedule after starting the season a dismal 0-3. After handling the Miami Dolphins on Thursday Night Football, the Texans have won five games in a row thanks in part to their improved offensive line protecting quarterback Deshaun Watson.
The second-year quarterback hasn't given Houston the same insane production of his rookie year prior to an ACL tear, but Texans head coach Bill O'Brien's offense is starting to find their mojo once again. The team's 42-23 win came at a major cost though, as the team will likely be without one of their key wide receivers for the remainder of the season.
First reported by John McClain of the Houston Chronicle, third-year wide receiver Will Fuller V suffered a torn ACL during Thursday's game. Following an MRI that revealed the ACL tear, Fuller will undergo surgery next week that will sideline him for six to nine months.
RELATED: You Have to See J.J. Watt's Interview with The Kid Reporters
The former first-round pick out of Notre Dame was off to the best start of his career in 2018 after hauling in 32 catches for 503 receiving yards and four touchdowns, including 124 yards and a 73-yard touchdown against the Dolphins prior to his injury.
Fuller has been one of Deshaun Watson's favorite targets during their brief time playing together. The 24-year-old Philadelphia native has caught 11 touchdowns from Watson over the 11 games in which the two have played.
It's been a case of bad timing for Watson and Fuller so far. Fuller missed the first month of 2017 nursing a broken collarbone, and Watson's knee injury during a practice ended the pair's first run together after just four games. Fuller missed the first game of 2018 with a hamstring injury as well, and now another injury sets them back again.
It's a scary thought that these two have built a connection that has led to such instant success, but injuries have slowed this tandem's progress on the field, and another one to Fuller ends this 2018 chapter.
Fuller's injury opens the door for Keke Coutee and Sammie Coates to take more reps opposite All-Pro wide receiver DeAndre Hopkins.
Fuller is expected to be near full health by the start of training camp next summer, but a season-shifting injury at this juncture brings the Texans back down to Earth. They'll head to Mile High where a Sunday afternoon matchup with the Denver Broncos awaits on November 4.