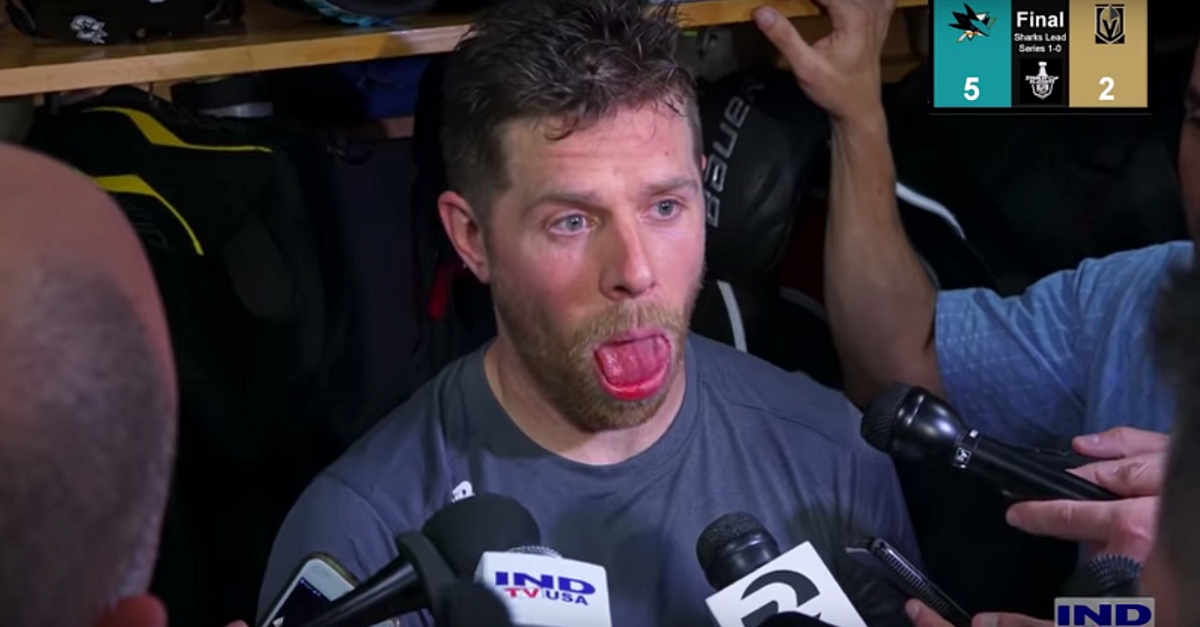 YouTube: INDTVUSA
Hockey is probably the least popular sport across America. Since the first NCAA Division I Men's Ice Hockey Tournament in 1948, the Southern-most school to win the title is the University of Denver. You'd have to go places like Minnesota, North Dakota, Michigan, Wisconsin, Maine, or Boston, Massachusetts to find the other winners. It's very much a sport for people like me living up North, but there's one thing that EVERYBODY understands: NHL hockey players are the toughest S.O.B.'s on the planet.
If you need any proof of that fact, just take a look at what San Jose Sharks captain Joe Pavelski did during Game 1 of the Stanley Cup Playoffs against the Vegas Golden Knights. Pavelski was credited with the first goal of the game on Wednesday night, but the three-time All-Star didn't even need his stick to do it.
Oh, yeah. The 34-year-old veteran took a hockey puck from teammate Brent Burns right off his chin to beat Vegas goalie Marc-Andre Fleury for the power play goal. What's most incredible is that he lost several teeth, went straight to the locker room for a few stitches, and returned in the second period with a full-face guard to play the rest of the game.
"Tough as nails," Sharks coach Peter DeBoer said of his captain. "To take a puck to the face like that, didn't go down. Only missed maybe a shift at the end of the period and played the rest of the game. There's no other word for it. He's a warrior."
Burns, Marc-Edouard Vlasic, Evander Kane and Tomas Hertl all scored in a game where Erik Karlsson picked up two assists to guide San Jose to a 5-2 win.
A normal human being would've collapsed to the ground, rolled around in pain, and never even considered coming back to finish the game. Then again, normal human beings are the exact opposite of hockey players.
After the game, Pavelski looked like Marlon Brando in The Godfather as he gave an interview with swollen cheeks, teeth missing in the bottom of his mouth, and a big smile as his team took a 1-0 series lead in the first round of the Western Conference Playoffs.
If you needed any more convincing that NHL hockey players are built differently, just remember that this American from Plover, Wisconsin took a rock-hard puck off his face and kept on trucking.
Pavelski isn't expected to miss Game 2 of the NHL playoffs because he's an absolute animal.