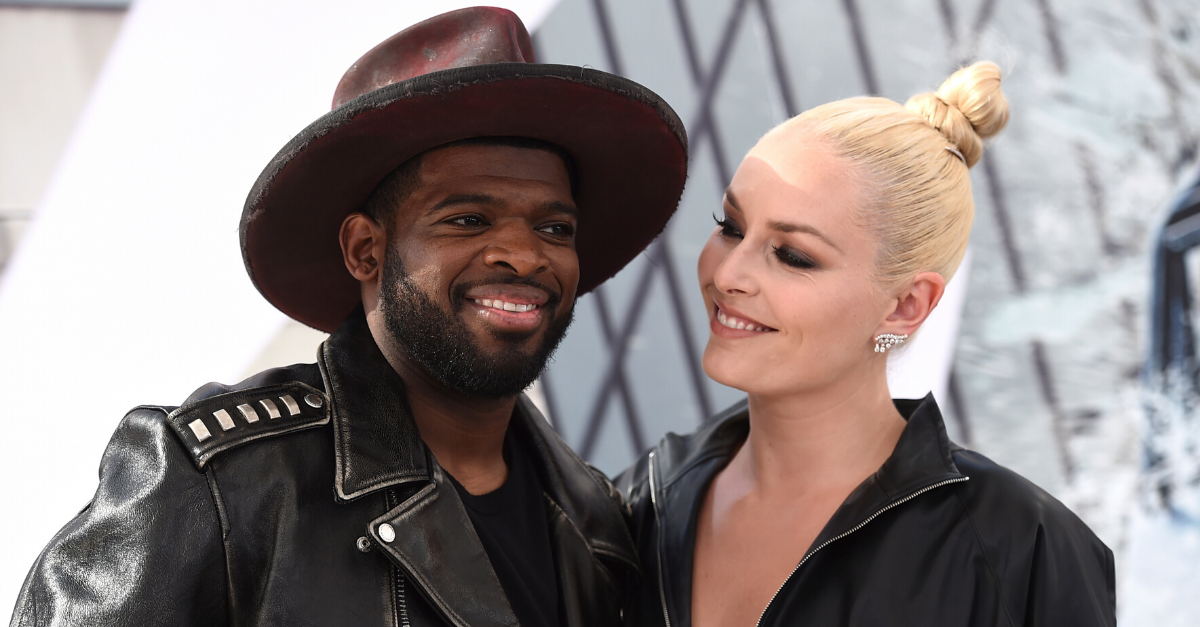 Photo by Jordan Strauss/Invision/AP
Professional sports is absolutely full of power couples. Alex Rodriguez and Jennifer Lopez might be the king and queen, but pairs like Aaron Rodgers and Danica Patrick, Julie and Zach Ertz and Tim Tebow and Miss Universe winner Demi-Leigh Nel-Peters aren't far behind in terms of status.
Enter Lindsey Vonn and P.K. Subban. One is an Olympic gold medalist and one of the greatest skiers of all time regardless of gender, while the other is an elite defenseman for the NHL's New Jersey Devils. In true power couple fashion, Vonn made a power move on Christmas Day this year.
Vonn announced on Twitter that she proposed to her boyfriend of two years this holiday season. Why? Because "women aren't the only ones who should get engagement rings!"
"Merry Christmas and happy holidays everyone!! On our 2 year anniversary, in a ?non traditional? move, I asked PK to marry me and he said, Yes ! Women aren?t the only ones who should get engagement rings! #MerryChristmas #equality"
The 30-year-old Subban originally popped the question at their Los Angeles home in August, but the 35-year-old Vonn wanted to give the hockey player his own engagement ring. He gave her an emerald ring, her favorite color and his birthstone.
The now retired Olympic skier expanded on the reasoning behind asking her fiance to marry her on Instagram. They first met at the 2017 Nickelodeon Kids' Choice Sports Awards.
"We talk about equality but actions speak louder than words," she wrote. "Men should get engagement rings too and this is what PK deserves. Can?t wait to marry you babe ??? #merrychristmas #happyanniversary #equality #raisethebar"
Vonn told Vogue the two aren't in a big hurry to elope, as Subban is in the middle of playing in his 11th season. The three-time all-star and New Jersey Devils defenseman previously spent the last three seasons with the Nashville Predators after spending seven season with the Montreal Canadiens.
Vonn was already a well-established skier by the time she divorced first husband Thomas Vonn and began dating golf icon Tiger Woods in 2013. She finished her career with 82 World Cup victories and won three Olympic medals, including a gold in Vancouver in 2010.