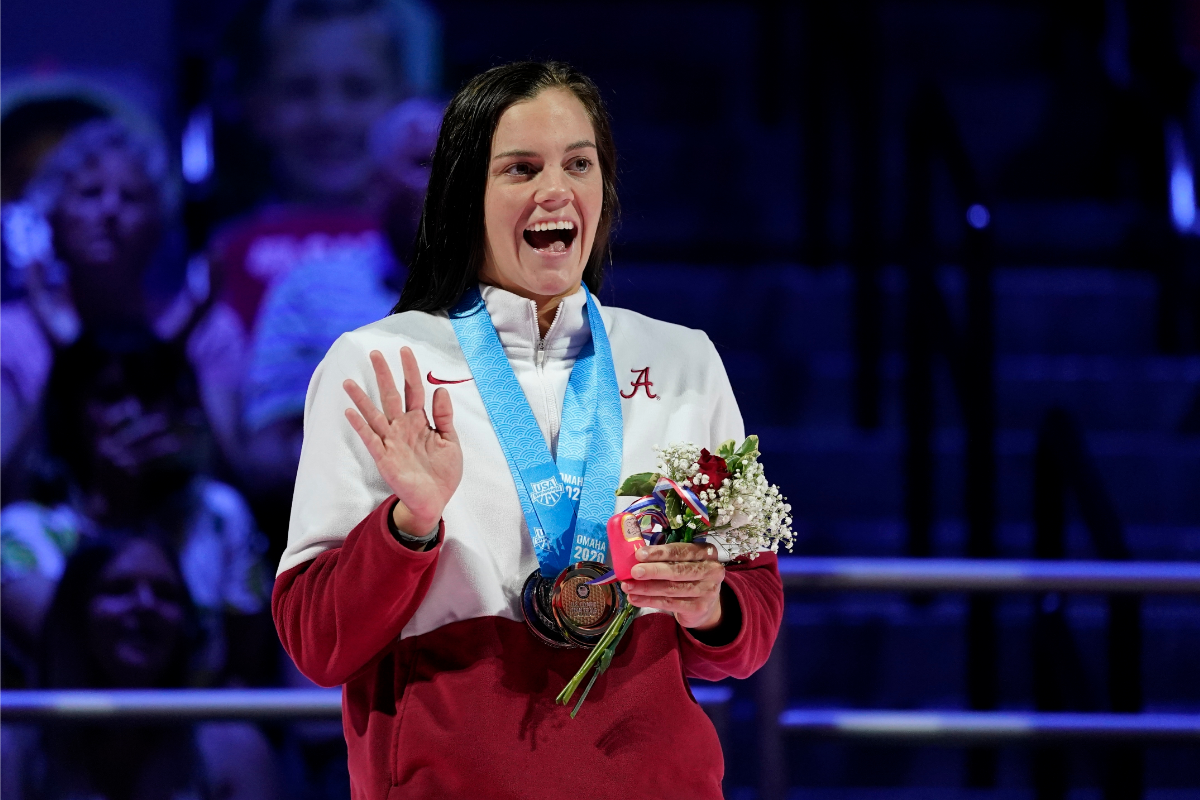 AP Photo/Charlie Neibergall
University of Alabama swimmer Rhyan White is one of the best collegiate swimmers in the country, and now she's getting a chance to prove herself on the grandest of international stages.
Fans in Tuscaloosa will have someone to cheer on during the 2021 Olympics in Tokyo. White, the top female swimmer in the SEC, will represent Team USA in Japan after qualifying for the United States Olympic Team with a strong showing at the Olympic trials in Omaha.
White is the first woman to represent the Crimson Tide at the Olympics since 2004. She'll join fellow 'Bama olympians and teammates Kalia Antoniou and Diana Petkova at this summer's Olympic Games.
Rhyan White Swimming
RELATED: Mark Spitz is an Olympic Icon, But Where is He Now?
Rhyan White hails from Herriman, Utah, near Salt Lake City, and attended Cottonwood High School. She trained alongside coach Ron Lockwood. She then took her talents to Tuscaloosa, where she blossomed into a star in the pool.
While in school, White has racked up a massive amount of accolades in the pool. The Olympian was named to the First-Team All-SEC teams in 2020 and 2021 and was named SEC Swimmer of the Year in 2021. She was a 2021 All-American in the 100-meter butterfly, 100-meter backstroke, 200-meter backstroke, 200-meter medley relay and 400-meter medley relay. She also earned All-America honors in 2020 for her 400-meter freestyle relay.
White put on a show at the NCAA Championships in 2021. She earned a top-five finish in each of the three individual events she partook in. She came in second place in the 100-meter backstroke and 200-meter backstroke while placing fifth in the 100-meter butterfly.
White also holds the SEC records for the 100-meter and 200-meter backstroke, setting the mark during the SEC Championships, where she won a gold medal.
Rhyan White Olympics
Getting to the Tokyo Olympics is no easy feat, and White showcased her talent in Omaha, Nebraska, while at the prelims for the Olympic Trials.
Donning an Alabama cap, she completed a comeback and posted an impressive score in the 200-meter backstroke against world-record holder Regan Smith to earn a spot on Team USA. She will represent the United States athletics alongside Phoebe Bacon. White also placed second in the 100-meter backstroke race, further solidifying her place in Tokyo.
?Fans of Alabama and USA Swimming will definitely want to tune into the 200-meter backstroke in Tokyo to catch a glimpse of one of the brightest young stars in the sport.