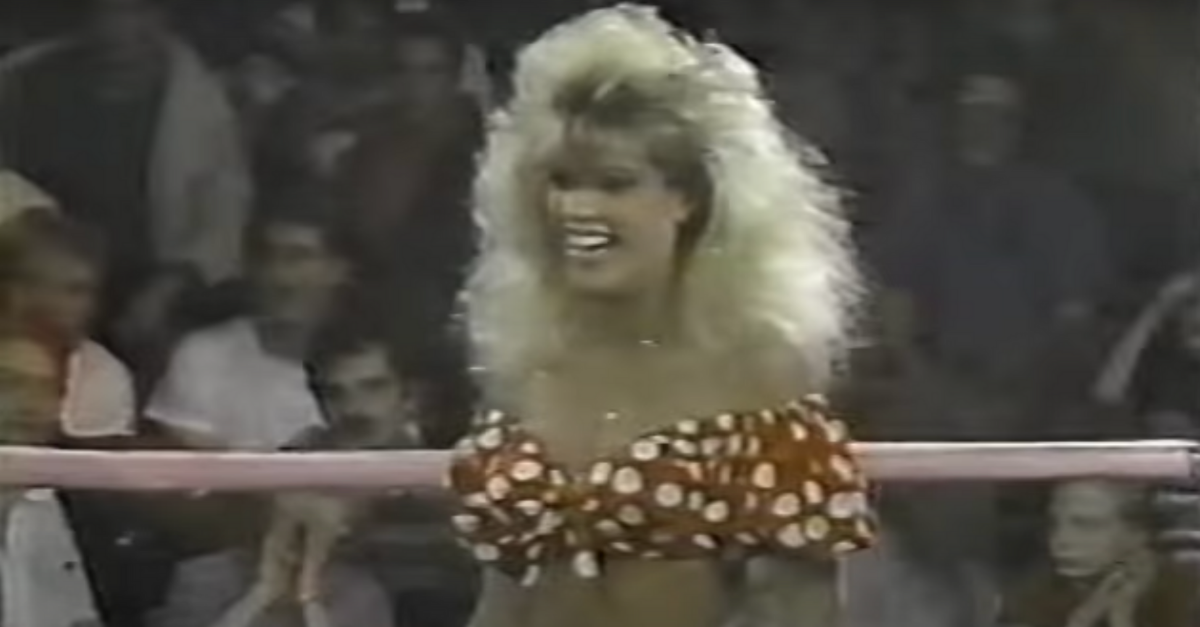 Screenshot from YouTube
For years, Beckie Mullen lit up the television screen as a professional wrestler and actress with her beauty and charisma. She was a star, most notably as Sally the Farmer?s Daughter on the GLOW wrestling promotion. Sadly, she lost a long battle with cancer.
Mullen, the Gorgeous Ladies of Wrestling icon, passed away at a hospital in Palm Springs, California. Mullen?s daughter Brittani Rabay told TMZ Sports, ?Mom had stage 4 kidney, colon and liver cancer.?
Her mother, Jackie, said her daughter was 55. Mullen?s IMDB profile indicates she died just days before her birthday.
Former GLOW Wrestler Beckie Mullen Dies After Cancer Battle
RELATED: Lita Is Still A Tattooed Goddess 20 Years After WWE Debut
Born in Los Angeles, Beckie Mullen gained popularity with her wrestling career. She was on the inaugural season of GLOW back in 1986 and caught the attention and hearts of many across the country.
GLOW has since become a popular Netflix series with Alison Brie, and members of the original cast and new cast, including co-star Little Egypt, shared their condolences on social media.
?RIP to a GLOW Original! It is with a sad heart that we share the passing of Beckie Mullen (Sally The Farmers Daughter) to our GLOW family. She was a spark of energy and will be missed much by her friends and fans.?
In addition to GLOW, the former wrestler starred on a famous Married With Children episode alongside Pamela Anderson.
Mullen was also featured on MadTV, Renegade, Pacific Blue, Slaughter videos and a the music video for Van Halen?s hit song ?Poundcake? in 1991.
Mullen was diagnosed with kidney cancer, colon cancer, and liver cancer back in October, according to TMZ Sports, and the former pro wrestler was suffering before her death.
In the midst of the coronavirus pandemic and COVID-19 outbreak, this is more tragic news.
Rest in peace, Sally.