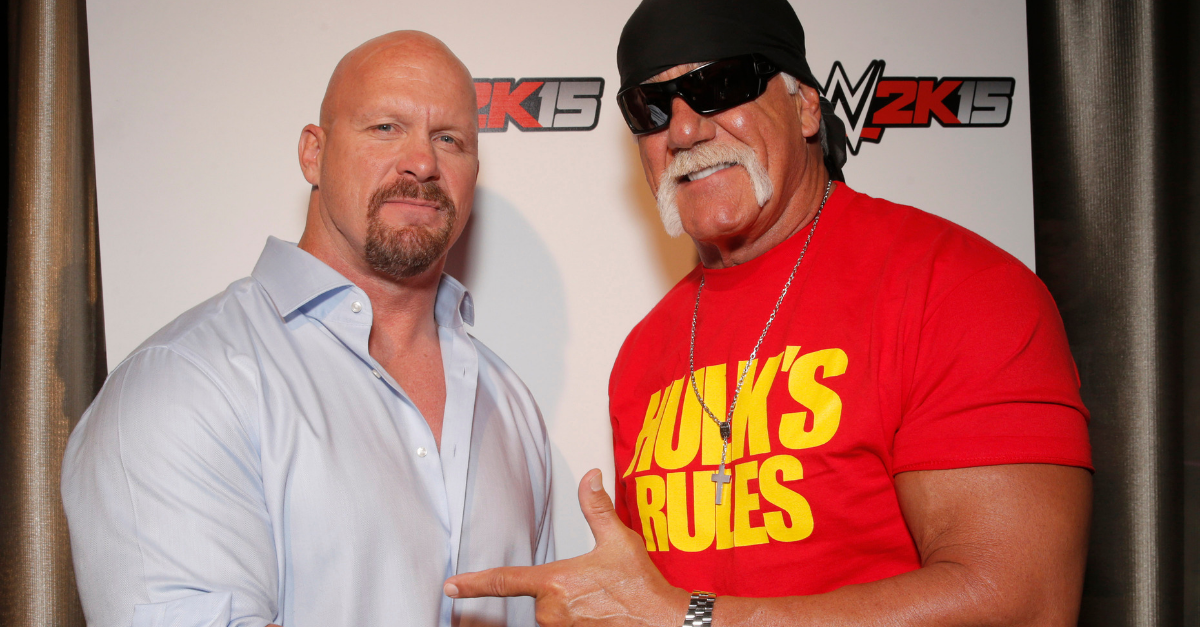 Todd Williamson/Invision for 2K/AP Images
Stone Cold Steve Austin – born Steven James Anderson – is undoubtedly one of the most impactful names in professional wrestling history.
Strongly viewed as the catalyst that led WWF to defeating World Championship Wrestling (WCW) in the Monday Night Wars, Steve Austin is one of the most popular WWE wrestlers who drew fans during the Attitude Era. His wrestling career, along with other endeavors, has caused Austin to become very successful.
Early Life
The Texas native and former Wharton County Junior College and University of North Texas student made his professional wrestling debut in 1989, competing for World Class Wrestling Association in 1989 under the name Steve Williams. Just a few matches later, he became a professional wrestler the United States Wrestling Association (USWA) promotion, now named Steve Austin.
WCW had major plans for Austin, making him the World Television Champion just a few matches after his 1991 debut. As a wrestler in WCW, Austin would also win the United States Championship and the Tag Team Championship with "Hollywood Blondes" partner Brian Pillman.
Austin was released from WCW, and moved over to the Extreme Championship Wrestling (ECW) brand in 1995. Austin only stayed in ECW for a very short time at the end of 1995, before debuting as the Ringmaster in December of 1995 and competing in the 1996 Royal Rumble.
Rise as a WWE Superstar
Austin's rise as a WWE superstar skyrocketed after his win at the 1996 King of the Ring tournament. Following this, Austin became one of the most hated names in WWE, but also used this popularity to rise to main event status. His rebellious nature actually worked in his favor, and a feud with Bret Hart which led to a match at WrestleMania 13.
The "Texas Rattlesnake" became Intercontinental Champion at the 1997 SummerSlam pay-per-view by defeating Owen Hart. His push continued by defeating Shawn Michaels at WrestleMania 14, winning his first WWE Championship. Also, during this time, Austin engaged in one of the biggest feuds in WWE history, rivaling Vince McMahon which pushed his character even more.
Austin's last match in the WWE was at WrestleMania 19, losing to Dwayne "The Rock" Johnson. This would be the third match between the two at WrestleMania, as Austin defeated Rock at both WrestleMania 15 and 17. In 2009, Austin was inducted into the WWE Hall of Fame.
What is Stone Cold Steve Austin's Net Worth?
Following his in-ring retirement, Austin made sporadic non-wrestling appearances for WWE, even having a stint as General Manager of WWE Raw in 2004. The Edna High School graduate made a successful career from his career as a pro wrestler, acting in American films including The Condemned, The Longest Yard, The Expendables, and Grown Ups 2, and television work on Nash Bridges and hosted his own show – Redneck Island – for four years.
According to Celebrity Net Worth, Austin's estimated net worth is $50 million. His podcast, The Steve Austin Show, has become one of the most popular wrestling podcast, and his success as a podcaster led to WWE Network interviews with Vince McMahon, Triple H, Paul Heyman, Brock Lesnar, Big Show, Mick Foley, and others.
Austin is a father of three children, and has been married to Kristin Feres since 2009. He was previously married to Kathryn Burrhus, Jeanie Clarke (who previously dated Austin's pro wrestling trainer, "Gentlemen" Chris Adams), and Debra Marshall (who was previously married to Steve "Mongo" McMichael).