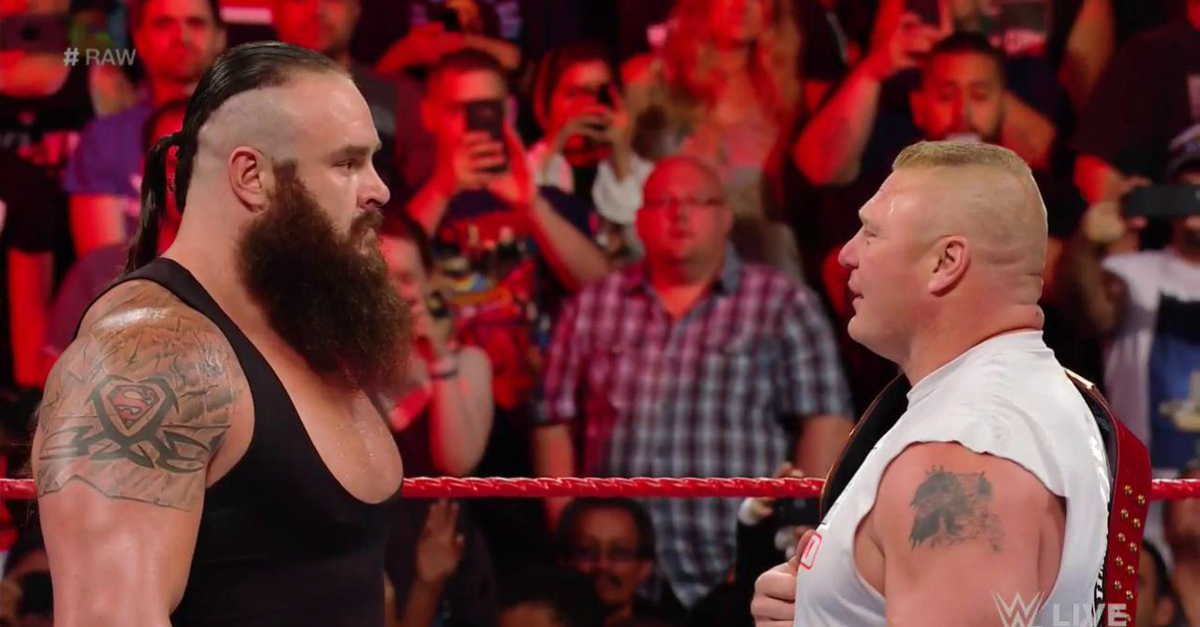 @WWE/Twitter
@WWE/Twitter
The current main event for WrestleMania 34 is a Universal Championship match between the champion Brock Lesnar and challenger Roman Reigns. However, Dave Meltzer of the Wrestling Observer speculated earlier this week that WWE could have a backup plan in place in case that match falls through, and Meltzer was able to provide more details on Thursday.
In the latest edition of his newsletter (subscription required), Meltzer reported that the planned Intercontinental Championship match between The Miz and Braun Strowman has been canceled in favor of keeping Strowman available in case the WWE needs him for the main event. Reigns has recently been accused of buying performance enhancers by a steroids dealer in Miami, and while no concrete evidence has been presented in the case, it appears WWE is erring on the side of caution in case something emerges between now and WrestleMania.
Meltzer was also able to shoot down rumors that Lesnar legitimately no-showed the most recent episode of Monday Night Raw, saying that Lesnar's non-appearance at the show was a late rewrite. Lesnar's contract is currently set to expire soon after WrestleMania, and there has been legitimate speculation that Lesnar could head back to UFC.
As for the Intercontinental Championship, it appears The Miz will be defending his title against Seth Rollins and Finn Balor in a triple-threat match at WrestleMania. WWE has already kicked off that angle by having The Miz face both Rollins and Balor in separate matches on Monday Night Raw.
The Lesnar-Reigns main event is a rematch from WrestleMania 31, notable for where Seth Rollins cashed in his Money in the Bank contract mid-match to win the WWE Championship. The current angle between Lesnar and Reigns has been building for almost a year, as Brock Lesnar has defeated every other challenger for the Universal Championship ever since he won it at WrestleMania 33 in a match against Goldberg.
WrestleMania 34 is currently set for April 8 in New Orleans.