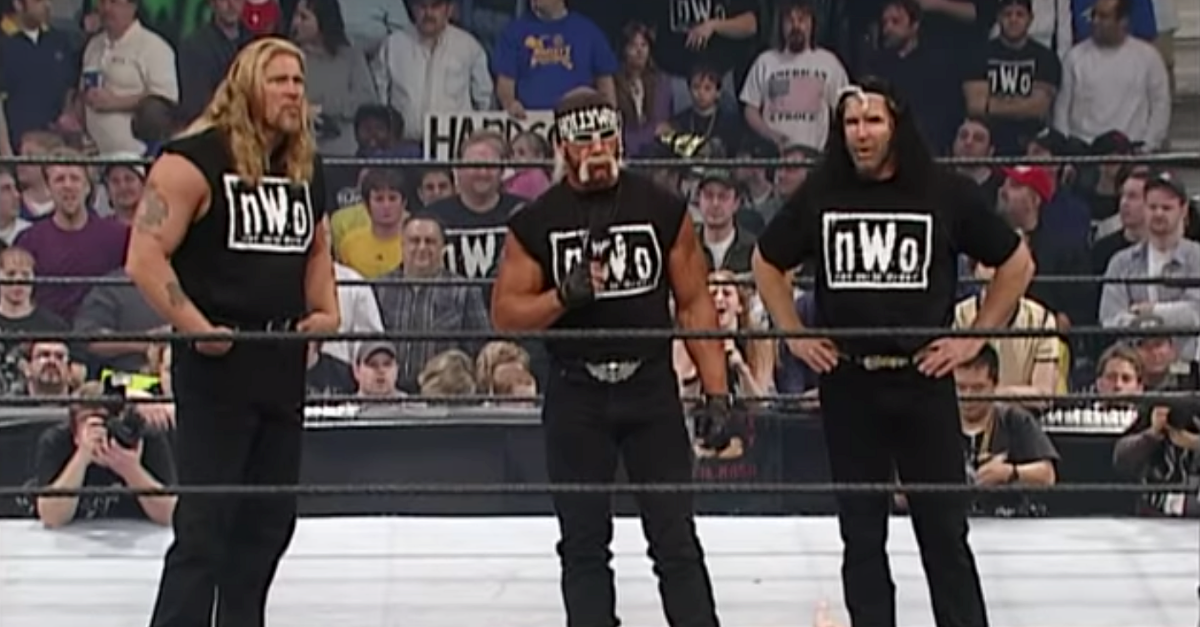 YouTube: WWE
YouTube: WWE
In 1996, the pro wrestling landscape changed forever when World Championship Wrestling (WCW) formed the villainous stable named the New World Order (nWo). For most of his wrestling career, Hulk Hogan was the most popular name in the business, being responsible for transitioning wrestling into the mainstream.
As a result, WWE was able to successfully have the WrestleMania pay-per-view, which the company significantly was depending on. However, on that eerie night at the Bash at the Beach pay-per-view. Hogan walked to the ring and shocked the pro wrestling world. Instead of helping his WCW cohorts, he turned his back on the company and the fans, becoming a heel for the first time since the early 1980s.
His original nWo teammates, Scott Hall and Kevin Nash, were recent defectors from WWE, and deemed themselves the "Outsiders" once joining WCW. Both men declared that there was going to be some kind of war, and they were on a quest of taking over. No one knew, however, that the biggest star of the company was going to be their biggest form of ammunition.
As single competitors, Hogan, Hall, and Nash are all in the WWE Hall of Fame. Nash was recently interviewed by Monsters and Critics to share his thoughts on All Elite Wrestling (AEW), a potential nWo reunion, and whether the faction should receive induction into the Hall of Fame together.
"I don?t know. I mean, it depends on if they have completely forgiven Hulk, I guess. I think if you put the nWo in, you have to put Eric Bischoff in with us because he was the architect."

? Kevin Nash
The nWo group for the next few years would expand greatly, and many felt that it became too saturated. However, the faction played a pivotal part in the Monday Night War between WWE and WCW between 1996 and 2000. After WCW disbanded in 2001, nWo reformed for a short time in 2002 in the WWE, but did not reach the same level of success as it did in WCW. Regardless, their impact as a group still puts nWo in the conversation for Hall of Fame induction.