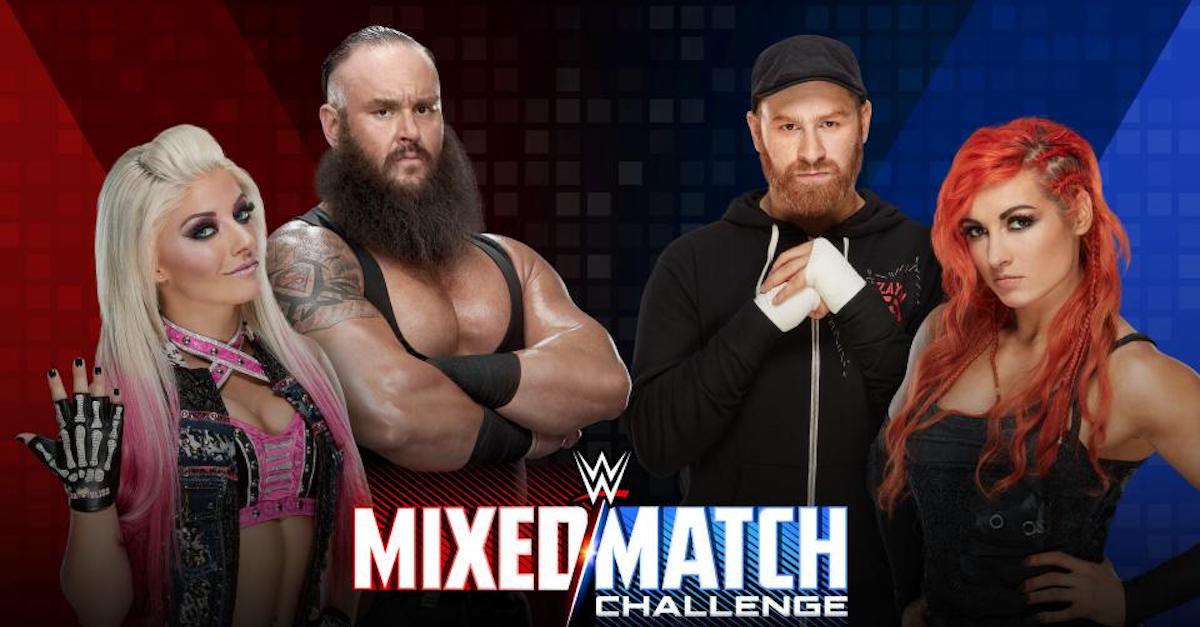 @WWE/Twitter
@WWE/Twitter
The WWE Mixed Match Challenge aired Week 3?s matchup live on Facebook Tuesday, January 30, with Braun Strowman and Alexa Bliss battling with Sami Zayn and Becky Lynch at 10 p.m. ET.
Braun Strowman & Alexa Bliss def. Sami Zayn and Becky Lynch via pinfall
The women got things going, with the crowd going nuts for Becky's birthday. Lynch got two-count after two-count as Bliss called for Strowman's tag.
Bliss refused to tag in Strowman, and took it to Lynch in the corner, gaining her first advantage of the night. Bliss then tagged in Strowman, meaning Zayn needed to get into the match.
Zayn ran from Strowman around the ring and kicked Strowman in the face. Strowman got Zayn on his shoulder for the slam, but Zayn tagged Lynch. He then made the blind tag and tried to attack Strowman, but the top contender beat down Zayn.
Zayn then tagged out to Lynch, allowing Bliss to get the advantage yet again. Zayn led the crowd in singing Lynch Happy Birthday, when she made her way to the corner to tag in Zayn. Strowman splashed Zayn from side to side, then fell over the top rope attempting to attack Zayn. Zayn dove over the top rope only to be caught by Strowman, who threw him face first into the apron. Strowman then picked up Zayn and threw him over the barricade. He then tagged in Bliss, who hit the Twisted Bliss off his shoulders for the pinfall.
WWE Mixed Match Challenge results and schedule
First Round:
Week 1: Finn Balor & Sasha Banks def. Shinsuke Nakamura & Natalya
Week 2: The Miz & Asuka def. Big E & Carmella
Week 3: Braun Strowman & Alexa Bliss vs. Sami Zayn & Becky Lynch
Week 4: Goldust & Alicia Fox vs. Jimmy Uso & Naomi
Week 5: Elias & Bayley vs. Rusev & Lana
Week 6: Apollo Crews & Nia Jax vs. Bobby Roode & Charlotte Flair
Second Round:
Week 7: Balor & Banks vs. Miz & Asuka
Week 8: Braun Strowman & Alexa Bliss vs. ___