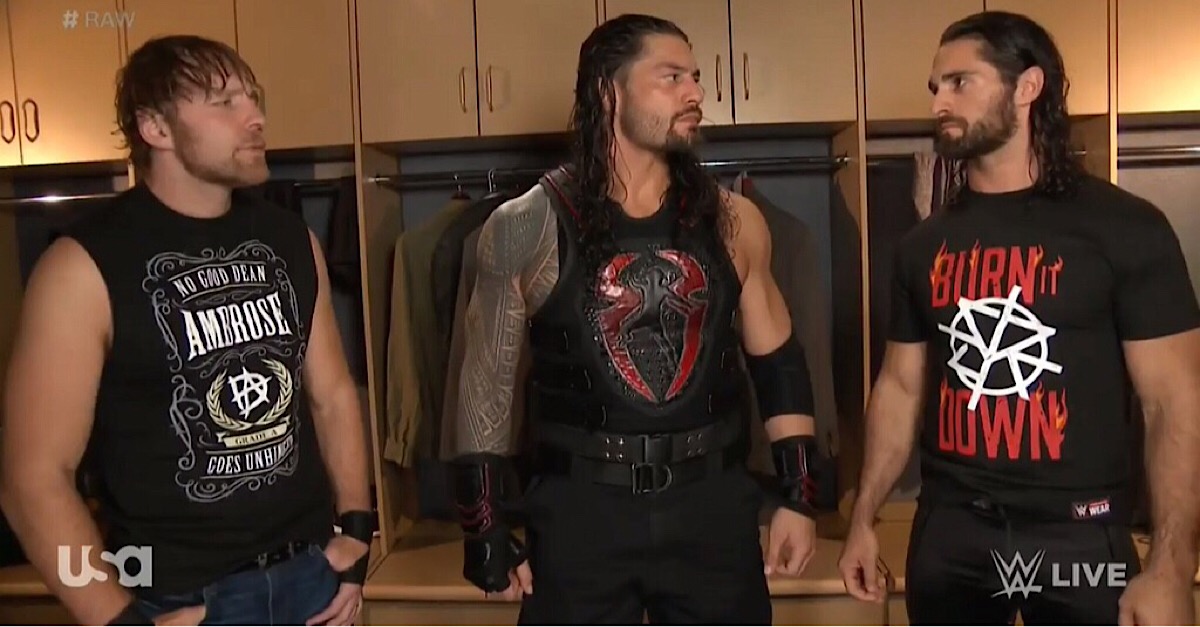 USA Network screenshot
Monday Night Raw broadcast live from Denver, Colorado on the USA Network at 8 p.m. ET.
WWE Monday Night Raw 10/2/17 Main Event: Roman Reigns def. The Miz (w/ the Miztourage) via disqualification
The entrance mocking isn?t just for Dolph Ziggler, Miz and crew enter just like The Shield. It?s beautiful.
Even before the bell rings, Roman takes out Curtis Axel and Bo Dallas. Roman pulls out a chair and takes out Axel and Dallas. Hmmmm I wonder what this could be leading too??
As we go to break, Roman Reigns makes his way to the ring and The Miz looks like he?s seen a ghost. Just perfect theater. As we come back from the break, Miz takes complete control of the match and as Roman beats a 10-count, Miz goes for the first pin of the match but Roman kicks out. The crowd was on fire as dueling chants for both combatants shower throughout the arena.
After another break, we return to see Miz hit the ever popular ?Miz Kicks?, Roman shows some offense and has Miz reeling for the first time all match. Miz counters with a skull crushing finale but Roman kicked out at two and a half. Roman comes back with superman punch but Miz kicks out and then here comes the shenanigans! Sheamus and Cesaro show up to beat up another member of the former group known as The Shield.
Miz, Sheamus and Cesaro leave Roman in a heap, just like Seth and Dean earlier in the night. This leads to some shield-like offense and they hit Roman Reigns with a triple powerbomb. It ends with Miz, Cesaro and Sheamus standing in the middle of the ring hitting the legendary shield pose.
Braun Strowman def. Seth Rollins via pinfall
?The Architect? vs. ?America?s Strongest Son? (my personal nickname for Braun Strowman)
After Dean tried taking down Strowman last week, the other half of the tag team champs decided to battle with the monster among men. Seth Rollins tried to get cute with a slap early on but Braun shut that down with the usual aggressive and entertaining Strowman offense.
Why Seth? Why?
Seth Rollins attempted a suicide dive and Strowman cleans his clock with a nice right hand going to the break. After getting Strowman rocking, Rollins FINALLY hits the suicide dive and takes down Strowman. Seth hits an incredible blockbuster and Braun counters that with kicking out at one, ore more like throwing Seth off him. Some more quick offense and a running powerslam later and Braun get the victory.
After the match, Braun decided to add another powerslam and then Dean Ambrose comes out for the some match fun. Ambrose hits Strowman with a dropkick but in usual Strowman fashion it is Braun who stands tall at the end of the match, leaving the tag team champs in a heap!
Even Curt Hawkins is like, ?Ya, I?m good on getting in the ring tonight?.
Cesaro an Sheamus enter the ring and decided they want some of the tag team champs, Sheamus and Cesaro take down the tag team champs in quick fashion, I?m sure that?s not the last we?ll see of them.
Mickie James def. Nia Jax via disqualification
A callback to the attempted confronting of Alexa Bliss, it was Nia Jax who answers the door and a match was set up between the elder stateswoman of WWE and the?empress of tomorrow?? (still not a fan of that nickname btw)
Mickie James wearing bellbottoms from 1975?s Brady Bunch tour is not helping her case in the age department. Before the match, Alexa Bliss makes her way to the ring. As soon as the bell sounds, Nia instantly goes on offense and Mickie is struggling to keep up.
We go to break with Nia tossing Mickie out of the ring, something inside of me is begging Mickie to just take the 10-count. We come back from break with some Mickie James offense (thank goodness) but that three minutes of glory ends with a strong slam from Nia Jax.
Mickie James had the chance for a late rally but Nia was just way too much, then out of nowhere Mickie drops a tornado DDT but going for the pin was stopped by Bliss who stepped in and interfered, giving the vet a win via DQ. Later on in the night, we?re informed that Mickie James will have a match with Alexa Bliss for the Raw Women?s Championship at TLC.
Everybody Hates Enzo
Renee Young interviews Enzo Amore recapping the beatdown he took at the hands of Braun Strowman and the Cruiserweight guys. As Enzo said virtually nothing, I think I?ve got a new name for Enzo?
Emo Enzo
I?m not sorry for that nickname either.
To end the night, Enzo said he was going to address the entire cruiserweight roster and he complains that the division was nothing before him, I mean he may have a small point. He ends up calling the his ?haters? in the division jealous. Enzo then announces that there?s a new clause in the contract that states if someone touches him they will end up getting fired.
Neville and the rest of the 205 roster comes out and Enzo is cornered by everybody on the roster. Enzo then goes through the entire roster and cuts a promo on each guy. From Jack Gallagher to TJP, it was some of Enzo?s best work. Kurt Angle interrupts Enzo and announces that Kalisto has joined the 205 Live roster
The Club def. Matt Hardy and Jason Jordan via pinfall
With Jeff Hardy out with an injury for an extended period of time, Matt needs something to do so he decides team up with Jason Jordan and they take on the club who had some pre-show hype backstage earlier this afternoon.
After some solid back and fourth, we get Karl Anderson going on the offensive, quickly Matt Hardy takes advantage and hits a tag to Jason Jordan. Luke Gallows stops his momentum. Anderson takes the ring and takes control on the match, Jason Jordan fights his way out of it, Jordan makes the tag to Matt and Karl to Luke. The two vets go at it and Matt Hardy shows some vintage two on one offense.
Karl Anderson gets rid of Jason Jordan and gets back in the ring to take advantage of a tired Matt Hardy, the magic killer is hit and The Club wins.
WWE Monday Night Raw Best of the Rest (10/2/17)
Mickie James talking with Alicia Fox and Emma backstage and there?s a surprise for her from Alexa Bliss?a walker and depends. You know, for the elderly one.
Bray Wyatt cuts a promo about ?using your hands? and ?she never lied to him,? good to know
Finn Balor cuts a promo in response to Bray Wyatt, this has me feeling we?re getting these to again at TLC. I?m not hating it too much.
Elias def. Titus O?Neil (w/ Apollo Crews) via pinfall
Bayley and Sasha Banks def. Emma and Alicia Fox via pinfall after Emma walked out on Fox
Tweets about from:@totaldivaseps OR from:@WWE OR from:@WWEUniverse
WWE Monday Night Raw results leading up to TLC
FanBuzz, your source for the latest WWE news.