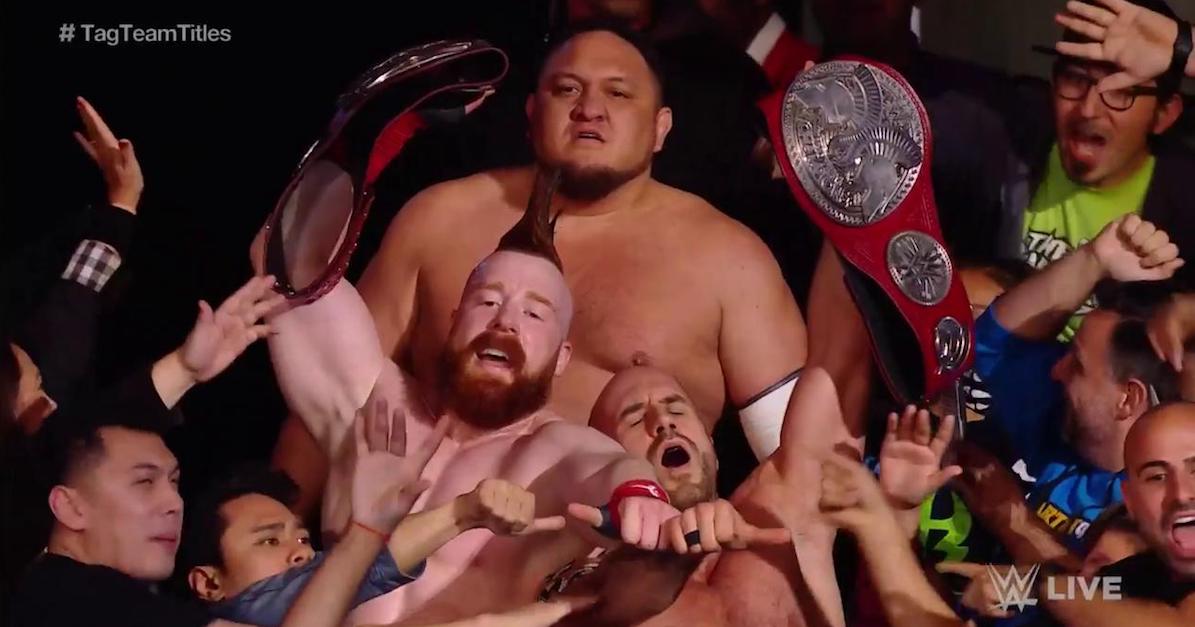 @WWE/Twitter
@WWE/Twitter
WWE Monday Night Raw broadcast live from the Staples Center in Los Angeles, California on the USA Network at 8 p.m. ET.
WWE Monday Night Raw Main Event: The Bar def. (via pinfall) The Shield
We've seen The Bar and The Shield go at it for the final half of 2017 and every single time they've gone against each other it's been fantastic. Their latest chapter was just as good. After a great match, it had appeared that Sheamus had DQ'd his team for not listening to the official when he was attacking Dean Ambrose.
As The Bar was walking out with their titles, Kurt Angle came out and restarted the match to make it a no-DQ which would have you thinking that The Shield would come out triumphant but that did NOT happen. Samoa Joe came out to take out Rollins, but then Roman Reigns came out and went after Joe. Joe escaped and due to the distraction, Sheamus got the pin and The Bar retained the title.
We're going to have an eventual six-man tag with Joe and The Bar facing The Shield and I'm all for it. Monday night was a big step in making that happen.
Roman Reigns def. (via pinfall) Jason Jordan
This match stems from an opening segment where we see Jason Jordan go nuclear and go after both Roman Reigns and Samoa Joe, even giving Roman Reigns a suplex (sigh) out of nowhere! Basically, Jason wants his "Dad" Kurt Angle to give him a shot at the title and even before Jason can state his case, the Los Angeles crowd is putting heat on Jordan (slowly building the heel turn).
The match actually wasn't that bad! It went three segments with each competitor getting some offense in. As Samoa Joe sat a ringside, Reigns took it to the clearly injured Jordan but despite the injury, Jordan got some offense in and actually had the advantage coming back from a commercial. Roman would go on to win the match and after the match, Joe attempted to attack Roman but Jordan would take out Joe with a suplex. Later on in the night, as Jason was talking to Kurt we see Joe barrel through the office to take out Jason with a shoulder right into the chest.
Paige def. (via pinfall) Sasha Banks
For the first time in over a year, we see Paige in the ring and along with "The Boss" put on a great match. It's becoming more clear that they are pushing the Paige-led "Absolution" group and pushing us towards an Alexa Bliss-Paige program.
Later in the night, Absolution returns after Asuka defeated Alicia Fox but before that, we see Asuka back away from the dangerous trio. Who's side is Asuka on??
Braun Strowman and Kane continue their feud.
So, Elias tells Kurt Angle that he wants a match on Raw. An already moody Angle decides to grant the singing superstar his wish by giving him Braun Strowman. Before the match, Strowman and Elias attack each other in which Elias hits Strowman with a guitar, which Braun no-sells (it was awesome) and Braun uses steel steps to take out the songbird of Monday Night Raw.
As that happens, Kane's music pops up on the screen and says that he's ready to face Braun in the ring finally. So next week it is going to be Braun Strowman vs. Kane in a good old-fashioned hoss off.
Woken Matt Hardy and Bray Wyatt cut the greatest mashup promo ever
In what started out as a typical Bray Wyatt promo went left or went "woke" rather quickly.
This feud should've happened in 2016 and it took us 12 months into 2017 but we're finally here. This is going to be so entertaining. The pre-taped video was simply a mashup of Wyatt and Hardy talking in their usual strange cadences and the LA crowd just popped for it. Great stuff!
Best of the rest
Nia Jax flirting with Enzo Amore, only because we are closing in on the image of Enzo being carried by Nia to the ring.
Drew Gulak wins fatal four-way to advance to Cruiserweight No.1 contender final vs. Rich Swann next week.
Asuka def. (via submission) Alicia Fox
Finn Balor def. (via pinfall) Bo Dallas
WWE Monday Night Raw Results leading up to Royal Rumble
WWE Monday Night Raw Results (11/27/17)