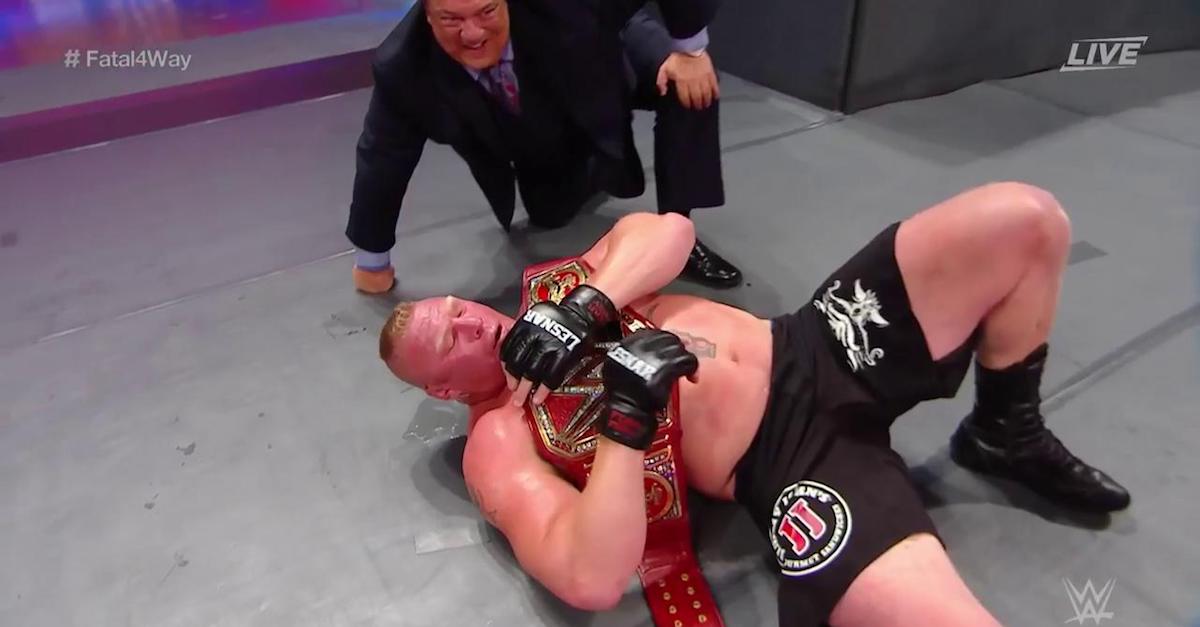 @WWE/Twitter
@WWE/Twitter
Brock Lesnar, it appears, will be defending his WWE Universal Championship at the Royal Rumble.
It was announced Monday afternoon that Braun Strowman would battle Kane on Monday Night Raw in a No. 1 contender's match.
Lesnar's status for the event was previously unknown.
Originally slated to have Lesnar defend the belt against Finn Balor at the event, that apparently is no longer the case.
Wrestling Observer's Dave Meltzer noted that Vince McMahon made the change after coming to the conclusion that Balor wasn't "over enough" — aka popular enough — for a match against Lesnar.
Balor tweeted the following more than a week ago after the reports emerged. He hasn't stopped, taking aim at "over" in his social media messages:
The current WWE plan still appears to be for Lesnar to face Roman Reigns for the title at WrestleMania 34 in New Orleans.
Recently, Balor has been in pointless feuds with Bray Wyatt, Elias Samson and now Kane.
Contrast that to what WWE has done with Samoa Joe, Braun Strowman, and even AJ Styles in a short time before their matches with Lesnar. Those three were clearly built to be credible threats, and as was the case with Styles, the size of the competitor didn't have to be important to make that threat credible.
Instead of doing something similar with Balor, WWE marginalized him ever since his return from a brutal shoulder injury that happened at SummerSlam of last year. Balor became the first ever winner of the Universal Championship at that event, but he had to relinquish the title due to dislocating his shoulder in the middle of his match with Seth Rollins.
Ideally Balor should have a claim to the title that he never officially lost, but WWE has rarely played up that angle. It's unfortunate too, as Balor has been a solid mover of merchandise for the company, and a match with Lesnar could have been something that helped put him over the top, even if he lost the match.
FanBuzz, your source for WWE news.