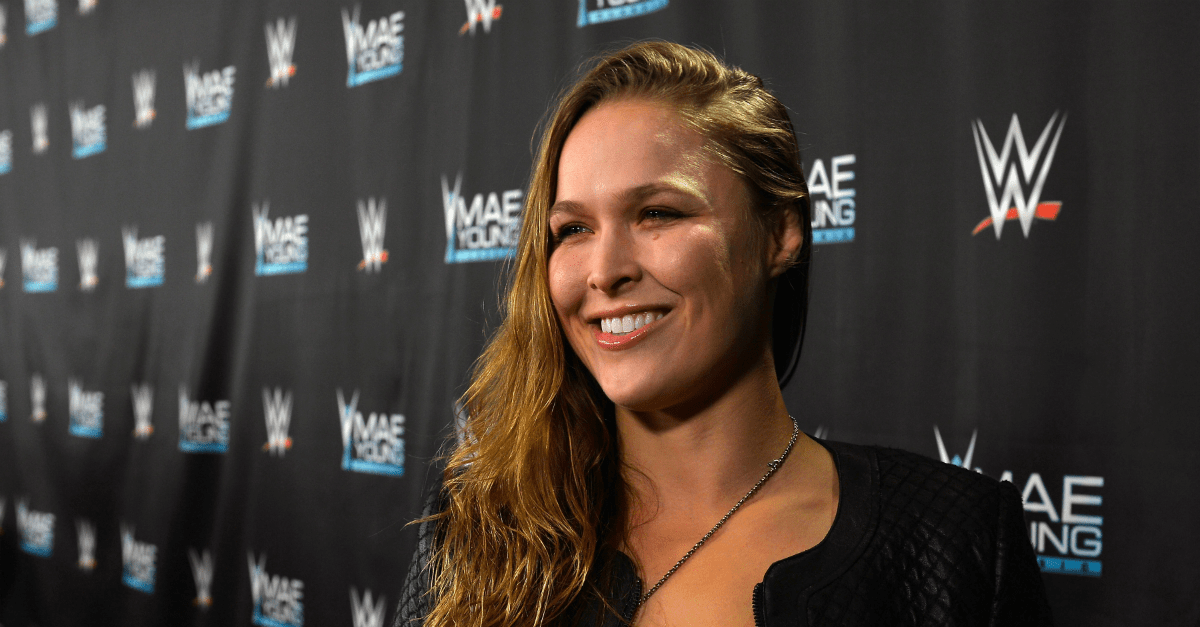 Bryan Steffy/Getty Images for WWE
Photo by Bryan Steffy/Getty Images for WWE
Ronda Rousey debuted at the 2018 Royal Rumble, but it is her reasoning for joining the WWE that will steal all the headlines.
Following an actual surprising appearance at the end of the Women's Royal Rumble, with the company's top stars — Alexa Bliss, Charlotte Flair, and Asuka — standing in the ring, Rousey's music hit and the people in Philadelphia lost their minds a full week before the Eagles face the Patriots in the Super Bowl.
While an awesome moment, people were rightfully concerned to wonder what her intentions in the WWE would be. According to the former UFC star, this is not only a dream come true, but something she plans on being committed to for the long haul.
"This is my life now. First priority on my timeline for the next several years. This is not a smash-and-grab; this is not a publicity stunt," Rousey told ESPN's Ramona Shelburne of her decision to join WWE. "When I first met with Triple H, I told him, 'There are other things I can do with my time that'll make way more money, but I won't enjoy nearly as much.'"
Giving up more money for the tenuous life on the road with the WWE couldn't have been an easy decision for Rousey. That being said, she appears to really want to do this.
The entire piece from ESPN is well worth reading.
Another interesting anecdote was Dana White not only crediting Rousey for basically creating the Women's Divisions in the UFC, but giving her what appeared to be sincere well wishes.
"I'm happy for her. This is something she has always wanted to do," White wrote in a text to ESPN's Brett Okamoto. "Ronda continues to achieve everything she has ever wanted."
Rousey, who was smiling from ear to ear on Sunday night, is even more happy.
"I don't have words at all," Rousey told Shelburne of her experience Sunday night. "I'm like — this is the most overstimulated I've ever been in my life and … I'm just, like I'm still processing it.

"I'm so happy and I don't have words for it — and I usually have words for everything; This never happened before."
Even if you're not a fan of Rousey's for some weird reason, or think of this as some sort of publicity stunt, it is cool to read about her excitement. That passion, coupled with her athleticism, should help her out in the world of pro wrestling.