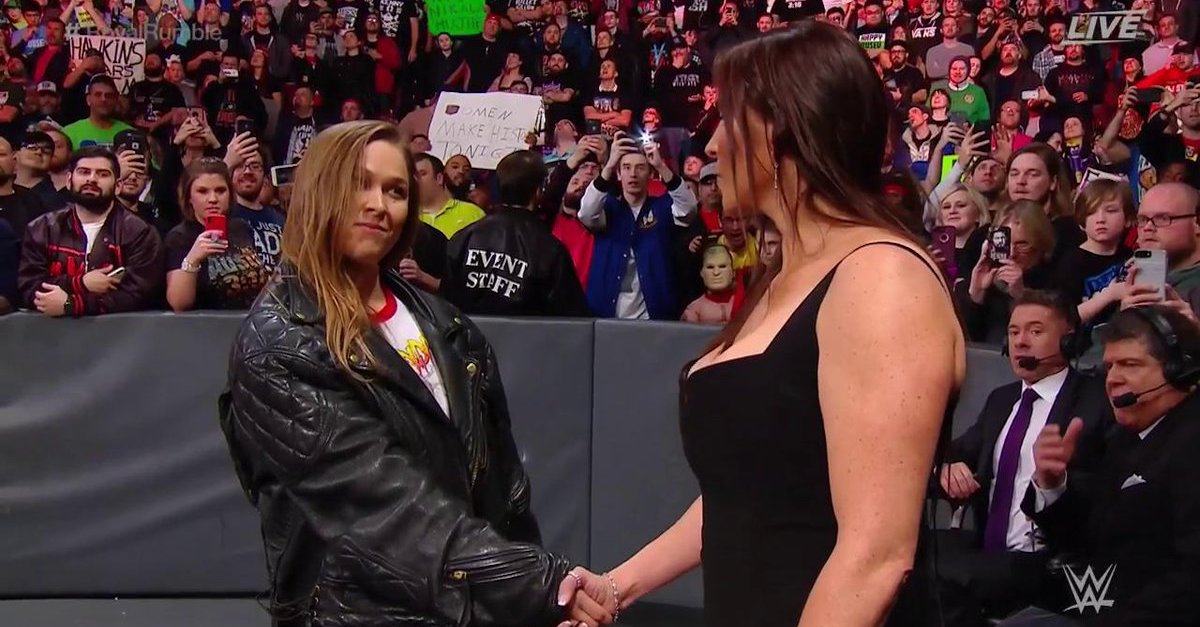 @WWE/Twitter
@WWE/Twitter
Ronda Rousey's WWE debut came as a shocker at the conclusion of the first-ever women's Royal Rumble match, where Asuka came out the victor.
Rousey entered the ring and gave her hand to Asuka before being slapped away. She then turned her attention to Stephanie McMahon and pointed at the WrestleMania sign.
Apparently this is the going plan for Rousey, per the Wrestling Observer, to work a mixed tag match at WrestleMania against McMahon and her husband, Triple H.
While it's unknown whether that match can be put together, apparently the rumor may be attempting to pair Rousey with the Rock, a la WrestleMania 31.
There's no other names mentioned for a potential Rousey partner, but it's quite clear here that WWE is shooting for the stars in attempts to build one of the bigger 'Mania cards in recent memory.
FanBuzz's take
This clears things up a bit after Rousey appeared to be going after Asuka, who would cash in her rumble win to face off in a non-title match. Thankfully, this doesn't seem to be the case since whatever match Rousey is in very obviously doesn't need a title attached to it to draw interest.