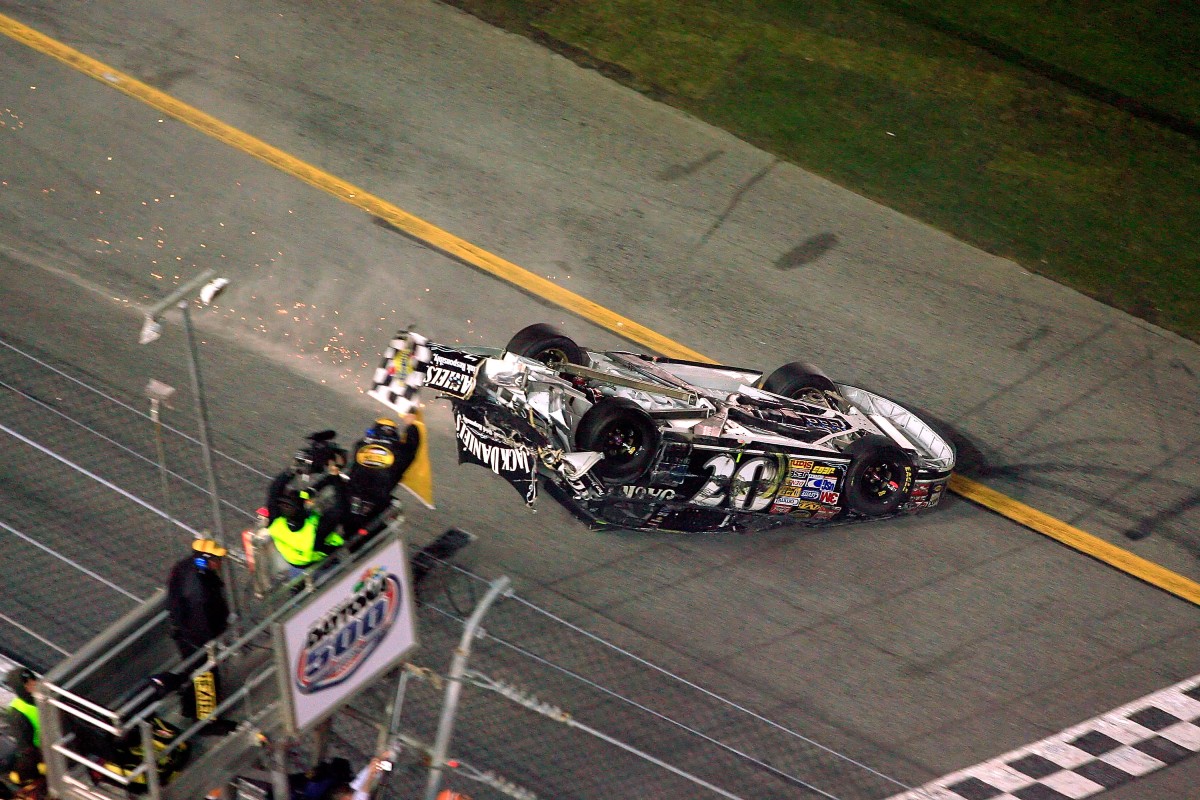 Jamie Squire/Getty Images for NASCAR
Jamie Squire/Getty Images for NASCAR
On Sunday, the long-awaited kickoff to the 2022 NASCAR Cup Series season will finally be here with the Daytona 500. Commonly referred to as the Super Bowl of Stock Car Racing," the inaugural race at Daytona International Speedway has a history of high-octane excitement.
There have been countless epic runnings of the Daytona 500 over the years, and while this year's race should no doubt deliver, the 2007 Daytona 500 will be hard to top. At least when it comes to controversial finishes.
Unfortunately for NASCAR legend Mark Martin — once described by ESPN as "the best driver to never win a championship" — he was on the losing end of the aforementioned controversial finish. In his 23rd running of The Great American Race, Martin had previously raced to seven top-7 finishes at Daytona. So close, yet so far time and time again.
While Martin dealt with his fair share of disappointment at Daytona Beach, his ultimate heartbreak came in 2007.
Following a number of caution flags throughout the race that forced the likes of Kurt Busch, Jamie McMurray, and Dale Earnhardt Jr. to bow out early, Martin ended up being race's late leader and looked to be well on his way to his first Daytona 500 win.
However, on the last lap, Kevin Harvick made a late surge, putting him neck-and-neck with Martin. As Kyle Busch attempted to pass them, he got loose and spun out, and it started a chain reaction that caused a host of other drivers to wreck.
Clint Bowyer flipped and skidded across the finish line on his roof, while Jeff Gordon also wrecked. It was complete chaos.
Surprisingly, the caution flag didn't come out, and Harvick just edged out Martin's No. 1 Chevrolet to the finish line by .002 seconds for what would be Harvick's first Daytona 500 win.
Many felt that there should have been a caution flag, which might've helped Martin overcome Harvick's late race-winning surge. For context, what went down at the 2007 Daytona 500 marked the closest finish since the first-ever Daytona 500 in 1959, when it took NASCAR officials THREE DAYS to finally declare Lee Petty the winner.
As for Martin, he raced at six more Daytona 500s, but he was never able to see the checkered flag. He would finish third in his final appearance at Daytona in 2012.
Products featured on FanBuzz are independently selected by our editors. However, when you buy something through our links, we may earn a commission.
This post was originally published on February 16, 2018.
Related Videos