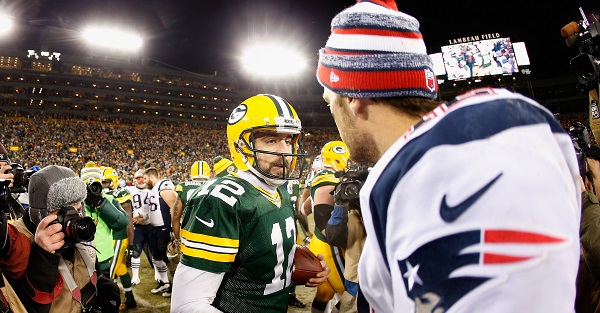 YouTube: NASCAR
GREEN BAY, WI - NOVEMBER 30: Quarterbacks Aaron Rodgers #12 of the Green Bay Packers and Tom Brady #12 of the New England Patriots shake hands following the NFL game at Lambeau Field on November 30, 2014 in Green Bay, Wisconsin. The Packers defeated the Patriots 26-21. (Photo by Christian Petersen/Getty Images)
Have you ever wondered what the NASCAR teams and drivers do during a rain delay? Back in 2015 at Michigan International Speedway, Brad Keselowski joined broadcasters Michael Waltrip and Chris Myers to fill the time during the delay, but to entertain themselves, they looked at footage from around the track. That's when we got to see Danica Patrick hilariously helping out her pit crew members.
Considering they were talking about Danica already, this clip couldn't have rolled in at a better time. Of course, the GoDaddy pit crew members were hard at work trying to dry up pit road. Itching for a dry track, Danica also lent one of the members a helping hand. As he runs his squeegee on the pavement, we see her standing on top of it, putting more pressure on the ground, and forcing it to catch a bit more water than it would normally. Just one of the many techniques used by these guys.
Keselowski and the broadcasters have a good laugh about it. However, the most awkward part is that every one of them are trying to hold back about commenting something regarding the camera angle. All of them were thinking it, but talking about it may have gotten them in a little trouble. Keselowski still jokes around about it anyway, but these Myers and Waltrip were a little too experienced to fall into that trap. It was a pretty funny moment that also provided some entertainment for the audience as they waited out the delay.
Now, Patrick was just having a little fun and trying to kill some time. As for all the drivers, that's practically what goes on during these rain delays. It's lots of sitting around and waiting until you get the green flag to get behind the wheel again. They're paid to be drivers, but at least some of them have fun in the meantime.

Products featured on Fanbuzz are independently selected by our editors. However, when you buy something through our links, we may earn a commission.
This post was originally published on March 9, 2021.