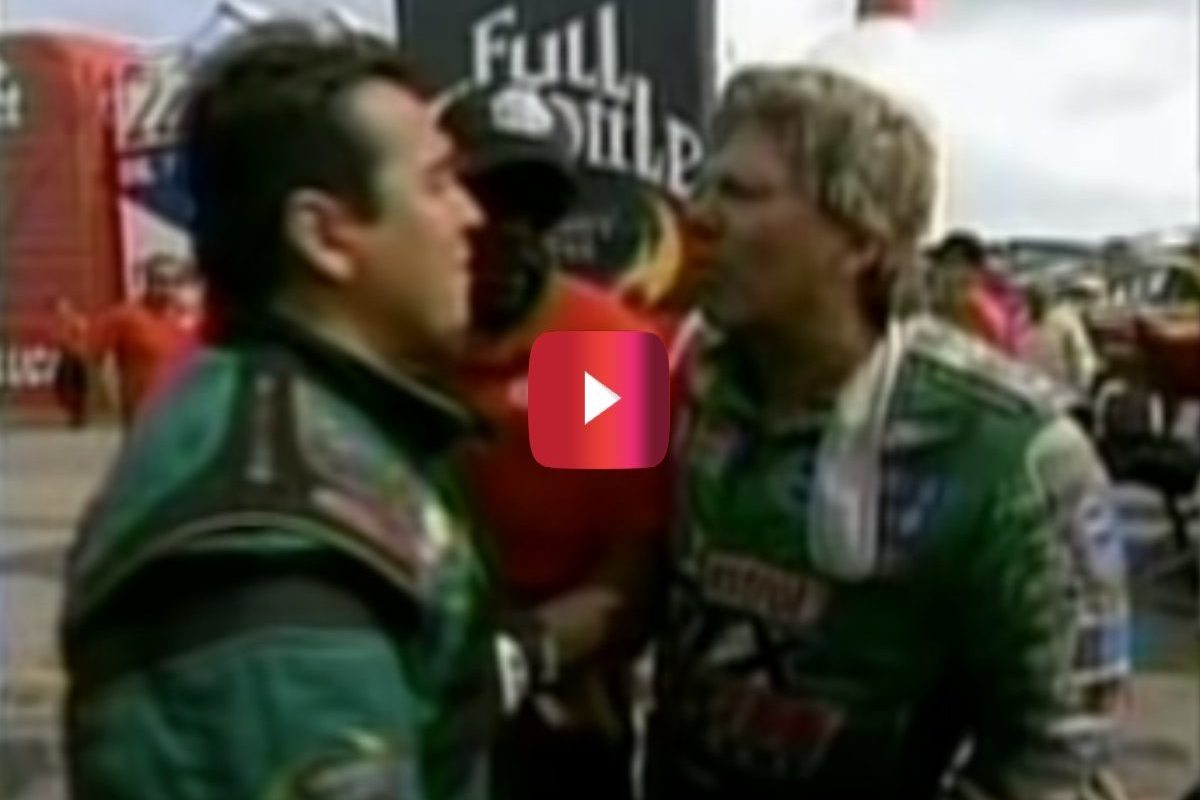 YouTube: LitbyNoonProductions
YouTube Screenshot
Drag racing has no lack of fierce competition, and when you're racing in the national events like the Top Fuel dragster or Funny Car class, folks take their racing very serious. The drivers and race teams work nonstop to perfect their cars and do everything possible to shave a fraction of a second off their time. Racers are also looking to please their sponsors, so it's extremely important and beneficial to be a top performer in these events.
Well, sometimes tensions and emotions between teams can boil over. This incident between Funny Car champion John Force and Tony Pedregon back at the Indianapolis U.S. Nationals in 2009 is a perfect example of what that looks like. Here's what happened during the NHRA event.
Tony Pedregon and his brother, Cruz Pedregon, have been racing against John Force for a long time, but that fateful day in '09, they decided to bring up some suspicions. Force was racing against Robert Hight in the semifinals. Hight is part of the John Force Racing team and is also John's son-in-law. Well, John races him and loses the race. The Pedregon brothers claim that he cheated during the race by purposefully losing.
You might wonder why anyone would lose a race on purpose. Well, since he lost, that meant that Hight would now qualify for the National Hot Rod Association's Full Throttle series. As a double whammy, it also knocked Cruz Pedregon out of the playoffs.
The other half of the semifinals included Ashley Force, John's daughter, racing against Tony Pedregon. Ashley had an extremely low ET (elapsed time) all night, and it looked promising for the young racer to take home the win. Sure enough, she managed to get the jump on Tony and won the race, which meant both of the Pedregon brothers were now out of the competition with no shot at the Funny Car title.
Tony Pedregon and John Force eventually get around each other after the race and exchange some words, which turned into an all-out heated argument. Of course, the TV cameras are all around them, so they capture this argument from the beginning. You can hear Tony tell John at one point, "You should be ashamed," to which Force replies, "No, you should be. My kid kicked your ass."
The two get into each others faces, and it looks as if it's going to turn into a full-on fight. Luckily, only harsh words were thrown at each other instead of fists. Tony's last words to John before it ended were, "Hey, John, after eight years, I think I'm entitled to say something," insinuating how John has a tendency to manipulate the races. It eventually gets broken up by the race track staff, and the crew returned to their grounds to cool off.
What was the result of this? Well, John received a $10,000 fine for getting physical with an NHRA official, which is strictly against the rules. And, Tony ended up getting some things off his chest about how the NHRA Funny Car driver does his racing. After some time passed, they did talk again and move forward from the incident, but it just goes to show how tense some of these races and rivalries can get.