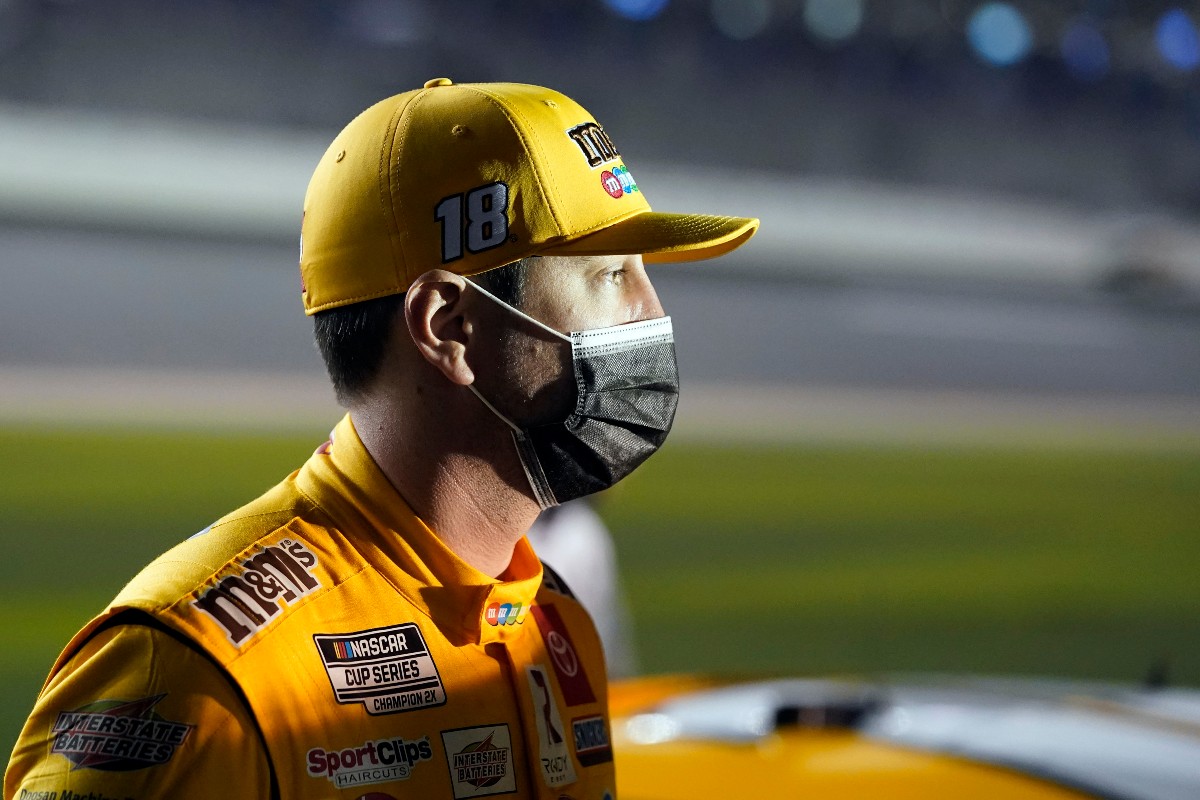 AP Photo/John Raoux
AP Photo/John Raoux
You'd think that nowadays, everyone could agree that on July 20, 1969, Buzz Aldrin and Neil Armstrong set foot on the Moon for the first time. But, since we can't have nice things these days, there are actually two camps when it comes to the Moon landing: those who believe that it happened when the history books say it did and those who believe that it was all just some giant conspiracy orchestrated by the U.S. government and Stanley Kubrick.
At some point, a factual occurrence turned into a hot-button issue, with everyone from NBA players to politicians weighing in on it.
Even NASCAR drivers have an opinion on that historic lunar moment in 1969. So, what better way to celebrate the 50th anniversary of the Apollo 11 moon landing than to see what some of the biggest names in professional auto racing have to say about it? As it turns out, during the 2019 Daytona 500 media day back in February, the folks over at For the Win asked 11 NASCAR drivers if they thought the 1969 moon landing was real or staged.
"Absolutely, we landed on the moon," Jimmie Johnson said, while Joey Logano was quick to back him up.
"Of course we landed on the moon," Logano said. "How would you fake it?"
The 2018 NASCAR Cup Series champion definitely posed a fair question, though Ryan Blaney thinks it would've been easy to fake.
"Easy to fake that," Blaney said. "You get a studio. It?s pretty easy. I know it was 1969, but you could figure it out. They have studios, they know how to make movies, but I don?t know. No one will ever know if we actually did or not, except for Mr. Buzz Aldrin."
Other pro 1969 Moon landing drivers included Martin Truex Jr., Clint Bowyer, and Chase Elliott (who added that the Earth is, in fact, not flat).
Kyle Busch, not too shockingly, sided with the skeptical camp.
"I don?t think we landed on the moon in 1969," Busch said. "Technology was not there, there?s no way. We?ve been there by now, but I don?t think we were there in ?69."
Interestingly enough, Rowdy's hot take falls in pretty stark contrast to what Kyle's older brother Kurt believes went down.
"I think we did, yes," Kurt Busch said. "My (late) grandma had the newspaper from the Chicago Tribune from 1969. I framed it, and it?s up in one of my spare bedrooms. I thought it was cool. it was found in one of her boxes of old newspapers."
"I found that one to be the most important or significant. Not saying we landed on the moon ? no I?m just kidding!"
Kurt should probably show that old newspaper clipping to Kyle sometime, and, while's he's at it, show it to Kyle Larson and Brad Keselowski as well, since they both weren't entirely convinced that the 1969 Moon landing was legit.
Though he wasn't asked his opinion ahead of the 2019 Daytona, Ryan Newman, the driver of the No. 6 Ford for Roush Fenway Racing, was one of the more recent drivers to give a controversial Moon landing take, ahead of this past weekend's race at New Hampshire Motor Speedway.
?I?m not a denier, I just don?t know, I don?t believe it?s true,? said Newman, according to USA Today. ?I don?t have proof to believe it?s true. I can?t go off a picture or a video or whatever stage they were on. They were just trying to beat the Russians to a good photo opp.?
Wow. Maybe this would be as good a time as any for some of NASCAR's finest to take a tour of NASA's facilities. They clearly need a refresher.

This post was originally published on February 14, 2019.