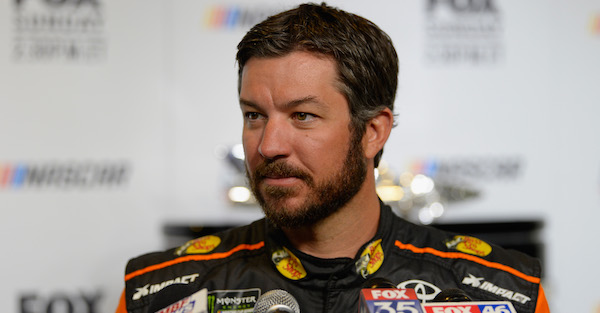 Robert Laberge/Getty Images
DAYTONA BEACH, FL - FEBRUARY 14: Martin Truex Jr., driver of the #78 Bass Pro Shops/5-hour Energy Toyota, speaks with the media during the Daytona 500 Media Day at Daytona International Speedway on February 14, 2018 in Daytona Beach, Florida. (Photo by Robert Laberge/Getty Images)
Defending Cup Series champion Martin Truex Jr. finished 18th at Daytona following a late crash, and it was a frustrating race for him on Sunday.
Truex let out some of his frustrations on the radio scanner, and he wasn't pleased with lap cars that were in his way during the race.
"(Expletive) lap cars get the (expletive) out of the way!" Truex said. "Tell the (expletive) 3 (Austin Dillon) he's an (expletive)."
Related: Bubba Wallace explains what happened during heated moment with Denny Hamlin after Daytona 500
Elsewhere on the radio scanner, Aric Almirola noticed how Ryan Blaney seemed much faster than last season.
"Getting into a Penske car has turned him into a damn speedway racer," Amirola said of Blaney.
Almirola had the lead in overtime before Dillon made contact with his car and wrecked him. Almirola's crew chief, John Klausmeier, had some choice words for Dillon.
"Good job man, you had us in position," Klausmeier said. "Can't control an idiot."
When asked if he was OK, Almirola said he was, but he was "devastated."
Denny Hamlin and Bubba Wallace had some words for each other after the race. Wallace said "what's his problem?" in reference to Hamlin, and Hamlin said Wallace blew his tire.
Wallace's team said Hamlin was an idiot, and Wallace said his crew would have to hold him back so he didn't go after Hamlin.
Here is the best of the radio scanner from the Daytona 500:
Related: Jimmie Johnson shifts the blame for crashes at Daytona 500
Hopefully this week's race at Atlanta will result in more fireworks from the drivers.