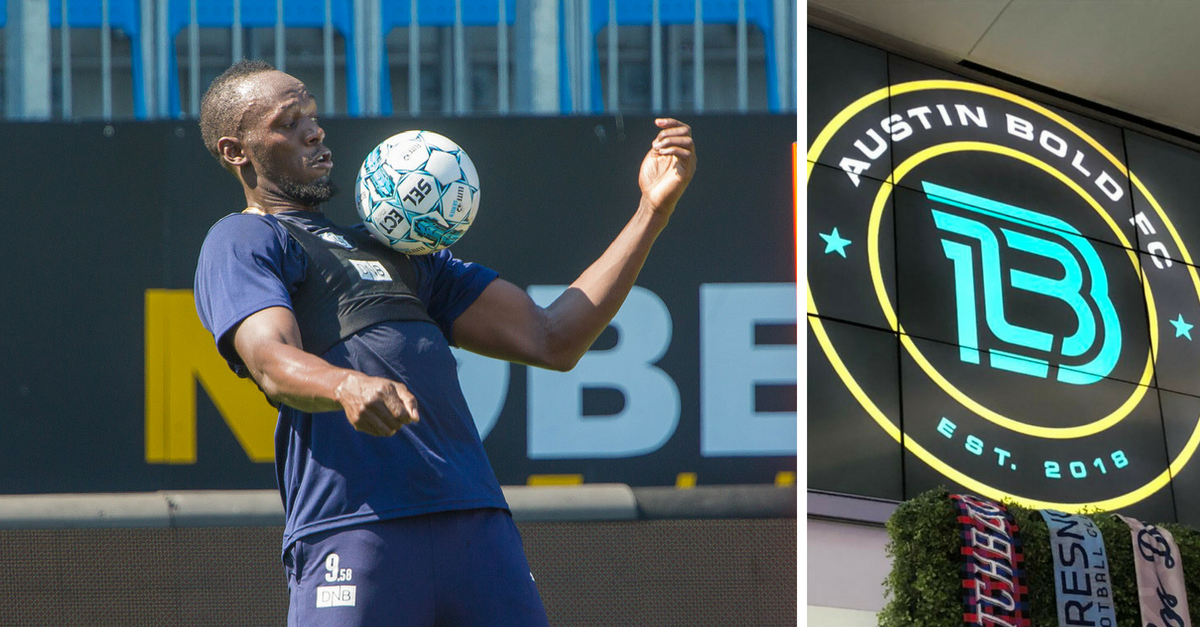 Instagram: @usainbolt, Twitter: @ChrisBils
Instagram: @usainbolt
Twitter: @ChrisBils
Efforts to bring popularity back to American soccer after the United States' embarrassing failure to qualify for the 2018 World Cup are in full swing. Continuing to build a multi-layered soccer program in order to develop homegrown talent is vital to American soccer's success going forward.
The United Soccer League sits in the shadows of Major League Soccer. The USL is considered a Division II level league with 33 teams competing, 19 of which are directly linked as a junior affiliate with an MLS club. Now, Austin, Texas will be the latest city to bring in a professional soccer club.
Austin Bold FC will be the newest member United Soccer League. On Friday, the organization announced former U.S. national team assistant Marcelo Serrano as the club's first head coach — Brazilians Kléber Freitas and Marcelo Saragosa and Dutch defender Edson Braafheid were the first three players named for the USL's latest expansion club.
Oh, and Austin FC is in talks on signing the world's fastest man as their star attraction, too.
Eight-time Olympic gold medalist Usain Bolt is planning to play a trial period with Australia's Central Coast Mariners, something he has previously done with soccer clubs Borussia Dortmund in Germany and Stromsgodset of Norway.
The Olympic champ is a huge soccer fan and has repeatedly expressed his desire to play professionally. Despite not getting a contract offer with a professional club yet, the newest member of the USL plans to make signing Bolt priority number one.
Austin FC general manager Roberto Silva is confident that on-going contract talks will bring the Olympic sprinter to the Texas franchise.
"A name like Bolt lets us build the momentum," Silva said Thursday. "We are still confident we will have him, if not now, but in the near future."
At 31-years-old, Bolt, who is retired from competitive track and field, owns world records in the 100 meter, 200 meter and 4 x 100 meter relay.
The Austin Aztex was the city's professional soccer team until 2016, when funding woes and stadium flooding at House Park forced the team to disband.
Austin has been in talks to bring an MLS club into the city, but starting with a USL club will prime the effort, and help to keep roster spots open for hometown talent within the Austin city limits.
"Now we can hold them in Austin and allow them to do that transition to professional life and professional soccer and let them stay at home with their families," Silva said, "and allowing us Austinites to enjoy their skills."
Major League Soccer's All-Stars lost to Italian champion Juventus, who played without all-world forward Cristiano Ronaldo, at the MLS All-Star Game, so maybe American soccer needs another star like Usain Bolt to bolster enthusiasm and actually make its leagues competitive?
Austin's USL team will begin play in 2019. Home matches for the team will be played at the Circuit of the Americas, a 5000-seat stadium where the proposed MLS club would also play.
Regardless of his skill set, no one would ever beat Usain Bolt wearing an Austin Bold uniform to the corner for a ball.