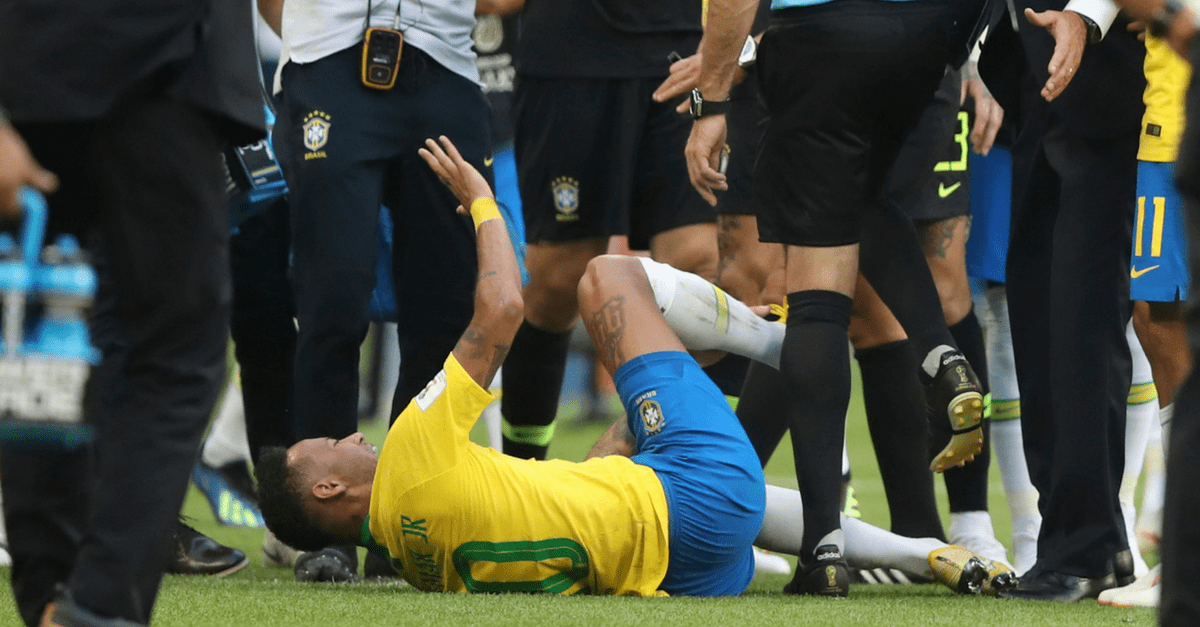 AP Photo/Thanassis Stavrakis
There are many ways to describe Brazil superstar Neymar. Talented is a good place to start. Wealthy would be another. Young is a strong choice right now, too. Just be sure to add actor to that list.
Over the course of his stellar career, and even during the 2018 World Cup in Russia, the 26-year-old striker has been known for his antics as much as his goal-scoring abilities.
More often than not, it's simply shrugged off or chalked up in the "whatever, that wasn't a foul, man" category. But his latest fall might have taken acting hurt a little bit too far.
In the 71st minute of Brazil's 2-0 win over Mexico in the Round of 16, Neymar drew contact on the sideline near midfield and fell. The reaction to the contact did not please many people, to say the least.
Here is a closer look at happens when Neymar gets his ankle stepped on following the initial play:
The fan reaction was understandable. Why would an expensive player with a similar popularity to Argentina's Lionel Messi and Portugal's Cristiano Ronaldo do something like this on the biggest stage?
And if that is what the fans think, can you imagine what was going through the mind of Mexico manager Juan Carlos Osorio during all of this? Luckily for all of us, he didn't hold back, despite never actually saying the Brazilian star's name.
"It's an embarrassment for soccer that so much time was wasted on one player," Osorio said during his postgame press conference. "The officiating was very biased and the players got tired of that. It's not a good example for soccer, and for the world of soccer, for all of the kids playing. This should be a sport of ability, of determination, a game of men, not of so much clowning."
No matter how harsh those words were, Mexico was knocked out of the World Cup 2018, and Neymar was a big reason why. He scored the match's opening goal in the 51st minute and his deflected shot in the 88th minute led to Roberto Firmino's goal to seal the game and advance to play Belgium in the quarterfinals.
The last goal, of course, came after the flopping dramatics worthy of an Oscar.
Osorio wasn't the only person to speak his mind on the matter. Neymar chimed in as well in very Neymar fashion.
Neymar is an undeniable talent with an interesting approach to the game. And there is a good chance something didn't feel good on that play.  It's just very unfortunate this match will never be remembered for his brilliance in victory.
It is permanently stained with a flop that might have gone just a little too far and we all, including FIFA, have to live with it.