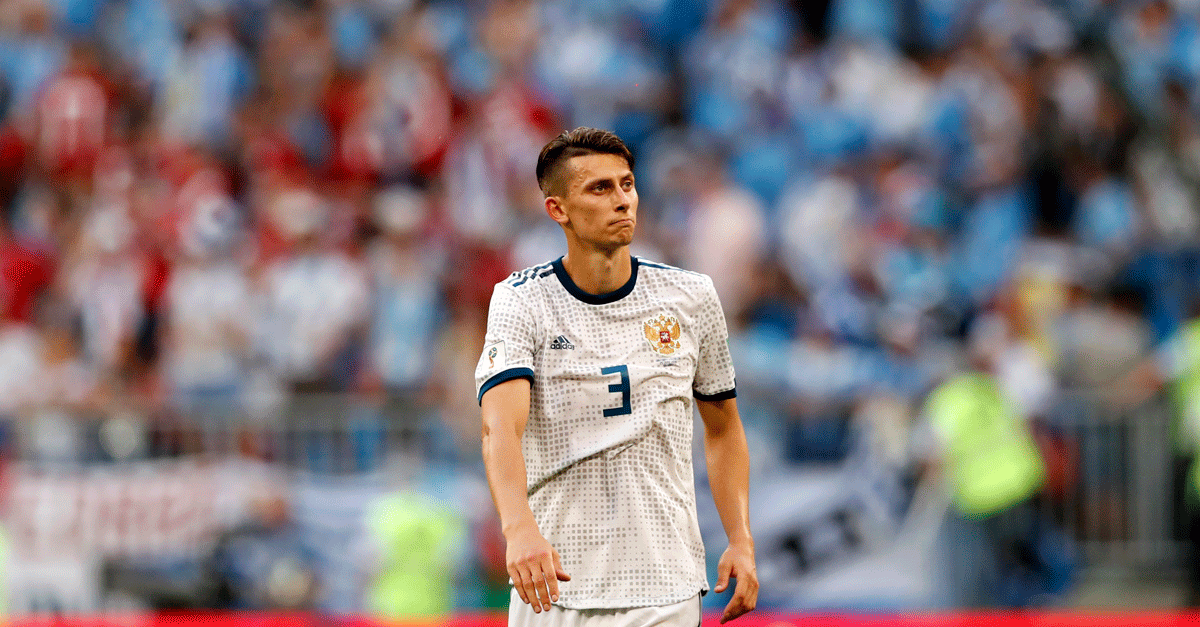 AP Photo/Rebecca Blackwell
Russia, playing host to the 2018 FIFA World Cup, finds itself thrust onto the world stage in an attempt to refresh the country's image. Following Russia's ban from competing in the 2018 Winter Olympics held in Sochi, Russia is leaning on positive experiences for fans traveling to the country, and a strong performance from its men's national team, moving forward in the tournament.
Again, however, the country is back under the microscope amidst new allegations surrounding Russia knowingly allowing state-sponsored doping of its athletes, and subsequent cover-ups of positive test results. The Mail on Sunday reported that FIFA, world soccer's governing body, knew 18-months ago that Russian soccer players tested positive for performance-enhancing drugs, and Russia's Sports Ministry swapped the positive tests with clean urine.
According to the report, the 155 Russian soccer cases uncovered are "the tip of the iceberg."
FIFA, currently undergoing a year-long investigation, has yet to publicly condemn, or charge, anyone involved in these cases. FIFA is coming under fire for its inaction in an attempt to save its image, and the billion-dollar World Cup currently underway in Russia.
This is not the first corruption case pointed at FIFA.
After the U.S. led an investigation of FIFA in 2015, it was uncovered that the organization was guilty of "rampant, systematic, and deep-rooted corruption," which led to the arrest of multiple FIFA officials who accepted millions of dollars in illegal bribes and kick-backs. Former FIFA president Sepp Blatter was banned from participating in FIFA related activities for six years.
In July 2012, U.S. Attorney Michael J. Garcia was appointed to conduct investigations surrounding the bids assigned to Russia and Qatar for the 2018 and 2022 World Cups, respectively. His 350-page report, drew from 200,000 pages of evidence into how the bids were procured, with potential evidence they were done illegally. FIFA chose not to publish the report publicly, and the bids were awarded anyways. Garcia resigned his position in protest following an unsuccessful appeal.
Russia and FIFA are intertwined in a scandal they can only hope remains tabled until after the World Cup spotlight is turned away.
The World Cup is the most watched sporting event in the world. The tournament brings millions to a standstill as they watch their teams compete for a chance at glory. With the group stage in its final round, here is how each country stands.
Group A: Uruguay is perfect, and Russia advances
Uruguay's Luis Suarez and Edison Cavani netted two goals a piece as they swept the group stage with three wins. Russia is tied for the tournament lead with 8-team goals, and are on to the next round.
Group B: Spain and Portugal draw, move on
Following draws on Monday afternoon to Morocco and Iran, heavyweights Spain and Portugal move on to face the Group A winners. Spain will face Russia, and Portugal gets Uruguay in the opening of the final 16-team knockout stage.
Group C: France advances, Denmark awaits Australia result
France gets a tune-up game versus Denmark, having secured a spot in the next round. Australia can advance if they beat Peru and can overcome a two-goal deficit to Denmark in the final match day of this group on Tuesday.
Group D: Croatia surprises, second spot still up for grabs
Croatia stunned the soccer world blanking Argentina and all-world striker Lionel Messi 3-0 to advance to the knockout round. Nigeria holds a two-point lead over Iceland and Argentina; a three-point win secures a spot in the next round for whomever can take it on Tuesday.
Group E: Brazil and Switzerland lead, but aren't safe yet
Both Brazil and Switzerland advance with at least a draw on Wednesday when they take on Serbia and Costa Rica, respectively. Serbia advances if they can knock off Neymar and Brazil. All three teams are still eligible to be eliminated.
Group F: Mexico leads, Germany and Sweden follow
Mexico leads following two wins, and advance with at least a draw with Sweden. If Germany beats South Korea, and Sweden beats Mexico, all three teams will finish with six points, and the tie-breaker comes to goal differential. It's do-or-die on Wednesday.
Group G: England and Belgium dominate
This group is set ahead of Thursday's final match day. Both England and Belgium netted eight goals through two games, and are tuning up for legitimate runs at a berth in the World Cup final.
Group H: It's all up for grabs
Poland was a favorite to emerge from this group; they're eliminated. Japan and Senegal are tied with four points each, but Columbia, with three points, has the better goal differential ahead of Thursday's final round. Two of the three get in, and a World Cup knockout round berth sits at their feet.