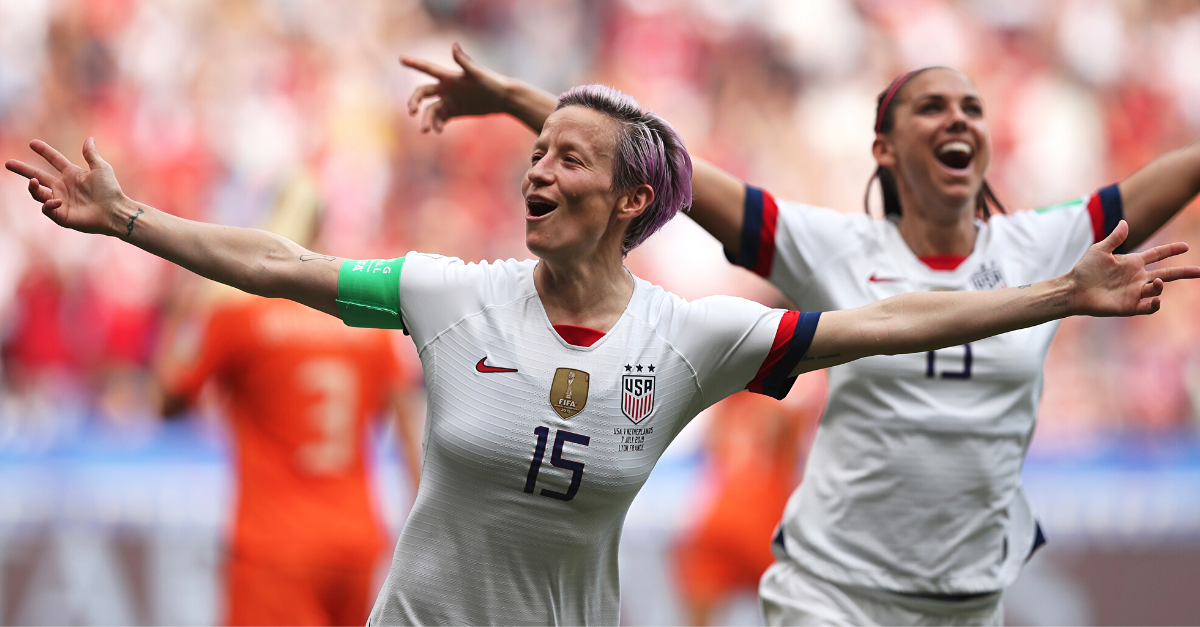 AP Photo/Francisco Seco
Maybe one of the most popular athletes in the world for a period of time during the summer of 2019, Megan Rapinoe has built up a nice net worth even though she doesn't get paid close to her male counterparts.
As a member of the United States women's national soccer team, Rapinoe is one of the faces of American soccer in both FIFA and the Olympics, helping her make more money on top of her salary as an athlete.
Early Life
Even though soccer isn't one of the top sports in the United States, the women's national team found success in all tournaments, but it was headlined by Megan Anna Rapinoe over the past few years.
A soccer player from Redding, California, Rapinoe made a name for herself on the field as well as in her activism. She began her career at Foothill High School by played soccer for Elk Grove Pride, which was two and a half hours away from home. She played on the team with her twin sister, Rachael Rapinoe, and Stephanie Cox, a future teammate on the US national team.
After high school, both the Rapinoe sisters committed to play college soccer at the University of Portland. Megan played in just 60 games during her career as a college soccer player, suffering two different season-ending ACL injuries. Though she didn't play in many games for the Pilots, she managed to account for 88 points, 10th all-time in program history.
Rapinoe decided to forgo her final year of eligibility and entered the Women's Professional Soccer Draft in 2009 for the inaugural season of the league. She was the second overall pick by the Chicago Red Stars. Since that time as an American professional soccer player , Rapinoe has played midfielder and winger for the Philadelphia Independence, MagicJack, Sydney FC, Seattle Sounders Women, Olympique Lyon, and most recently Seattle Reign FC of the National Women's Soccer League since 2013.
The maximum salary for NWSL players was $46,200 in 2019, but will increase to $50,000 in 2020. It's unclear exactly how much Rapinoe earns from her pro contract, but being the league's biggest star, she's likely one of its highest-paid players.
Megan Rapinoe US National Team
RELATED: U.S. Soccer's Megan Rapinoe Named Sportsperson of the Year
The most notable part of Rapinoe's career has been her time with the U.S. women's national team in both the FIFA World Cup and the Olympics.
In 2006, Rapinoe was a member of the USA U-20 women's team. She began her career with the senior team in 2006, but had two more ACL injuries, keeping her out of the 2007 FIFA Women's World Cup and 2008 Beijing Olympics.
Since then, Rapinoe has been a mainstay for US women's soccer with some of the biggest plays in the history of the team. She was a member of the 2011 FIFA Women's World Cup, 2012 London Olympics, 2015 FIFA Women's World Cup, and 2019 FIFA Women's World Cup. She won a gold medal in the 2012 Olympics, two World Cups, and two CONCACAF Women's Championships.
As a member of the USWNT, Rapinoe earns a base salary of $100,000 per year, then an additional salary between $67,500 and $72,500 for playing in the NWSL, according to a report from U.S. Soccer. She also receives health care benefits and a retirement plan.
Megan Rapinoe Off the Field
As big of a personality as Rapinoe is on the field, her bold and brave fights off the field have been even more documented and important. With the USWNT receiving fractions of the salary the men's team receives, Rapinoe and Alex Morgan among many others have fought for equal pay.
She has also been vital in the LGBTQ community, which she is a part of. She has dated some pretty famous figures including Australian soccer player Sarah Walsh, recording artist Sera Cahoone, and most recently former Seattle Storm star Sue Bird.
Megan Rapinoe Net Worth
Megan Rapinoe's net worth is certainly impressive, but also still low for someone who has been at the top of a sport for close to a decade. But even then, her estimated net worth around $3 million is nothing to laugh at.
She may not make the same money she would as a male soccer player, Rapinoe is still making a ton of money. With a combination of her soccer salary and endorsement deals with Nike, Samsung, Wildfang, DJO Global, and others, she has built up some value.