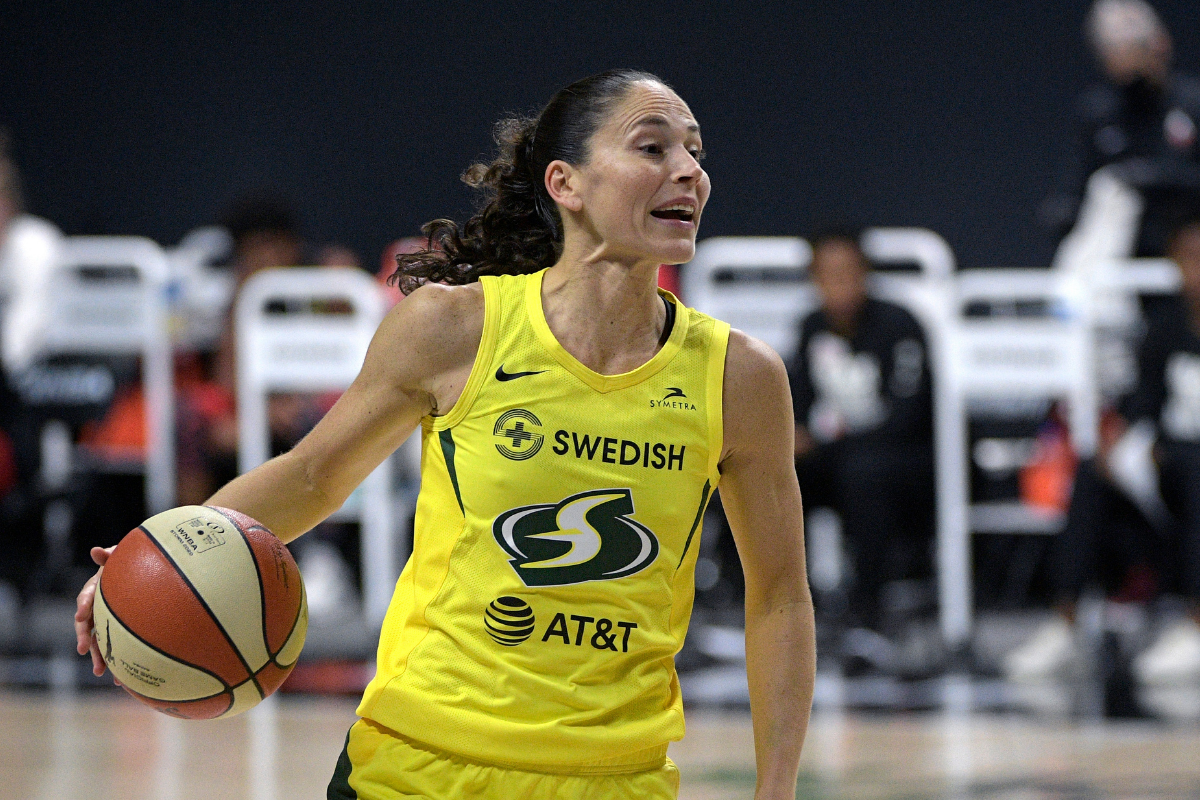 AP Photo/Phelan M. Ebenhack
Sue Bird is one of the greatest women's basketball players of all time. There is no sense in trying to debate that because it will fall on deaf ears. What the superstar point guard has accomplished throughout her career is extraordinary, and her big bank account proves it.
Whether it has been in the WNBA with the Seattle Storm, overseas, or winning four Olympic gold medals, Bird's resume is almost too good to be true. She is an icon and role model who many young women inspire to be and her winning prowess is nothing short of legendary.
Off the court, many also know Bird for dating United States soccer player and World Cup star Megan Rapinoe, and her stardom continues to grow today.
Sue Bird Playing Career
Suzanne Brigit Bird, whose birthplace is Syosset, New York, is the daughter of Herschel Bird and Nancy Bird. The American hooper started her career playing at AAU basketball tournaments and at Syosset High School before transferring to Christ the King Regional High School, where she became an instant star.
Bird helped Christ the King go undefeated and win a state championship as she took home several awards, including New York Daily News Player of the Year and New York State Player of the Year. She also played in the WBCA High School All-America Game.
Her run of excellence was just getting started, too. Bird committed to the University of Connecticut, where she helped the UConn Huskies win two NCAA championships and won the Naismith Award as the College Player of the Year.
RELATED: UConn Women's Hoops: Why Its The Greatest Dynasty in College Sports
There's a theme there, right? Well, it didn't stop. Bird was the first-overall pick in the 2002 WNBA Draft and has lit up the Women's National Basketball Association ever since her rookie season.
Since entering the league, where she was the runner-up for the Rookie of the Year Award, Bird has won three WNBA championships (about to be four) with the Seattle Storm, played in 11 WNBA All-Star Games, earned five First-Team All-WNBA selections, and became one of the greatest women's players of all time in the process.
Additionally, Bird has won five EuroLeague and Russian National League championships playing for Dynamo Moscow, Spartak Moscow Region, and UMMC Ekaterinburg during the WNBA offseason.
If that's not enough for her basketball career, Bird has four Olympic gold medals with Team USA and four more FIBA World Championships and World Cup gold medals with the US national team.
No matter the basketball team she's been on, Bird, who gained interest in sports from her older sister Jen, found ways to win and returned to full strength following a knee injury that sidelined her for the entire 2019 season.
Sue Bird Net Worth
Being an American professional basketball player in the WNBA certainly has its perks. Bird reported made $115,500 during the 2018 season and was expected to make an annual salary of $215,000 for the 2020-21 campaign.
Add in her endorsements, social media, and other ventures, including being on the cover of ESPN The Magazine's Body Issue, Sue Bird's estimated net worth is between $5 million and $8 million.
This post was originally published on June 19, 2020.