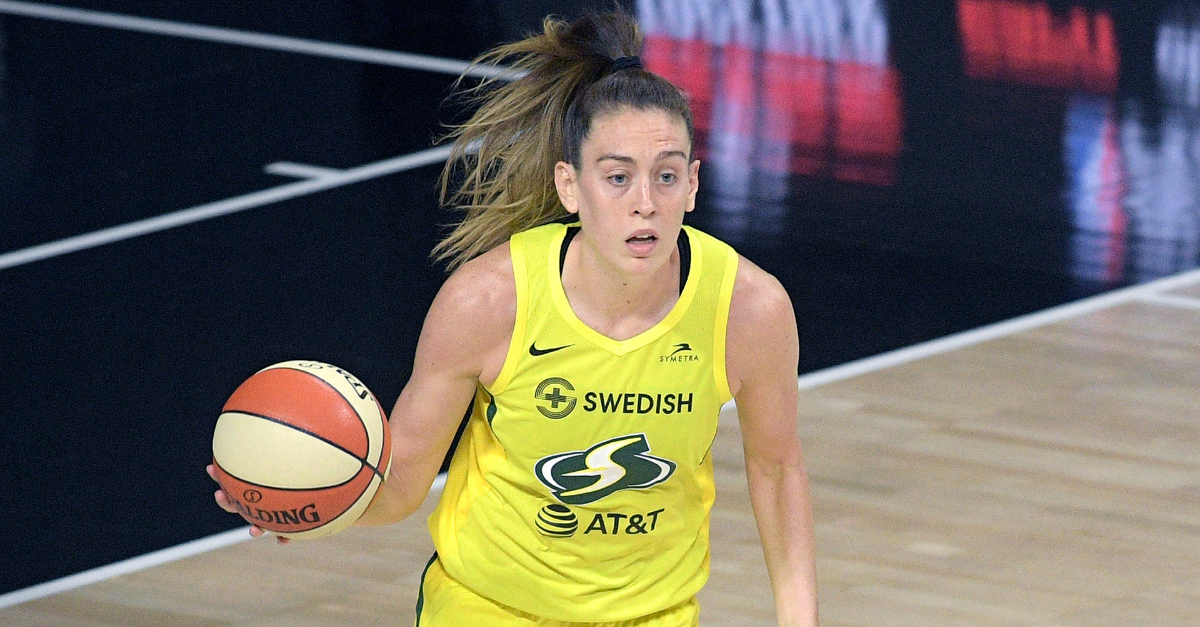 AP Photo/Phelan M. Ebenhack
The UConn women's basketball program has churned out some of the best players the sport has ever seen. Sue Bird, Diana Taurasi, Tina Charles, and Maya Moore all passed through Storrs on their way to becoming legends.
Breanna Stewart, the latest in line, is just getting started.
Early Life and High School
Breanna Mackenzie Stewart was born on August 27, 1994 in Syracuse, New York to Heather Stewart. Her biological father was never involved in her life, and Heather married Brian Stewart when Breanna was young. Stewart eventually adopted Breanna and helped shape her game by coaching her ball-handling and perimeter-shooting skills.
Breanna attended Cicero-North Syracuse High School (C-NS). She was a stud from the get-go, playing her first games with the high school basketball team while still in eighth grade. The power forward increased production every year and led the team to the New York AA public state title as a junior. That same year, she announced her commitment to play college basketball under head coach Geno Auriemma at the University of Connecticut.
A day after her announcement, she dunked for the first time in a game.
RELATED: Lisa Leslie's First WNBA Dunk Changed Women's Basketball Forever
Stewart collected several accolades during her senior year, including the 2012 Naismith High School Player of the Year and the 2012 Gatorade National Player of the Year. Additionally, she earned spots on the 2012 Women's Basketball Coaches Association (WBCA) High School Coaches' All-America Team and was named a 2012 McDonald's All-American.
UConn Career
Stewart exploded onto the national scene as a member of the Connecticut Huskies and quickly asserted herself as the best player in the country. Her college resume is as impressive as anyone who's played:
— 4x NCAA Champion

— 4x NCAA Tournament Most Outstanding Player

— 3x Consensus First-Team All-American

— 3x AAC Player of the Year

— 3x Naismith College Player of the Year
Stewart left UConn as one of only six players, including Tina Charles, Rebecca Lobo, Maya Moore, Stefanie Dolson, and Jamelle Elliott, with at least 1,000 points and 1,000 rebounds. She finished her career second on the school's all-time scoring list with 2,676 points, fourth all-time in rebounds with 1,179, and first in blocks with 414.
She graduated with as many national championships and Final Four appearances as seasons she played.
WNBA Career
Breanna Stewart was the first-overall pick in the 2016 WNBA Draft by the Seattle Storm. Prior to her first game, she signed an endorsement deal with Nike.
The American professional basketball player carried her success from UConn to the WNBA, where she became one of the league's top players.
Here is what she's accomplished in her professional career so far:
— WNBA champion (2018)

— WNBA Finals MVP (2018)

— WNBA MVP (2018)

— 2x WNBA All-Star

— WNBA Rookie of the Year (2016)

— WNBA All-Rookie Team (2016)

— All-WNBA First Team (2018)

— All-WNBA Second Team (2016)

— WNBA All-Defensive Second Team (2016)
Stewart missed the entire 2019 WNBA season due to a torn Achilles suffered in the 2019 EuroLeague Women's Final while playing for the Russian based Dynamo Kursk. The WNBA made her a paid ambassador for the season, establishing her as the first active player to do so. She earned slightly more in that role than as a player.
The 2018 MVP returned for the resumption of the regular season in the 2020 WNBA Bubble at IMG Academy in Bradenton, Florida. She was ranked first in ESPN's Best 25 WNBA Players age 25-and-under in the Bubble in July 2020.
According to Spotrac, Breanna's new two-year, $375,500 contract kicks in at the beginning of the 2020-21 season. She'll make an average of $187,750, a large increase in salary thanks to the Women's National Basketball Association's new Collective Bargaining Agreement established in January 2020.
National Team Career
Stewart has been involved with the United States women's basketball team since she was 14. She was named the 2011 USA Basketball Female Athlete of the Year due to her performance on the U19 team, which won the 2011 FIBA World Championship in Puerto Montt, Chile. She was the second leading scorer on the team despite only being 16 years old.
She was promoted to the senior team in 2015 and earned a spot on the 2016 Summer Olympics team, where team USA won the gold medal.
Breanna Stewart Net Worth
According to PlayersWiki, Breanna Stewart's net worth is $1.4 million. However, this was estimated before the new CBA kicked in. Biography Mask estimates her net worth between $1 million to $5 million, which seems more accurate given her new salary and Nike deal.
Stewart is already one of women's basketball's biggest stars in the early stages of her professional career.
As the WNBA grows, her net worth will follow suit.