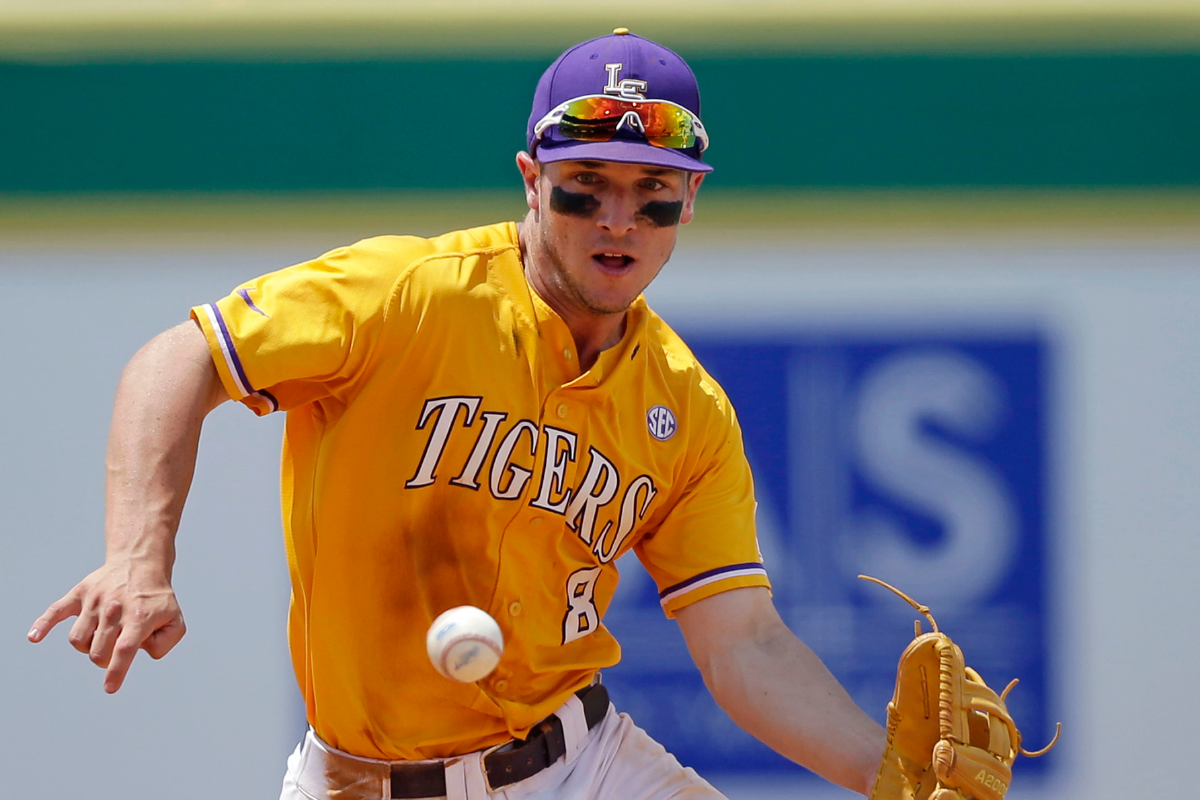 AP Photo/Gerald Herbert, File
Alex Bregman is one of the most fundamentally sound hitters in Major League Baseball.
Since his debut in 2016, the Houston Astros third baseman has been a consistent MVP candidate with the confidence to match his on-field play.
Bregman first got noticed on the high school baseball team at Albuquerque Academy in New Mexico before signing with the LSU Tigers.
His time under head coach Paul Mainieri turned him into a superstar and put him on the map nationally.
Alex Bregman's LSU Career
The LSU baseball program is a storied one.
The Tigers have won five College World Series titles and are a consistent threat in the NCAA Tournament each season. Fans who attend games at Alex Box Stadium in Baton Rouge are treated to superb baseball year in and year out.
They also get to watch star players such as Alex Bregman.
RELATED: Warren Morris? Walk-Off HR is the Greatest in College Baseball History
Bregman emerged as a freshman and never looked back. As the starting shortstop in 2013, he coupled great defense with a .369 batting average in nearly 300 at-bats. He was named the Baseball America Freshman of the Year and earned the Brooks Wallace Award, which given to the best shortstop in college baseball.
Bregman was no one-season wonder and helped the Tigers reach the College World Series in both 2013 and 2015.
All told, he would end up with a career .337/.409/.514 slash line, 21 home runs, and 148 RBIs.
The two-time All-American had nothing left to prove and declare for the MLB Draft.
Alex Bregman with the Houston Astros
Alex Bregman was selected with the second-overall pick by the Houston Astros in 2015.
Before becoming the villains of baseball, the Astros hoarded first-round draft picks, and Bregman was one of the most shrewd selections.
The third baseman has done nothing but hit since first getting called up to MLB. The two-time American League All-Star was a member of the controversial World Series-winning team that defeated (cheated against) the Boston Red Sox, New York Yankees, and Los Angeles Dodgers.
Bregman, along with the rest of his teammates, apologized for his role in the sign-stealing scandal during spring training in 2020, but he hasn't earned back the trust of many fans.
Despite his tainted statistics, there is no denying that he is an incredible baseball player who has the chance to finish his career with fantastic numbers if he avoids the injured list.
Bregman is an exceptional batter with a prominent social media presence. Love him or hate him, he is a marketable presence on the field, something baseball typically struggles to find.