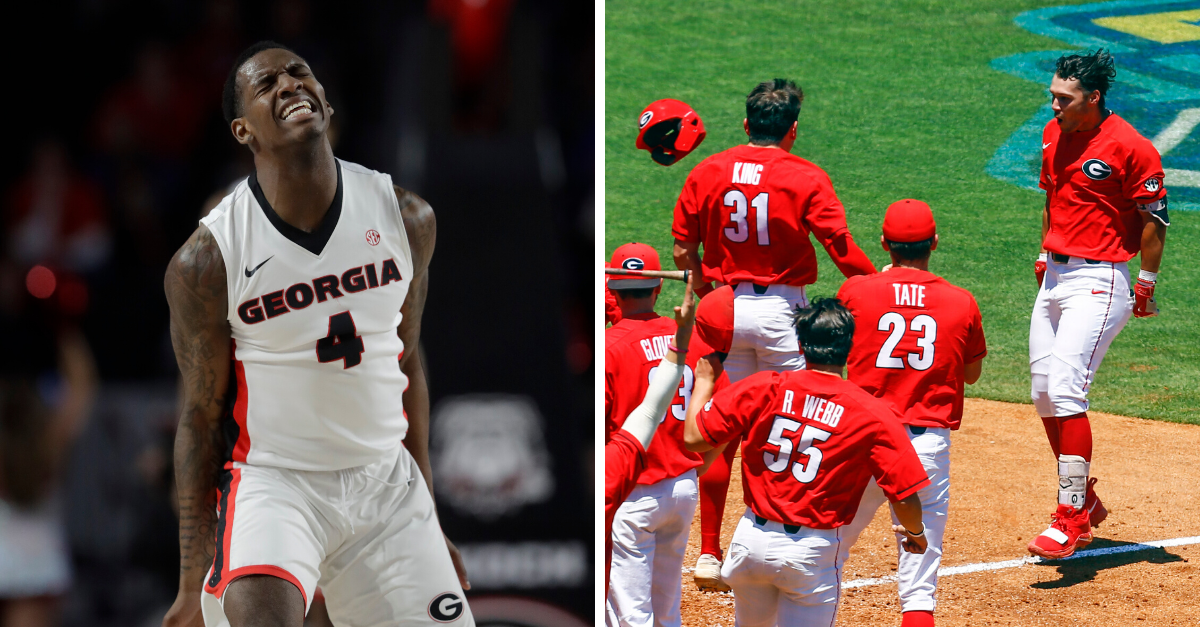 AP Photos/John Bazemore (left), Butch Dill (right)
When it comes to Georgia basketball, things aren't so great this season. Despite NBA lottery talent Anthony Edwards starting to blossom in Athens, the Dawgs find themselves near the bottom of the SEC standings, needing a massive late push to make noise in March's SEC Tournament. As for Georgia baseball, those Dawgs are ranked near the top of the college baseball world with another potential No. 1 overall pick, pitcher Emerson Hancock, leading the charge.
It's a tale of two programs right now, but the stars aligned for an incredible day of University of Georgia Bulldogs athletics on Saturday, February 22.
3:33 p.m.
In the first game of a double-header against Santa Clara, the fourth-ranked Bulldogs entered the bottom of the 12th inning with the game tied at 4. Facing a 1-2 count with two outs, left fielder Tucker Bradley turned on a pitch that sailed high into deep right-center. Foley Field wasn't going to hold this one, as Bradley's third home run of the season, and third hit in six trips that game, delivered UGA a thrilling 5-4 win to remain undefeated.
Tucker Bradley's Walk-Off Home Run
RELATED: Georgia Lands Nation's No. 1 Recruiting Class
Georgia baseball won three-of-four games in that weekend series — Sunday's loss was its first of the young college baseball season — but UGA fans certainly didn't have to wait long for more, heart-pounding excitement.
7:05 p.m.
Coming off a huge upset of the 15th-ranked Auburn Tigers at home on Wednesday, Georgia basketball went on the road to face the last-place Vanderbilt Commodores in Nashville, Tennessee. Late in the game, freshman Sahvir Wheeler knocked down two massive free throws to pull Georgia within one, 78-77. Vanderbilt's Scottie Pippen Jr. then missed both of his free throw attempts, with the second rebound falling into the waiting arms of senior Tyree Crump.
The seasoned college basketball veteran playing his 119th game knew exactly what to do, leaving fans inside Memorial Gymnasium utterly speechless when he knocked down a game-winning shot to give Georgia an 80-78 win.
Tyree Crump Hits Game-Winning Buzzer Beater
"I just looked at the clock and saw like three seconds. I knew I was going to make it, so I just shot it with confidence," Crump said, via ESPN.
Georgia fans everywhere should be raving about these performances. It's not every day games end in such a dramatic fashion, but for two of the university's teams to do it within hours of each other? February 22 should be a day UGA remembers for some time.