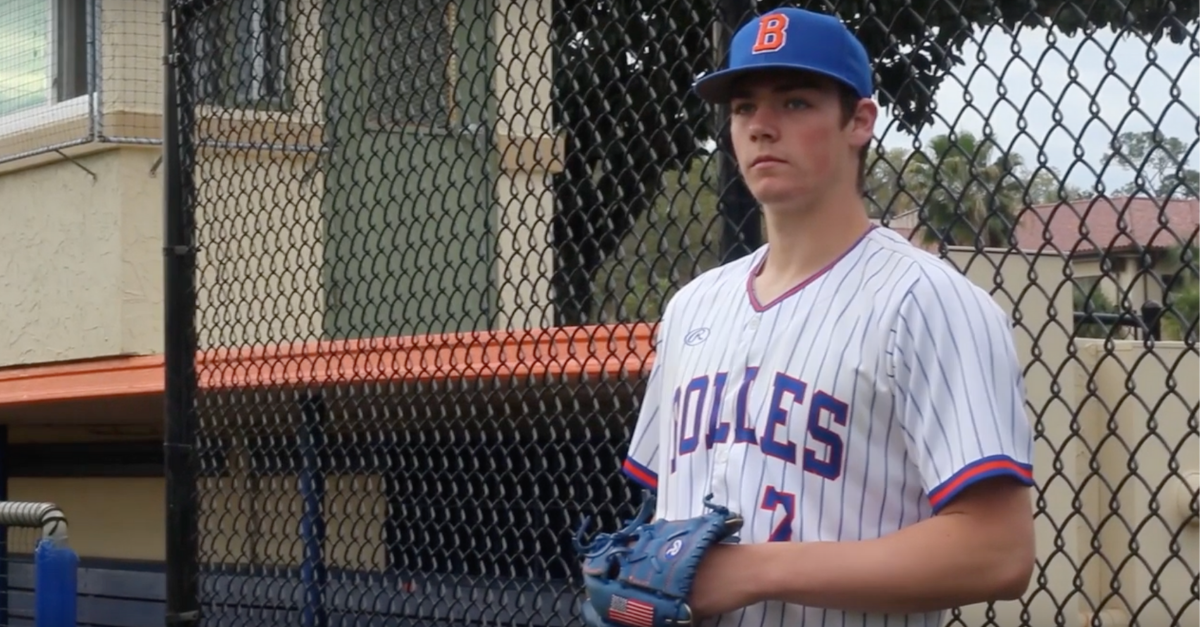 Screenshot from YouTube
The University of Florida is a factory for flame-throwers and polished pitchers. Head coach Kevin O'Sullivan and his coaching staff have not only developed a stronghold on the state of Florida's top high school talent, but they also pluck aces from cities across the country.
Just over the past five years, the Florida Gators have produced five first-round MLB Draft arms. O'Sullivan found A.J. Puk in Iowa and Jackson Kowar in North Carolina and reeled in Brady Singer, Alex Faedo and Dane Dunning from the Sunshine State. That doesn't even include second-rounder Logan Shore, who hailed from Minnesota, and was better than all of those names while in Gainesville.
After a rare pitching lull in 2019 for Florida, who ranked 187th in the country with a 5.37 team ERA, it was up to O'Sullivan to bring in an elite arm. Someone that fit the UF starting pitcher mold. Someone with a lively fastball and wipeout off-speed pitches. Someone that should've been starting his minor league career instead of his collegiate one.
Hunter Barco is that someone.
Standing 6-foot-4 with a cannon for a left arm, Barco enters his freshman season with the Gators as one of the most-hyped newcomers in college baseball. D1Baseball.com recently ranked the top 150 impact freshmen in the NCAA this season, and it was topped by none other than Barco.
Southpaws like Barco shouldn't ever make it to campus. His fastball has topped out at 94 mph. His sweeping slider fools both right-handers and left-handers. Plus, the athletic-framed Barco can swing the bat with authority and could see at-bats at first base for Florida.
If his first ever outing in the orange and blue is any indication, Barco will have quite the career at Florida. The left-hander touched 94 mph and struck out the side in an inning against Georgia last November in an exhibition game in Jacksonville, the same city he's from.
Considered a late first-round pick talent in the 2019 MLB Draft for his high ceiling, Barco slid to the New York Mets in the 24th round. It's likely he told teams he was honoring his commitment to UF, where he could spend three years improving and be a potential top-five pick in the 2022 MLB Draft.
So, just who is this hyped freshman we'll be seeing on the mound in Gainesville for the next three seasons?
Who is Hunter Barco?
It didn't take long for Barco to burst on to the high school scene while at The Bolles School in Jacksonville, Florida.
As a freshman in 2016, he won the Florida Times-Union player of the year award for leading the school to a Florida High School Athletic Association championship. He was 12-0, posted a 0.53 ERA and struck out 89 hitters over 79 innings.
That's unheard of for a freshman, but Barco was clearly a different breed.
By the end of his time in high school, Barco compiled a 35-4 record, a 1.53 ERA and 336 strikeouts. He wasn't too shabby at the plate, either. He hit .299 with 13 home runs and 76 RBIs.
Just so I don't understate how good those numbers were, there's this nugget: Barco was named the Florida Times-Union's Player of the Decade over current Chicago Cubs infielder Javier Baez, who hit 22 home runs as a high school senior at Arlington Country Day High School and became the ninth overall pick in the 2011 MLB Draft.
Of course, scouts lined up to watch this kid.
College coaches were all over him.
Talent like this doesn't just grow on trees.
At just 14, Barco committed to the University of Virginia. He backed out of that pledge and chose to commit to UF in 2018 because of proximity.
"I committed to Virginia when I was 14-years-old and I loved the school and I loved the coaches, but after three years of deciding, I decided Florida would be a better place to go," Barco told 1010XL. "It just made more sense for my family; it's closer to home and it was a family decision."
Right, but Barco was shooting up draft boards at the time. No one believed he'd actually end up in Gainesville. And yet here he is. Look him up and you'll find his UF bio.
O'Sullivan isn't installing him into the weekend rotation just yet. Those spots belong to Tommy Mace, Jack Leftwich and Nick Pogue for now.
That means Barco will likely start midweek games for the Gators at first. Considering he has more upside than any pitcher on the roster, he could very well pitch his way into the rotation.
Hunter Barco Scouting Report
O'Sullivan is a sucker for the fastball, and Barco can light up radar guns with the best of them. While he sits in the low-90s, he's touched 94 MPH and could end his time in Gainesville living in the mid-to-upper-90s like Puk did.
If that's not enough of a reason to watch him at McKethan Stadium this season, Barco also features a devastating slider and good changeup to keep batters off-balanced. His arm slot is a bit lower than scouts might prefer, but that also makes him extra tough on lefty hitters.
Barco projects best on the mound. While he's shown he can swing the stick and hit for power, O'Sullivan would be smart to mold him as a pitcher-only possibly throwing in at-bats every once in a while.
Here's what the experts are saying about Barco.
From MLB.com:
"Barco is a 6-foot-4 southpaw with the ideal pitcher's body with room to fill out and see his stuff tick upward, especially once he stops being a two-way player. His velocity fluctuated over the summer but he's been up to 94 mph this spring with good arm-side movement. He'll flash an excellent slider, though he can get underneath it at times impacting its consistency. He has good feel for an above-average changeup as well. While he's been stronger this spring, Barco still throws from a lower slot than some scouts would like. He struggles repeating his release point, which can lead to command issues. That arm slot does create deception in his delivery often making him tough to hit."
From Perfect Game in 2018:
"Square shouldered tall and very projectable athletic build. Mid to low 3/4's arm slot, significantly lower slot than last October, lands open with his front side, works quickly and attacks hitters. Steady low 80's fastball, pretty much sat at 91 mph, outstanding late running and sinking life to all quadrants, can back door a fastball glove side intentionally, throws to spots and likes to come inside to right handed hitters. Change up has the same type of life and is a quality pitch. Slider has a short cutter-like break, not able to get over it as well as from a higher release slot. Left handed hitter with a smooth and easy swing, drifts into contact, looking to drive the ball in the air. Smooth defensive player at first base. Very good student, verbal commitment to Florida. Selected to play in the 2018 Perfect Game All American Classic."
Florida's success the next few seasons may very well rest on Hunter Barco's left arm. If he can dominate the SEC like his past predecessors, the Gators might be looking at multiple trips to the College World Series.