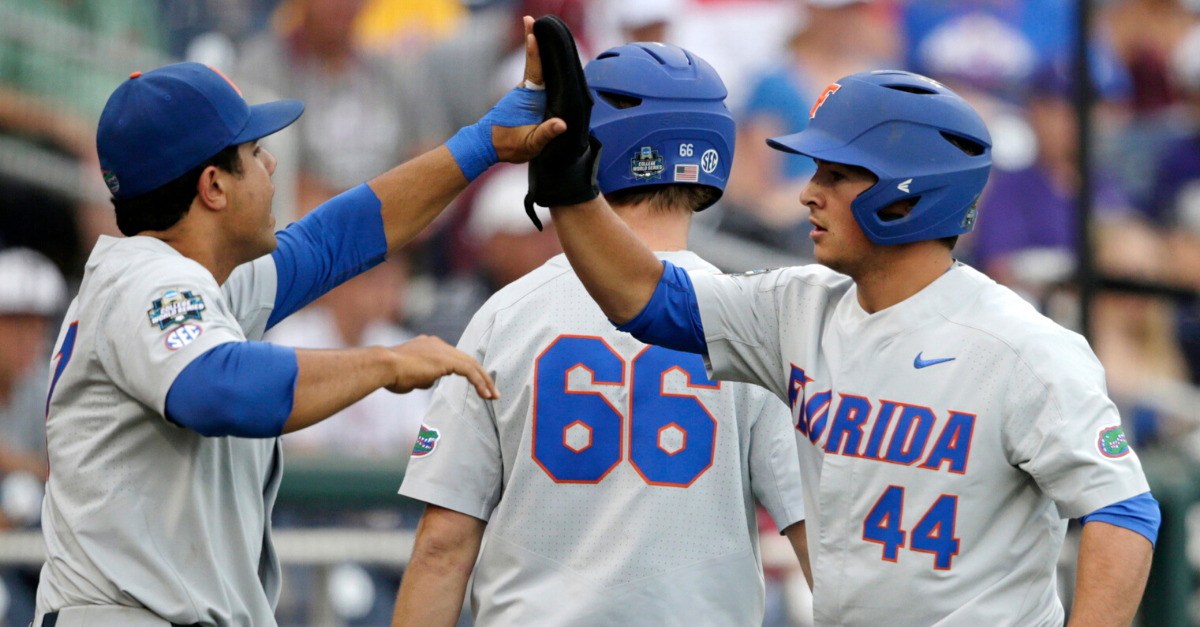 AP Photo/Nati Harnik
Editor's Update: The 2020 baseball season was canceled due to the spread of COVID-19 and coronavirus outbreak. Florida finished the shortened season with a 16-1 record.
You won't find a more successful college baseball program over the last decade than the Florida Gators. Since 2010, UF has won a national championship, appeared in seven College World Series, won five Southeastern Conference titles and sent numerous players to the pros. Ever heard of Pete Alonso?
What head coach Kevin O'Sullivan has built in Gainesville since arriving in 2008 is nothing short of remarkable. In the toughest conference in NCAA Division I baseball, the three-time SEC Coach of the Year owns a .676 winning percentage (531-255) and has led Florida to the NCAA Tournament every single year he's been at the helm.
The 2019 season was something of a down a year for the orange and blue, however.
Following four straight CWS appearances, the Gators were bounced from the Lubbock Regional by Dallas Baptist and finished the season 34-26, their most losses since dropping 30 games in 2013. UF's usually strong pitching staff failed them time and time again, as the team posted a SEC second-to-worst 5.37 ERA — unheard of to see in box scores and recaps for a team like Florida.
But Gators fans should be excited for the 2020 season. Florida returns starting pitchers Tommy Mace and Jack Leftwich, both of which are considered top 100 MLB draft prospects. The third rotation spot should go to freshman Hunter Barco, a 6-foot-4 left-handed flamethrower who had first-round talent coming out of high school.
Despite losing their two best hitters — Nelson Maldonado and Brady McConell — to the draft, the Gators should remain strong on offense. Jacob Young (.311, 3 HR, 7 SB), Austin Langworthy (.283, 10 HR, 43 RBI) and Kendrick Calilao (.276, 5 HR, 49 RBI) are all back, plus incomer Josh Rivera had a monster fall and has all the tools to be Florida's next great shortstop.
Florida checks in at No. 4 both Baseball America's and D1Baseball.com's preseason rankings and No. 10 in the USA Today Sports coaches poll preseason top 25. Clearly, those in the college baseball industry don't see another let-down season from UF in 2020.
The Gators open the season Feb. 14 against Marshall at home in McKethan Stadium and begin SEC play on March 13 versus Georgia. Mark your calendars for when Florida faces Georgia ace Emerson Hancock, who could be the upcoming first overall MLB draft pick, as well as Vanderbilt at home and getting rival Florida State three times.
UF also plays 33 of its 56 games at home, which means you've got 33 chances to cheer on the home team at the Mac. In a conference full of top-ranked teams like LSU, Mississippi State, Arkansas, Vanderbilt, Georgia and Auburn, Florida is going to put the baseball world on notice in 2020.
UF Baseball Schedule 2020
Feb. 14-16: MARSHALL
Feb. 18: at Jacksonville
Feb. 19: JACKSONVILLE
Feb. 21-23: at Miami
Feb. 25: FLORIDA A&M
Feb. 26: at Stetson
Feb. 28-Mar. 1: TROY
Mar. 3: at FAU
Mar. 4: FAMU
Mar. 6-8: USF
Mar. 10: FLORIDA STATE
Mar. 13-15: GEORGIA*
Mar. 17: JACKSONVILLE
Mar. 20-22: at Kentucky*
Mar. 24: Florida State (Jacksonville)
Mar. 27-29: TEXAS A&M*
Mar. 31: STETSON
Apr. 2-4: at Arkansas*
Apr. 7: NORTH FLORIDA
Apr. 9-11: MISSOURI*
Apr. 14: at Florida State
Apr. 17-19: at Tennessee*
Apr. 21: FAU
Apr. 24-26: OLE MISS*
May 1-3: at Auburn*
May 5: BETHUNE-COOKMAN
May 7-9: VANDERBILT*
May 14-16: at South Carolina*
May 19-24: Southeastern Conference Tournament (Hoover, AL)
May 29-June 1: NCAA Regional
June 5-8: NCAA Super Regional
June 13-24: College World Series (Omaha, NE)
* ? Denotes SEC game
ALL CAPS ? Denotes home games