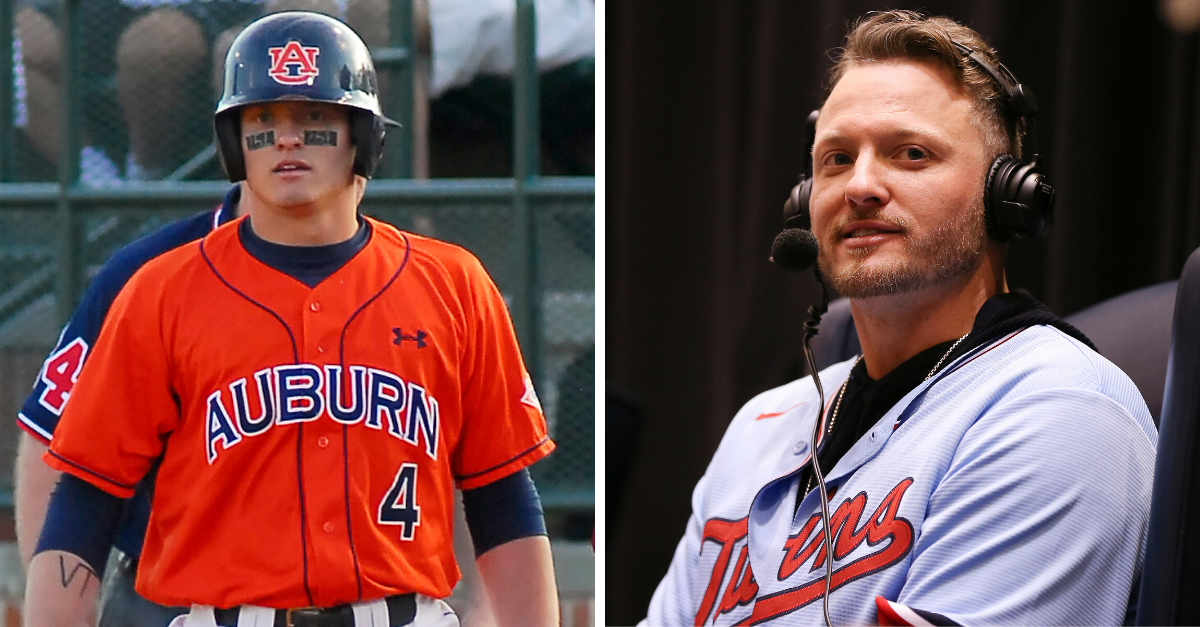 AP Photos/Anthony Hall (left), Stacy Bengs (right)
Josh Donaldson has crafted out quite the Major League Baseball career since making his big league debut with the Oakland Athletics in 2010. We already know "The Bringer of Rain" is a badass from taking pitches to the head or partaking in the infamous Jose Bautista-Rougned Odor brawl, but J.D. has slugged more than 200 home runs in nine years and won the 2015 American League Most Valuable Player award with the Toronto Blue Jays.
Donaldson has made more than $80 million over his nine-year career and is set to make another $92 million with the Minnesota Twins after swatting 37 home runs in the National League with the Atlanta Braves in a bounce-back 2019.
Before he was a three-time MLB All-Star third baseman, Donaldson was a baby-faced catcher tearing the cover off the ball against SEC teams for the Auburn Tigers.
Where Did Josh Donaldson Go To College?
Born in Pensacola, Florida, Donaldson grew up playing high school ball in Florida. He moved to Mobile, Alabama, and was named the Alabama Gatorade Player of the Year after hitting .515 as a senior at Faith Academy.
Donaldson committed to and played for Auburn University, and by his junior season in 2007, Donaldson emerged as one of the NCAA's top catchers.
From his first years on campus and his first at-bats at Plainsman Park, Donaldson made it obvious he had a knack for hitting. As a freshman in 2005, the slugger posted a .294 batting average, seven home runs, and 26 RBIs. He upped his power numbers to 10 homers and 42 RBIs the following season while hitting .276.
Donaldson put all of his athletic abilities together in 2007, though. On top of hitting .349, he hit 11 home runs, 19 doubles, drove in 54 runs and stole 17 bases. Most catchers don't steal bases like that. But Donaldson, who transitioned to third base in the pros, was not like most catchers.
Despite his monster junior season, Donaldson was snubbed as an All-American in favor of Mississippi State's Ed Easley, Kentucky's Sean Coughlin and Georgia Tech's Matt Wieters.
Still, Donaldson finished his Auburn career a .306 hitter with 28 home runs and 122 RBIs. That may not rival the college careers of Tim Hudson or Frank Thomas, but Donaldson was still one of the better baseball players in the school's history.
Butch Thompson, Auburn's current head coach, knew Donaldson was a special talent in college. Thompson was an assistant coach and witnessed firsthand how good the kid was.
?In Josh?s time at Auburn, you knew he was bound for greatness, the way he played the game,? Thompson told OANow.com. ?Josh recognizes that Auburn played a huge role in his development as one of the best hitters in Major League Baseball."
Donaldson has stayed true to his Auburn roots since leaving the school.
He donated to the school's baseball program to help fund a 10,000-square-foot facility enhancement in 2018 and took batting practice with the team in February of 2019. He's also been spotted at multiple Auburn football games and will scream "War Eagle" every chance he gets.
?Auburn gave me every opportunity to become the player I am today,? Donaldson told OANow.com. ?I really enjoyed being at Auburn and being part of the Auburn family.?
Josh Donaldson's MLB Career
The Chicago Cubs selected Donaldson in the first round (48th overall) in the 2007 MLB Draft. He played rookie ball in the minor leagues before he was traded to the A's in 2008.
After showcasing his abilities in the minors with the Triple-A Sacramento River Cats, Donaldson made his MLB debut with the club in 2010. He was traded in the 2014 offseason to Toronto, where he won the 2015 AL MVP award and became a full-fledged superstar and defensive wizard at third base. After four seasons there, he was briefly on the Cleveland Indians in 2018 and signed a one-year deal with the Braves in 2019.
Now 34 years old and on the back end of his career, Donaldson is still considered one of the better MLB players to man the hot corner. Just remember that he might not be where he is today if not for his time at Auburn.