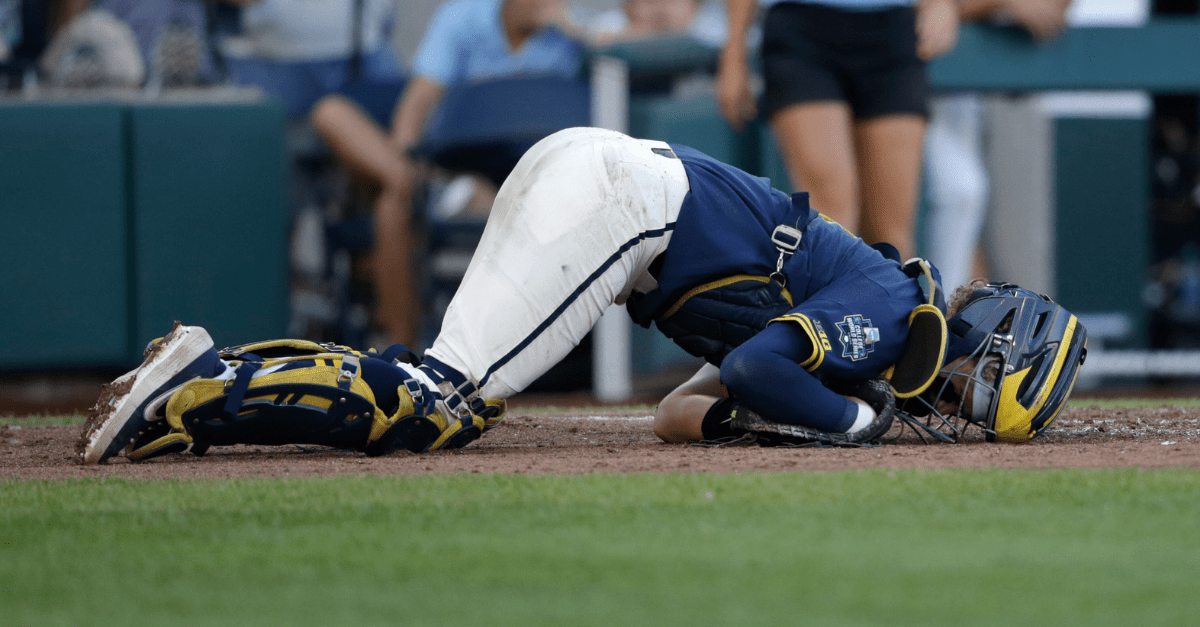 AP Photo/Nati Harnik
The Vanderbilt Commordores won the 2019 College World Series by taking two-of-three games against the Michigan Wolverines. The series was a classic David vs. Goliath event; Vanderbilt was arguably college baseball's best team this season, while Michigan hadn't won a national title since 1962, nor had the program reached the CWS since 1984.
After losing Game 1 by the final score of 7-4, Vanderbilt ran off two-straight wins thanks, in part, to dominant starting pitching from CWS Most Valuable Player Kumar Rocker (one earned run, 11 strikeouts in Game 2) and sophomore Mason Hickman (one earned run, 10 Ks in Game 3). The Commodores won both the SEC regular season and conference tournament titles, set the league record for wins in a season, and had 13 players selected in the MLB Draft. Now they're national champions, too.
For Michigan, well, a historic season ended with a foul ball to the nuts. Figuratively and literally.
The Wolverines won 50 games for the fourth time in program history, and the first time since Bud Middaugh's team won 52 games and the Big Ten Championship back in 1987. Season seven under head coach Erik Bakich provided one of the best runs in team history, but ended with a sour finish running into a dominant Vanderbilt baseball program.
For Michigan catcher Joe Donovan, it also ended with some ice on the ol' nutsack.
The bases were loaded in the bottom of the third inning. Game 3 was a winner-take-all scenario, so every pitch mattered. But you better believe Donovan — voted Third-Team All-Big Ten at his position this year — wouldn't mind having this foul tip back.
RELATED: Poor Umpire Takes Vicious Foul Ball Below the Belt
After a home run in the second inning, Vandy center fielder Pat DeMarco ultimately drew a walk following that nut-shot, which scored J.J. Bleday for his second RBI of the game. Left fielder Stephen Scott singled up the middle during the next at-bat, scoring two runs and pushing the Commodores' lead to 4-1. They never looked back.
All the while, Donovan's downstairs cried for help behind home plate.
He was able to laugh off the incident and remained in the game without noticeable discomfort. He did, however, go 0-for-4 and struck out twice.
The SEC captured its fifth College World Series title of the decade on Wednesday night, and Michigan baseball proved that one late-season push is all an NCAA Tournament team needs to make history. We were also reminded that cups are man's greatest invention since the discovery of fire.