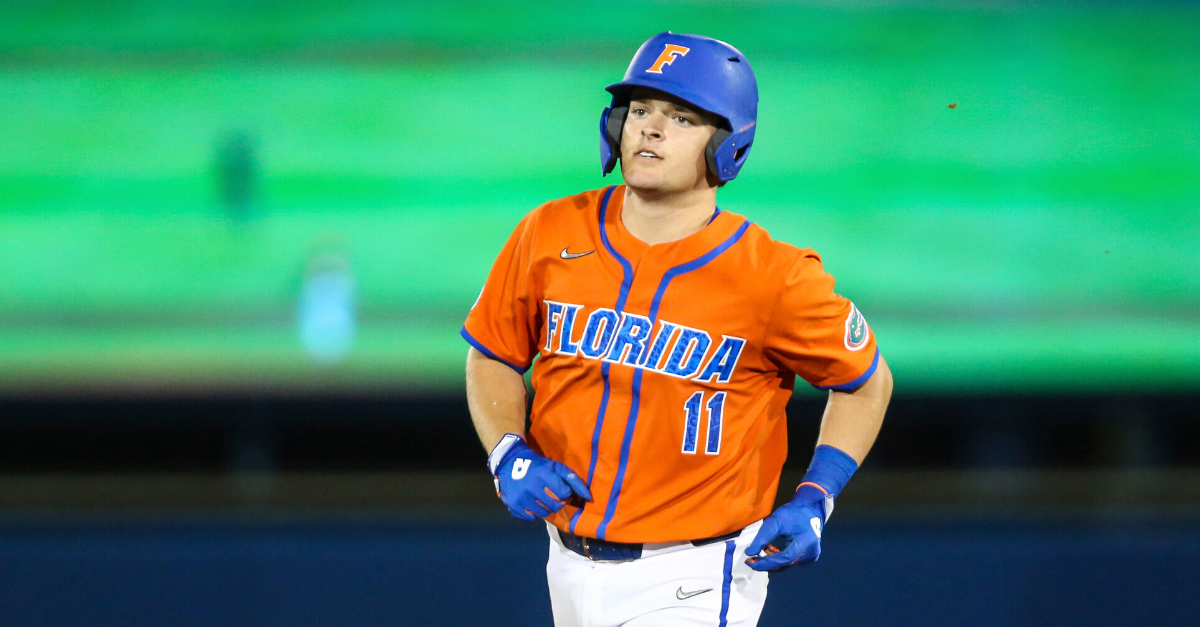 AP Photo/Gary McCullough
The Florida Gators have been looking for a certain thump in their lineup. No one would've noticed by their perfect 16-0 start, which was by the way the best start to a season in program history. Glance at UF baseball's middle-of-the-order bats and you'll see why.
Florida lost Brady McConnell, Nelson Maldonado and Wil Dalton to the MLB Draft following last season's combined output of 33 home runs and 125 RBIs. Replacing production like that was no easy task for UF head coach Kevin O'Sullivan.
He needed some freshmen to step up.
He needed Nathan Hickey.
Nathan Hickey's Game-Winning Home Run
Freshman catcher Nathan Hickey stepped to the plate against the University of South Florida with the game tied at 1 in the eighth inning on Sunday and wasted little time announcing his presence.
He launched a game-winning solo shot to right field and sent Florida on their way to pristine 16-0 mark on the season.
"I was just looking for something over the plate, just try to get a barrel on it," Hickey told the Gainesville Sun. "Luckily he threw a fastball and that's what I was hitting, so I just put a good swing on a good pitch."
Nathan Hickey Wins SEC Freshman of the Week
Florida fans are starting to become accustomed to Hickey's sweet swing.
Hickey has homered in four straight games including Sunday's blast. Over the four-game stretch, the left-handed hitter went 7-for-13 (.538) with four home runs, six RBIs, five runs and added three walks.
Hickey had gone his first 10 collegiate games without homering and had struck out 11 times in 29 at-bats while hitting just .241 before cranking his first against Florida A&M, and each of his four have been absolutely majestic.
Take a look at this one Hickey hit OVER the McKethan Stadium scoreboard in right for his first ever home run:
Or this towering shot to centerfield against the USF Bulls on March 6:
That, my friends, is Pete Alonso territory.
Who is Nathan Hickey?
If you didn't know who Nathan Hickey was before his home run barrage, that's OK. You do now.
The Jacksonville, Florida native starred at the Providence School before making his way to Gainesville to don the orange and blue. As a senior, he hit 14 home runs and hit .384 en route to being named a 2019 High School First Team All-American by Collegiate Baseball and Florida Region All-High School Senior First Team by Perfect Game.
Perfect Game rated Hickey the nation's 15th best catcher and the No. 3 catcher in Florida. He was rated 162nd overall.
Hickey wasn't considered one of Florida's premier freshmen like infielder Josh Rivera and Hunter Barco, but he's definitely starting to play like one.
Florida has had some other breakout candidates offensively like Jud Fabian and Jacob Young. They'll need more, though, especially once they begin SEC play against Georgia and continue their three-game season series with Florida State.
If his last 13 at-bats are any indication, Hickey could be the middle-of-the-order presence the University of Florida needs.