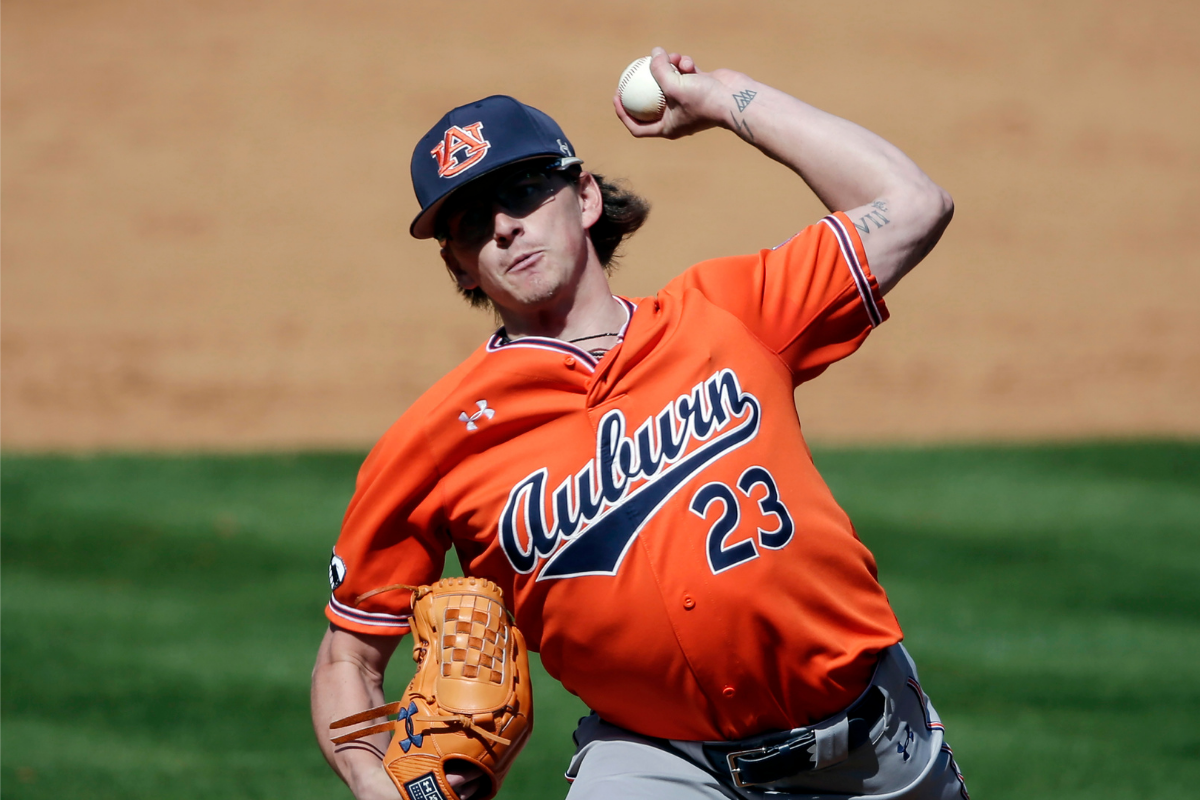 AP Photo/Butch Dill
Peyton Glavine beaned the first two batters he faced. He had just entered the ninth inning of a game Auburn led by 24 runs in 2018. It was an ideal time for a freshman's first-ever collegiate appearance. Zero pressure. Can't screw it up.
However, the left-handed reliever's first two NCAA pitches drilled a pair of Longwood hitters. Nerves clearly took a hold of those fastballs, but they settled quickly. Glavine stuck out the next three hitters he faced, slamming the door shut on a 25-1 win in the club's second game of the season.
Now three years since that shaky start, the 5-foot-11 redshirt junior is coming into his own as a key reliever at Auburn despite carrying the weight of his father's name on the back of his jersey.
Peyton Glavine's Dad
RELATED: David Ross? Walk-Off Homer Heroically Helped Auburn Reach Omaha
Anyone who watched baseball in the 1990s knows that name.
Peyton Glavine is the son of Tom Glavine, the Hall of Fame pitcher who won 305 games, two Cy Young Awards, a World Series and earned 10 All-Star Game appearances during his 22-year career with the Atlanta Braves and New York Mets.
Tom was inducted into Cooperstown in 2014 alongside Greg Maddux and Auburn legend Frank Thomas.
Peyton is one of five kids Tom and wife Chris Glavine share together. The two tied the knot in 1998 and each already had one kid. Chris brought a son, Jonathan, into the blended family. Tom had a daughter, Amber, from a past marriage. They had sons Peyton and Mason with each other and adopted another boy named Kienan in 2009, according to AJC.com.
A southpaw like dad, Peyton learned a thing or two from him.
He was born while Tom pitched for the Mets in Shea Stadium. Peyton then grew into a good pitcher at Blessed Trinity Catholic High School while in Alpharetta, Georgia. There, he lost just one game during his junior and senior years.
Peyton was selected in the 37th round of the 2017 MLB Draft by the Los Angeles Angels, but turned it down to head to the SEC.
Peyton Glavine at Auburn
Peyton needed time to develop at Auburn.
He surrendered three times as many runs as innings pitched in his first year on campus. In 2019, the reliever logged just eight innings. He didn't see any action in a shortened 2020 season.
Now in 2021, Peyton Glavine has been a reliable threat out of the bullpen for the Auburn Tigers.
He threw three scoreless innings against Little Rock on March 12. Alabama couldn't push across a run in three innings against him on April 17. He struck out four in a midweek win against Samford on April 20.
Through 11 appearances, Glavine owns a 4.15 ERA and 20 strikeouts in 21.2 innings. Opposing hitters haven't been quite able to solve him and he's walked just five.
Head coach Butch Thompson's squad may be just 15-18 and 2-13 in SEC play, but he's found a solid lefty reliever he can turn to in any situation.
Peyton Glavine may never live up to the hype that comes with being a carbon copy of Hall of Famer Tom Glavine, and that's fine. He's creating his own path inside Plainsman Park for Auburn baseball.