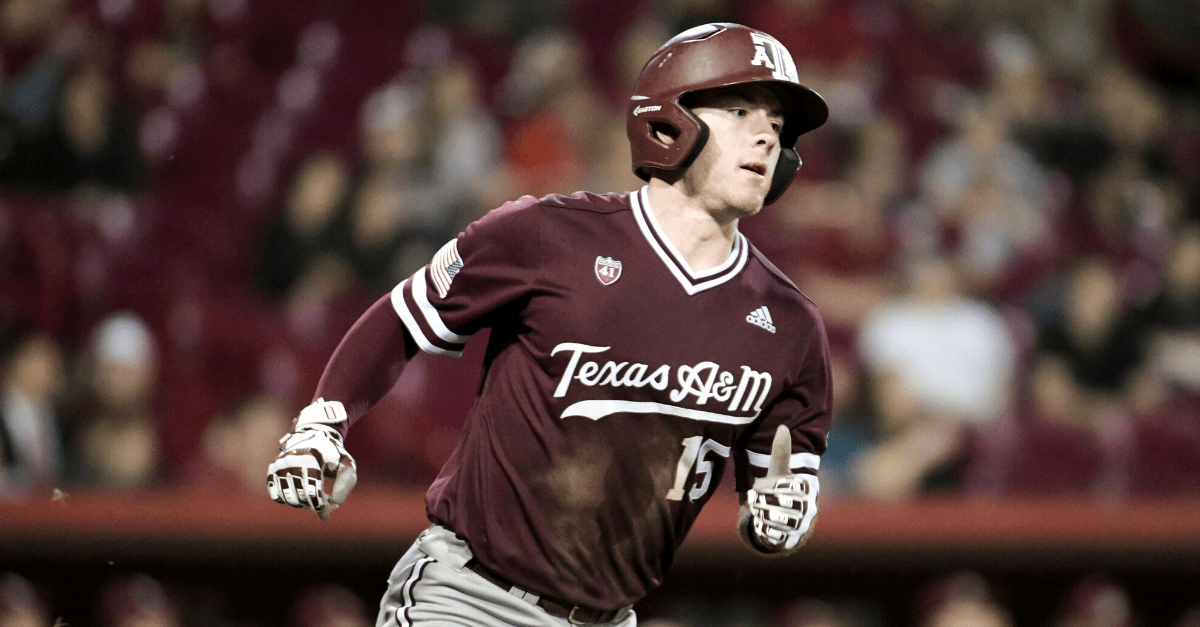 AP Photo/Sean Rayford
Editor's Update: The 2020 baseball season was canceled due to the spread of COVID-19 and coronavirus outbreak. Texas A&M finished the shortened season with a 15-3 record.
For Texas A&M University baseball, Omaha is the only goal on the mind. With just two College World Series appearances since 1999, the Aggies are hoping for another magical run similar to the 2017 CWS berth after back-to-back disappointing ends in NCAA Regional play the last two years.
TAMU finished the 2019 season 39-23-1 and earned their 13th straight and 35th overall trip to the NCAA Tournament. Bryce Blaum's walk-off grand slam to down West Virginia in NCAA Regional play to stay alive before being bounced by Duke was undoubtedly the highlight for the Aggies in '19. Still, finishing in Omaha will be no small task considering the Aggies play in the best conference in college baseball.
Luckily for Aggies head coach Rob Childress, he has college baseball's best pitcher not named Emerson Hancock returning to anchor the staff and should showcase some breakout players this season.
The apple of TAMU fans' eyes this spring will undoubtedly be Asa Lacy. The 6-foot-4 left-handed ace can sling his fastball into the mid-90s and was a strikeout machine last season. He went 8-4 and maintained a 2.13 ERA while limiting hitters to a .162 average. He's also a good bet to finish as an All-American and find himself as a first-round MLB Draft pick.
A lack of offense was all too common for Texas A&M attack that hit just .251 in '19, but that could change this season. Bryce Blaum and Mikey Hoehner, who each hit .292, are back. Blaum, who hit the walk-off grand slam last postseason, clubbed six homers last year. The real sleeper on this team is outfielder Zach Deloach. He hit just .200 a season ago but tore up the Cape Cod League over the summer and was tabbed a preseason All-American by Baseball America.
Texas A&M's schedule in 2020 is an exciting one. The Aggies will serve as the home team 33 times at Blue Bell Park and play nine games against College World Series teams from a year ago.
The Aggies open the season against Miami (Ohio) at home on Feb. 14 and play their first midweek games on Tue, Feb 18, against Stephen F. Austin and Wed, Feb 19, against Prairie View A&M. You'll want to buy tickets to a massive rivalry showdown against LSU (May 1-3, Fri.-Sun.) in College Station, and a bout with Mississippi State in Starkville will make for quite the road trip
Texas A&M Baseball Schedule 2020
Feb. 14-16: MIAMI (OHIO)
Feb. 18: STEPHEN F. AUSTIN
Feb. 19: PRAIRIE VIEW A&M
Feb. 21-23: ARMY
Feb. 25: HOUSTON BAPTIST
Feb. 26: INCARNATE WORD
2020 Frisco Classic
Feb. 28: Illinois
Feb. 29: UCLA
Mar. 1: Oklahoma State
—
Mar. 3: TEXAS A&M-CORPUS CHRISTI
Mar. 4: ABILENE CHRISTIAN
Mar. 6-8: NEW MEXICO STATE
Mar. 10: at Rice
Mar. 13-15: at Auburn*
Mar. 17: HOUSTON
Mar. 19-21: OLE MISS*
Mar. 24: LAMAR
Mar. 27-29: at Florida*
Mar. 31: TEXAS
Apr. 3-5: GEORGIA*
Apr. 7: DALLAS BAPTIST
Apr. 9-11: at Arkansas*
Apr. 14: TEXAS STATE
Apr. 17-19: ALABAMA*
Apr. 21: at Sam Houston State
Apr. 24-26: at Mississippi State*
Apr. 28: UT ARLINGTON
May 1-3: LSU*
May 8-10: TENNESSEE*
May 14-16: at Missouri*
May 19-24: Southeastern Conference Tournament (Hoover, AL)
May 29-June 1: NCAA Regional
June 5-8: NCAA Super Regional
June 13-24: College World Series (Omaha, NE)
* — Denotes SEC game
ALL CAPS — Denotes home games